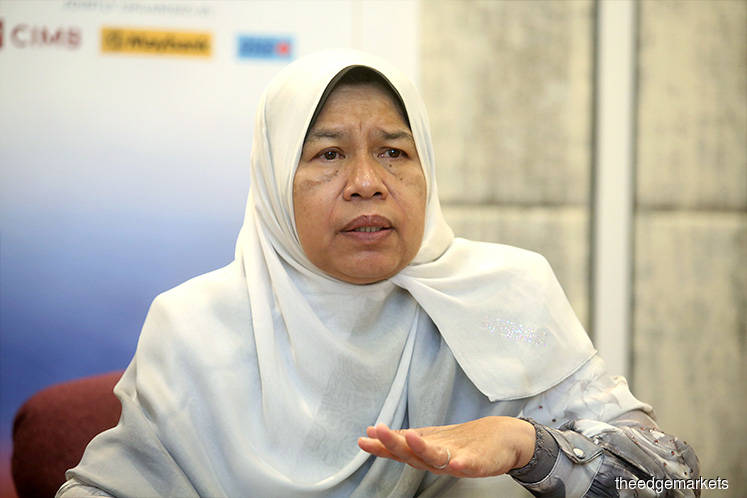 PUTRAJAYA (March 26): The solid waste disposal operations at the CEP 1 Estate Sanitary Landfill in Simpang Renggam, Johor, will be terminated from today, following reports of leachate overflow into a nearby river, said Housing and Local Government Minister Zuraida Kamaruddin.
She said the ministry had instructed the operator to place three mobile leachate treatment plants (MLTP) at the site to increase the capacity of leachate treatment, beginning tomorrow.
"With this immediate action, the Federal Government hopes that the issue of leachate overflow from the CEP 1 Estate sanitary landfill will be immediately resolved," she said in a statement here today.
Zuraida said the solid waste from the local authority will be sent to the Seelong Sanitary Landfill in Senai.
"Beginning tomorrow, the leachate water that is in the cells at the current sanitary landfill will be moved in tanker lorries to the Seelong Sanitary Landfill to be treated immediately," she said.
Zuraida added that the landfill received an estimated 500 tonnes of solid waste everyday from three local authorities — the Kluang Municipal Council, the Simpang Renggam District Council and the Batu Pahat Municipal Council
She said tomorrow, the secretary-general of the Housing and Local Government Ministry Datuk Seri Mohammad Mentek will chair a meeting with the relevant agencies including the Ministry of Energy, Science, Technology, Environment and Climate Change, the Department of Environment, the Johor State Economic Planning Unit, the Johor Water Regulatory Body and Syarikat Air Johor, on the effects of leachate water into the rivers.
She said in April 2017, the Federal Government took over the operations of the landfill and in February last year, it was upgraded to a sanitary landfill.
The six-hectare CEP 1 Estate Landfill site in Simpang Renggam began operations in 2003. In the beginning, it was operated by the Simpang Renggam District Council as an open landfill.
In 2010, the Federal Government covered parts of the landfill, including building a Leachate Treatment Plant with a capacity of 150 cubic metres a day, and the work was completed in 2012.
Meanwhile, in Johor Bahru, Simpang Renggam Member of Parliament Dr Maszlee Malik said the decision to immediately close the CEP 1 Estate Sanitary Landfill was important as it was one of the causes of the contamination of Sungai Benut.
He said he welcomed the concern shown by the Sultan of Johor Sultan Ibrahim Almarhum Sultan Iskandar so that the issue of the river contamination could be resolved.
"The decision to close (the landfill) is very important as waste from it flowed into the rivers and was among the causes of pollution," he said.
He added that he would continue to ensure clean water supply to Simpang Renggam was improved.