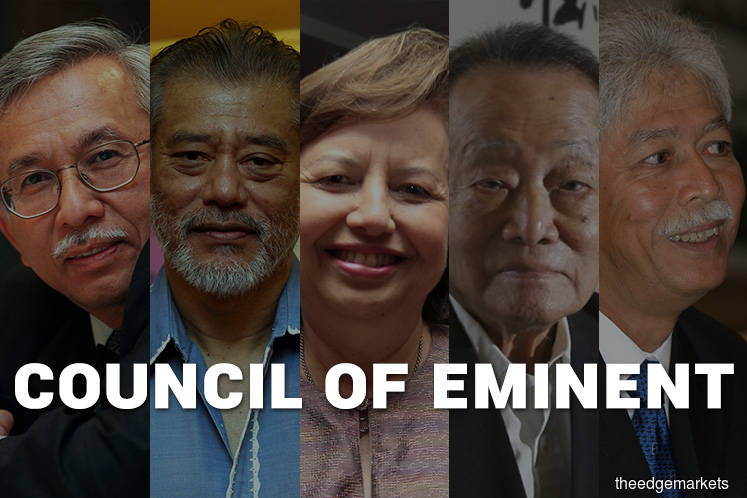 KUALA LUMPUR (Aug 17): A retired court of appeal judge has brushed aside claims that the five-man Council of Eminent Persons (CEP), whose operating tenure was recently extended by Prime Minister Tun Dr Mahathir Mohamad, is unconstitutional.  
"There is nothing wrong with the formation of the CEP," Datuk Mah Weng Kwai, a retired court of appeal judge, told reporters on the sidelines of the International Malaysian Law Conference 2018 (IMLC 2018) here today. 
Mah also said there was no necessity to test the constitutionality of the CEP in the court of law, as the council is merely performing advisory work for the government. "Surely it is within the power of the government to appoint a group of advisers."  
Earlier, Mah was asked to respond to a recent call by civil society group Engage, which had called for the CEP to be disbanded as it claimed it is unacceptable for the government to retain an unelected and unconstitutional body with such wide-ranging powers. 
Mah observed that the government is not bound to accept suggestions and recommendations prepared by the five-man council, headed by former finance minister Tun Daim Zainuddin. 
The other four prominent members of the council are former Petronas president and group chief executive officer Hassan Marican, former Bank Negara governor Tan Sri Dr Zeti Akhtar Aziz, economist Prof Jomo Kwame Sundaram, and tycoon Robert Kuok who is represented by veteran banker Tan Sri Oh Siew Nam. 
"I don't think it was ever the intention of the prime minister to create the CEP to override the function of the cabinet," Mah said.  
He also dismissed claims that the council was granted wide-ranging powers, noting the CEP was often mistaken as a decision-making body.  
"In discharge of their duties, they (the CEP) will talk to stakeholders and do their research and come up with the recommendations. They are not telling the government that 'you are bound to what I say'." 
Shortly after the 14th general election on May 9, Mahathir established the CEP to assist the Pakatan Harapan government implement and fulfil its election manifesto within 100 days.  
At the same time, the CEP was also tasked to assess various issues plaguing the nation, as well as to propose reform measures to strengthen government institutions and agencies. 
The CEP has created two sub-committees, the 1MDB Special Committee and the Institutional Reform Council (IRC) Committee.  
Mah is a member of the IRC, which within 60 days of its establishment, has completed a comprehensive report containing various recommendations and measures for the carrying-out of institutional reforms. 
Earlier at the IMLC 2018, Mah renewed his call for the CEP to make public the IRC's report, which contains more than 260 recommendations. 
Held at The Royale Chulan Kuala Lumpur hotel and themed "Raising the Bar", the four-day IMLC 2018 was attended by more than 500 lawyers, judges and legal experts.