This article first appeared in The Edge Malaysia Weekly, on March 8, 2021 - March 14, 2021.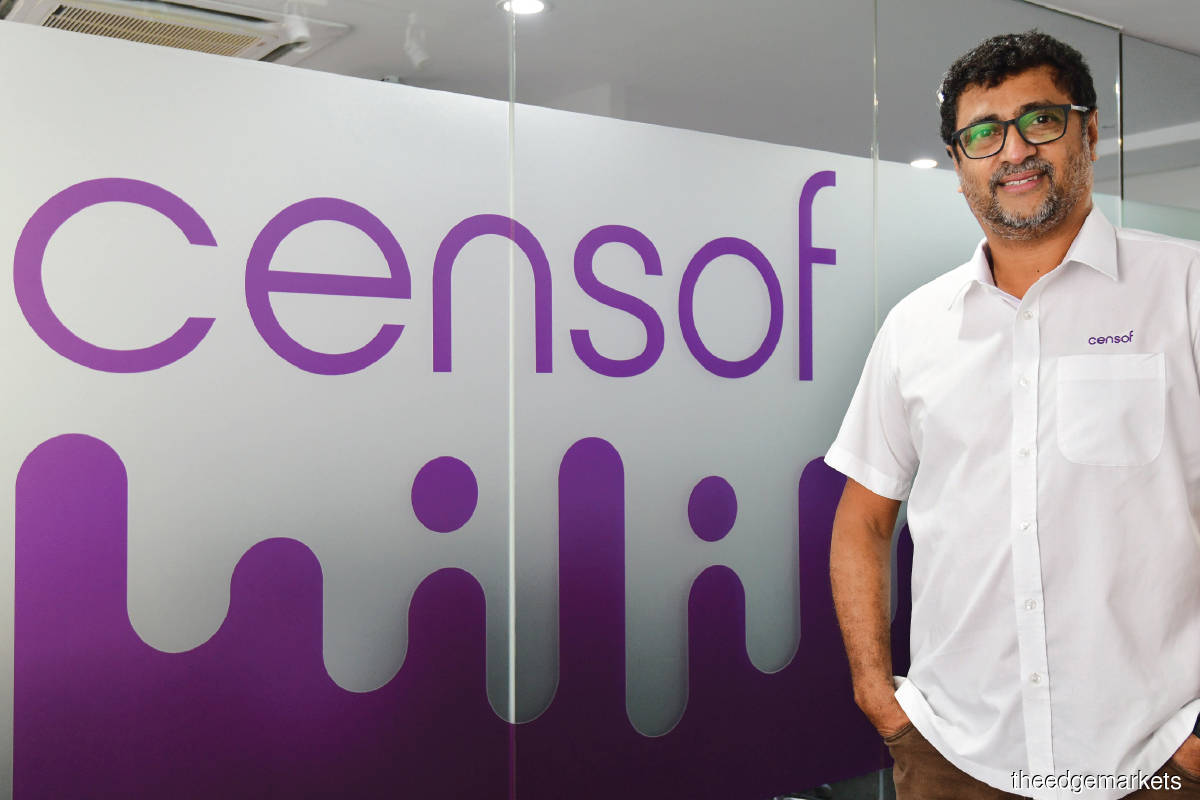 CENSOF Holdings Bhd was thrust into the spotlight in March last year after it was forced to sell part of its stake in associate Dagang NeXchange Bhd (DNeX) at an average price of 9.1 sen, resulting in a total loss of RM10.72 million, to meet margin calls on a loan it had secured from MIDF Amanah Investment Bank Bhd.
At that time, DNeX shares plunged to a low of nine sen on March 17, 2020 amid a global selldown in equities brought about by the Covid-19 outbreak and rout in crude oil prices. Its share price has since rebounded 589% to close at 62 sen last Wednesday (March 3), fuelled partly by news of its recently announced deal with Khazanah Nasional Bhd to buy semiconductor fabricating firm SilTerra Malaysia Sdn Bhd.
One year on, the technology-based solutions provider is eager to put the episode behind it, with its shareholding in DNeX drastically reduced to just 10 million shares, or a mere 2% stake, from 15.65% earlier.
Censof group managing director Ameer Shaik Mydin (picture) expects the current financial year ending March 31, 2021 (FY2021) to be a turnaround year for the group after booking three consecutive years of losses.
In the nine months ended Dec 31, 2020 (9MFY2021), net profit was RM14.09 million versus RM1.54 million the previous year, with revenue increasing 21% to RM54.97 million over the same period. With the fourth quarter (ending March) usually being the group's strongest quarter and extrapolating from the results achieved in 4QFY2020, it is estimated that FY2021 revenue could hit RM90 million.
"FY2021 will be a turning point for us, where Censof will continue to accelerate forward from 2021. With the disposal of a big chunk of DNeX shares last year, we are now ready to refocus our strategies on our core businesses, as well as enter the emerging technologies space," Ameer tells The Edge in an interview.
"We are confident that FY2021 will be a significant year for us, especially with the evolution of the digitalisation transformation being the new norm, augmented by the digital programmes initiated by the government and the grants introduced for small and medium enterprises (SMEs) in both Singapore and Hong Kong."
Why Censof chose to invest in DneX
Censof had sought to create synergies between the two companies when it paid RM69.82 million for Khazanah's 45.03% stake in DNeX (then known as TIME Engineering Bhd) in 2013.
"We saw the investment in DNeX as a great opportunity, as the company had substantial assets," says Ameer.
The National Single Window (NSW) for Trade Facilitation concession held by DNeX also gave an immediate lift to Censof's top and bottom lines. "The Customs Department's NSW concession contributes about RM90 million to DNeX's annual top line and about RM30 million to net income after tax per year. It is good business," he says.
But pressured by the impending expiry of the concession, DNeX decided to diversify its business into the oil and gas (O&G) industry through the purchases of shares in OGPC Group and Ping Petroleum Ltd in 2015.
"The O&G market collapsed in 2014 and we got stuck. Things didn't go the way we planned," says Censof deputy group managing director Tamil Selvan M Durairaj. By then, the purchases had diluted Censof's stake in DNeX to 17.94%.
Not helping matters was that the group had to continue servicing its loan facilities totalling RM70 million that it took out earlier to acquire the controlling stake in DNeX. "So, during that period, DNeX was doing fine, but we (Censof) were not doing that well," says Selvan.
Following the forced selling that occurred last year and the subsequent paring-down of its stake in DNeX, the group had reduced its total borrowings to RM1.68 million, while its cash and short-term investments were RM29.02 million, resulting in a net cash of RM27.34 million at end-December 2020. The group's gearing ratio stood at 0.02 times.
"Now that we are free of losses from DneX's burden, Censof is starting with a clean slate. We can sleep easier now and are just looking at growth, supported by our five business pillars," says Ameer. The pillars comprise financial management solutions for the government; financial management solutions for the commercial and SME segments; wealth management solutions; payment aggregation solutions; and emerging technologies.
Plans for 2021
Ameer says Censof will pursue both organic and inorganic growth. "We are open to investing or acquiring or partnering with companies that are aligned with our technology business."
In January, it proposed to acquire an additional 30.87% stake in Asian Business Software Solutions Sdn Bhd (ABSS), which will increase its total stake to 89.07%. "This is in line with our strategy to expand our business in the SME segment and to strengthen our footprint in Asia," says Ameer. The ABSS software currently supports more than 370,000 SME clients across Malaysia, Singapore and Hong Kong.
Censof has proposed to issue up to 100.35 million new shares, or 20% of its current share capital, for private placement to raise RM25.09 million, which will be used partly to fund the acquisition and for working capital.
"We are also embarking on emerging technologies such as robotic process automation solution, Chatbox, blockchain and Internet of Things, as we see ample opportunities to grow in this area, especially with the digitalisation initiatives as encouraged by our government.
"This is where acquisitions may happen. Instead of reinventing the wheel, there are many potential companies that have their solutions up and running," Ameer says.
The government segment remains the largest contributor to Censof's revenue, at 60%, while the commercial segment — comprising financial institutions, enterprises and SMEs — make up the remaining 40%.
"We are well established in the government business. So far, more than 82 government agencies in Malaysia are using our standard accounting system for government agencies (SAGA)-certified products and solutions, and there is still plenty of growth potential left," Censof executive director Ang Hsin Hsien says, noting that the group is looking to reward its shareholders with dividends "when the time is right".
The group last paid a dividend — of 10 sen per share amounting to RM3.44 million — in FY2011.
Ameer owns direct and indirect stakes of 0.28% and 35.06% (via SAAS Global Sdn Bhd) respectively in Censof. Other substantial shareholders include its chairman Tan Sri Mohd Ibrahim Mohd Zain, who has a 6.18% stake, and businessman Kenneth Tan Chean Suan, with a 5.45% stake.