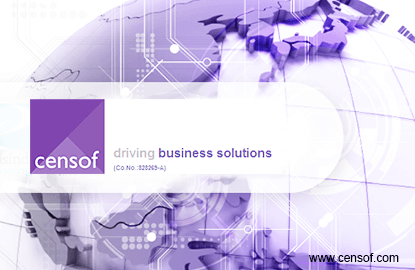 KUALA LUMPUR (July 29): Censof Holdings Bhd has clarified that an owed sum of RM6.7 million that was the subject of a qualified opinion expressed by its external auditors is recoverable.
The amount is due from a customer relating to a project with a government agency, it said in a statement today.
"The qualified opinion reflects the difference of opinion between the board of directors of Censof and the external auditors, Messrs Crowe Horwath," it added.
The contract was first awarded to Censof's subsidiary in 2011 for RM22.5 million, and there was a variation order worth RM2.5 million thereafter, bringing the total contract value to some RM25 million.
"Accordingly, the project was implementing under various phases over the years. So far, Censof's subsidiary has to date received payment for work done amounting to RM18 million thus far.
"For the remaining portion of the contract, Censof is currently undergoing a User Acceptance Test (UAT) stage [which] is expected to be completed within the coming six months," said Censof.
It added that the matter will be resolved and it is optimistic that the full cost is recoverable after the UAT is over.
Crowe Horwath had expressed a qualified opinion on the financial solutions and software provider's accounts for the financial year ended March 31, 2016 (FY16) pertaining to the RM6.7 million long owed by a government agency client.
The external auditor was of the opinion that an adjustment for impairment loss should be made. Should that happen, Censof's carrying value of the amount owing by contract customers and FY16's profits would have been lower by the same amount of this impairment loss.
Censof shares fell by half a sen or 2.33% after the qualified opinion was reported to Bursa Malaysia, and thus closed at 21 sen today. Its market capitalisation is RM105.36 million.