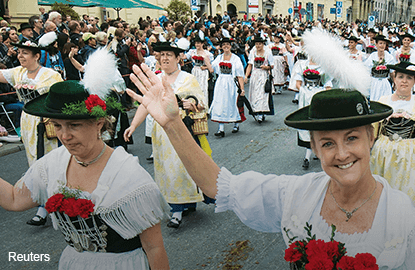 It all began two centuries ago, when Crown Prince Ludwig (who later ascended the throne as King Ludwig I) married Princess Therese of Saxe-Hildburghausen on Oct 12, 1810. The wedding was attended by the citizens of Munich, held on the fields in front of the city gates; and horse races were held in honour of the couple. The horse races were such a huge success that a decision was made to repeat them the next year, and this subsequently gave rise to the tradition of the Oktoberfest.
Fast forward to today, and the festival has become the world's largest Volksfest (beer festival and travelling fun-fair). This important part of Bavarian culture has evolved to become a 16-day folk festival running from late September to October. Traditionally, Oktoberfest is celebrated in Wiesn, located near the centre of Munich.
Here, copious amounts of specially made Oktoberfest Beer supplied by just six German breweries located within the city of Munich—Spaten, Loewenbraeu, Augustiner-Braeu, Hofbraeu-Muenchen, Paulaner and Hacker-Pschorr—is consumed. Only beer conforming to the Reinheitsgebot, a set of laws created in 1516 Bavaria pertaining to the brewing of Oktoberfest beer, is allowed to be served. The Reinheitsgebot requires that the only ingredients that can be used in the
production of beer are water, barley and hops.
In addition to beer, visitors also participate in a variety of attractions such as amusement rides and games, dine on traditional foods such as steckerlfisch, wuersti, knoedel and sauerkraut. Each year, the Oktoberfest festival sees millions of visitors flocking to Munich from around the world, while other cities in Germany also play host to millions of others.
The Germans take this festival very seriously, and the carnival rides are widely known to be some of the safest anywhere. A true nod to German engineering and focus on safety, all the rides are tested extensively in advance. Safety is paramount, and police presence can be seen throughout the city to minimise thefts, fights and sexual assault cases.
Although the Oktoberfest has earned a reputation of being a drunken festival where pretty ladies serve beer to beer lovers gorging themselves without fear of being judged, locals take much pride in their traditional festival. After all, it's a distinctive part of Bavarian culture, and has been so for generations.
Throughout the rest of the world, many German bars and restaurants pay tribute to the much-loved festival by hosting parties and carnivals, albeit on a much smaller scale. Oktoberfest this year runs from Sept 19 till Oct 4, and there are several places in Kuala Lumpur where we can all join in the celebrations.  
MGCC Oktoberfest
The Malaysian-German Chamber of Commerce and Industry is back again with the ever-popular MGCC Oktoberfest, under the patronage of the German ambassador to Malaysia. The event was first established in 2010, and has since become one of MGCC's most highly anticipated annual events, bringing a piece of Bavarian culture to Malaysia. This year, the band Die Dorf Fest Kapelle will be gracing the stage, and myPretzel will be delighting your tastebuds with authentic German Oktoberfest pretzels. The MGCC Oktoberfest will be held at 7pm on Sept 29 and 30, at Ciao Ristorante, 20A Jalan Kampung Pandan, off Jalan Tun Razak, Kuala Lumpur. Reserve a table for 10 now at RM3,100 (for both days) which includes an authentic German buffet with pork knuckles, one litre of Erdinger beer and one Erdinger Oktoberfest mug, free flow of soft drinks and mineral water, and Oktoberfest entertainment with music and games. For enquiries or reservations, email [email protected] or call (03) 9235 1812.
Brotzeit German Bier Bar & Restaurant
There can be no better way to celebrate Oktoberfest than to pay a visit to an actual German Bar. This year's brew on tap at Brotzeit is Paulaner and Hacker Pschorr, two out of the six official Oktoberfest brews. Brotzeit's native Bavarian chef, Helmut, will be whipping up four-person Oktoberfest platters (RM230) featuring pork knuckles, pork garlic sausages, gypsy belly bacon, lumberjack steaks, pretzels, sauerkraut and potato salad.
Brotzeit's grand Oktoberfest celebration on the other hand, will take place on Oct 9 and 10 at their Mid Valley Megamall outlet. Celebrate the festival with sumptuous Bavarian specialties and the annually brewed Oktoberfestbier. Live performances by Paulaner Musikanten from Munich will add to the merriment. Limited seats are available, and platters for four to five persons are priced at RM230 each.
---
For reservations or enquiries, call (03) 2287 5516 or visit www.brotzeit.my. Brotzeit outlets are located at Bangsar Shopping Centre, Mid Valley Megamall and Sunway Pyramid.
This article first appeared in digitaledge Daily, on September 17, 2015.