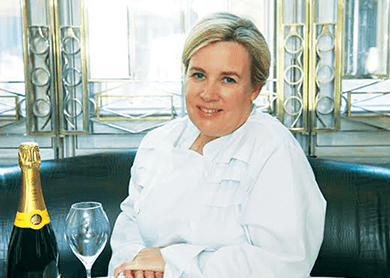 INSPIRED by the life and achievements of Barbe Nicole Ponsardin, also known as Madame Veuve Clicquot, who played a vital role in expanding Veuve Clicquot into the global champagne brand that it is today, the Veuve Clicquot world's best female chef award celebrates the work of an exceptional female chef whose cooking excites the toughest of critics. The selection and voting process involves almost 1,000 international restaurant industry experts and well-travelled gourmets who make up the Diners' Club® World's 50 Best Restaurants Academy.
This year, head chef and restaurateur Hélène Darroze of Hélène Darroze in Paris, and of Hélène Darroze at The Connaught in London, was named the recipient of the award.
"I am honoured to win the award because there are talented female chefs all over the world and I imagine choosing only one is challenging. I think it is important to celebrate women and their achievements. My hope is that the recipients of this award inspire young women, including my daughters, to follow their passion and work hard to hone their skill regardless of profession." Darroze said, upon learning about the award.
Darroze is a fourth generation chef and upon completing her degree and a tutelage in the Louis XV restaurant in Monaco, she spent four years perfecting her culinary style and skills in her family restaurant Chez Darroze in Villeneuve-de-Marsan in the Landes region before opening her own restaurants that serve contemporary French recipes.  
Veuve Clicquot president, Jean-Marc Gallot, says, "We are thrilled to present Hélène Darroze with the Veuve Clicquot World's Best Female Chef Award. Her work and tireless passion, spanning Paris and London, truly embodies the spirit of the award and we look forward to watching her continued excellence in years to come."
Darroze will receive her award at The World's 50 Best Restaurants awards in London on June 1, joining a group of exceptionally talented female chefs from across the globe who have received the award.
This article first appeared in The Edge Financial Daily, on April 29, 2015.