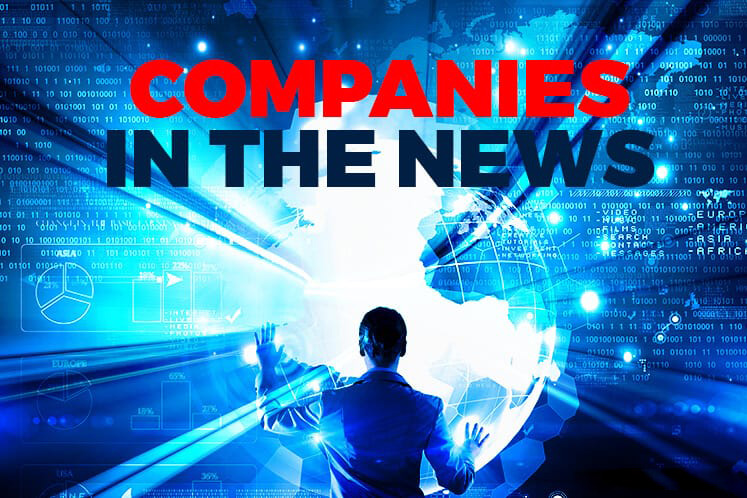 KUALA LUMPUR (May 28): Based on corporate announcements and news flows today, stocks on focus for Wednesday (May 29) may include: Chemical Company of Malaysia Bhd, Tenaga Nasional Bhd, Petronas Gas Bhd, AMMB Holdings Bhd, Hong Leong Bank Bhd, IHH Healthcare Bhd, Scomi Group Bhd, Axiata Group Bhd, Padini Holdings Bhd, British American Tobacco (Malaysia) Bhd, Petronas Dagangan Bhd and MMC Corp Bhd.
Chemical Company of Malaysia Bhd (CCM)'s management is cautious of its overall margin as it expects the average caustic soda selling price to remain soft compared with last year. As such, it will be "tough" to maintain the group's financial performance in its financial year ending Dec 31, 2019 (FY19), group managing director Nik Fazila Nik Mohamed Shihabuddin told reporters today.
Tenaga Nasional Bhd (TNB) net profit for the first quarter ended March 31 (1QFY19) dropped 26% to RM1.56 billion from RM2.12 billion due to higher net losses from the impairment of financial instruments and tax expenses. Revenue rose to RM13.24 billion from RM12.27 billion a year ago due to higher sales.
Petronas Gas Bhd's 1QFY19 rose 6.7% to RM515.46 million from RM483.22 million a year earlier due to an unrealised foreign exchange gain of RM52.5 million from the discontinuance of hedge accounting on US dollar lease liabilities for floating storage units at the group's liquefied natural gas (LNG) regasification terminal Sungai Udang; and higher profit share from a joint venture (JV) company following the completion of its air separation unit project in Pengerang, Johor.
The group's revenue rose to RM1.37 billion, from RM1.35 billion – with the group posting a first interim dividend of 16 sen per share, payable on June 27.
AMMB Holdings Bhd's fourth quarter ended March 31, 2019 (4QFY19) grew 81% to RM459.67 million, from RM253.41 million due to net write back for impairment of for loans, advances and financing amounting to RM271.56 million – as well as higher lending volume, and lower expenses from non-repeat of severance costs and an increase in recoveries. Quarterly net interest income grew 10.7% to RM1.24 billion from RM1.12 billion seen a year prior.
Meanwhile its full-year net profit rose 33% to RM1.51 billion, from RM1.3 billion, while net interest income grew 13.2% to RM4.89 billion from RM4.32 billion.
Hong Leong Bank Bhd (HLB)'s net profit for the third quarter ended March 31, 2019 fell 8% year-on-year (y-o-y) to RM633.9 million from RM690.03 million, due mainly to lower net income. Revenue for the quarter dipped to RM1.17 billion from RM1.26 billion.
For the nine months ended March 31 (9MFY19), HLB's net profit edged up to RM2.03 billion from RM2.01 billion a year earlier, on the back of a healthy expansion in loan book despite lingering concerns in the operating environment. 9MFY19 revenue, however, was lower at RM3.56 billion versus RM3.66 billion previously.
IHH Healthcare Bhd will reduce its non-Turkish lira-debts by up to US$250 million, starting this year. The group said at its annual general meeting (AGM) that it will be refinancing the debt into lira, and that this will be done in stages, with the aim of reducing its foreign currency denominated debt beyond US$420 million (to date). In FY18 the group's foreign currency-denominated debt was US$670 million.
Scomi Group Bhd plans to issue new shares in Scomi Energy Services Bhd as part of its efforts to settle RM113.96 million debt with Malayan Banking Bhd (Maybank).The group has pledged 206.04 million shares in its 65.65%-owned subsidiary for the settlement, which Maybank has agreed to.
After four consecutive quarterly losses, Axiata Group Bhd swung back to the black with a 1QFY19 net profit of RM709.05 million, compared with a net loss of RM147.41 million a year ago, due to better toplines and an RM113 million gain from the divestment of its stake in Singapore telco M1.
However, it noted that the discontinuation of profit sharing from M1 tempered its performance. Quarterly revenue grew 3.5% to RM5.95 billion from RM5.75 billion a year ago, driven by better performance from all operating companies apart from mobile operations in Malaysia and Nepal.
Padini Holdings Bhd's 3QFY19 net profit declined 13% to RM34.65 million from RM39.78 million registered a year prior, due to narrower gross profit margin. Quarterly revenue grew by 11.5% to RM474.19 million from RM425.27 million posted a year prior, due to sales from four new stores opened in 4QFY18.
For 9MFY19, the group's net profit declined 12.5% to RM105.82 million from RM120.97 million a year ago, with revenue growing 5.5% to RM1.267 billion, from RM1.201 billion. Notwithstanding the weaker results, the group announced a fourth interim dividend of 2.5 sen, and a special dividend of 1.5 sen for FY19, payable in June.
British American Tobacco (Malaysia) Bhd's 1QFY19 net profit fell 7.9% to RM88.6 million from RM96.23 million last year, due to consumer downtrading and the legal market contracting. Revenue slipped 2.6% to RM620.96 million from RM637.65 million.
The group declared a first interim dividend of 30 sen for the financial year ended Dec 31, 2019 (FY19) to RM85.86 million, payable on June 25 — which is down three sen from the 33 sen dividend it announced in 1QFY18.
Petronas Dagangan Bhd's 1QFY19 net profit increased 33% to RM291.2 million from RM218.48 million last year, following better performance from its commercial and retail segments. Quarterly revenue inched 0.28% higher to RM7.09 billion from RM7.07 billion – with the group declaring a 15 sen dividend, to be paid on June 27.
MMC Corp Bhd's 1QFY19 net profit jumped 29.4% to RM53.52 million from RM41.35 million in the same quarter a year ago, due to higher contributions from its port entities.
Quarterly revenue declined 10.7% to RM1.14 billion from RM1.28 billion, due to lower contribution from the
Klang Valley Mass Rapid Transit (KVMRT) Sungai Buloh-Serdang-Putrajaya (SSP) Line underground works, whose contract was revised last November, and lower progress from its Langat sewerage project. The fall was moderated by the consolidation of Penang Port Sdn Bhd's revenue, as well as higher volume handled at Pelabuhan Tanjung Pelepas.