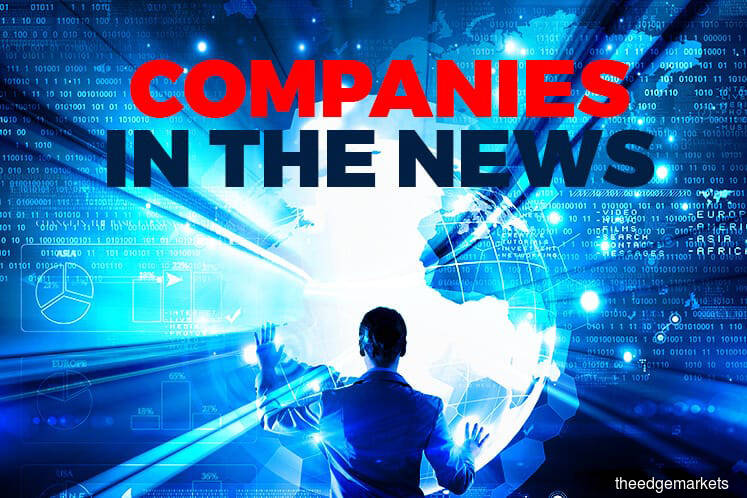 KUALA LUMPUR (Dec 14): Based on corporate announcements and news flows, stocks in focus on Monday (Dec 17) may include: CCM, Mynews, BToto, Sanichi, Gamuda, D'nonce, Sime Darby Plantation, Tan Chong, MCT, YFG, Nextgreen, V.S. Industry, Tenaga, Petronas Chemicals and Sapura Energy.
Chemical Company of Malaysia Bhd (CCM) said Indonesia's tax court has ruled in favour of its unit in its appeals over taxes imposed.
It said several tax adjustments were made by the tax auditor, amounting to 34.06 billion rupiah (RM9.78 million) or 99.25% of the total appealed amount of 34.31 billion rupiah (RM9.85 million).
Mynews Holdings Bhd's net profit jumped 14.81% to RM6.07 million for its fourth quarter ended Oct 31, 2018, from RM5.29 million a year ago, on the back of higher revenue. Its earnings per share fell to 0.89 sen from 1.7 sen because the number of shares outstanding increased as a result of a one-for-one bonus issue last year.
Berjaya Sports Toto Bhd's (BToto) net profit slipped 2.3% to RM60.29 million for the second financial quarter ended Oct 31, 2018 from RM61.73 million a year ago, mainly due to lower results from Sports Toto Malaysia Sdn Bhd.
This was partly mitigated by improved results attained by H.R. Owen Plc and Philippine Gaming Management Corp.
The group registered lower earnings per share of 4.48 sen compared with 4.58 sen previously.
Sanichi Technology Bhd said it is unaware of the reasons for the recent sharp fall in price, saying there are no corporate developments relating to the group's business and affairs that has not been previously announced that may account for the unusual market activity (UMA).
Bursa Malaysia had slapped Sanichi with an UMA query after its share price hit an intraday record low of 7.5 sen. The counter's share price has declined 47% over the past week since Dec 6.
Gamuda Bhd announced a 15.7% drop in its net profit to RM172.04 million for the first quarter ended Oct 31, 2018, against RM204.08 million in the same quarter last year, primarily because it stopped recognising its share of earnings from water concessionaire Syarikat Pengeluar Air Sungai Selangor Sdn Bhd (Splash).
It said the lower earnings were also due to the lower profit contribution from its construction division, specifically the KVMRT Line 2 project, and its property projects in Malaysia.
D'nonce Technology Bhd said the requisition notice filed by its substantial shareholder Blackstream Investments Pte Ltd for an extraordinary general meeting to remove 10 of the group's directors has been rendered invalid.
The group said it has been advised by its solicitors on the ineffectiveness of the notice due to an interim order granted by the High Court, saying the interim order remains valid and in force unless the court directs otherwise.
Sime Darby Plantation Bhd has appointed Mohamad Helmy Othman Basha as deputy to the managing director (MD) from Jan 1.
In his new role, Mohamad Helmy, who is currently the chief operating officer of upstream, will understudy Sime Darby Plantation's incumbent MD and executive deputy chairman Tan Sri Mohd Bakke Salleh, who is retiring in June next year.
Apart from assisting the MD with the overall running of the group, Mohamad Helmy will continue to be responsible over the plantation upstream business.
Tan Chong Motor Holdings Bhd said it is set to lose its right to import and distribute Nissan vehicles and parts in Vietnam with effect from Sept 10 next year.
It said Nissan Motor Co Ltd last week issued a notice of termination of its joint venture agreement with Tan Chong's wholly-owned subsidiary, ETCM (V) Pte Ltd, without stating a reason.
MCT Bhd's subsidiary One City Sdn Bhd says it agrees with Attorney General Tommy Thomas's proposed solution to the Seafield temple issue, which includes the transfer of the land occupied by the temple to a trust.
One City said it was supportive of the comprehensive settlement towards a peaceful and lasting resolution on the temple issue put forth by Thomas.
YFG Bhd has received a termination letter from Atta Global Group Bhd's unit Atta Properties Sdn Bhd to stop construction works for a RM40 million project on Jalan Sultan Azlan Shah, Penang.
It said the notice of termination was served to its wholly-owned subsidiary YFG Engineering Sdn Bhd owing to some legal and financial issues, which currently affect the progress and sub-contractor of the project on the part of Atta Properties.
Nextgreen Global Bhd plans to raise up to RM32.83 million in a private placement of its shares to investors to be identified later.
Nextgreen said the proposed private placement will entail the issuance of up to 65.67 million new shares or 10% of its issued share capital, at 50 sen a share.
V.S. Industry Bhd's net profit fell 7.1% to RM39.81 million for the first financial quarter ended Oct 31, 2018, from RM42.87 million a year ago, mainly due to a loss on disposal of a subsidiary and foreign exchange loss, resulting in a lower earnings per share of 2.32 sen compared with 2.61 sen previously.
Its quarterly revenue was flat at RM1.08 billion compared with RM1.07 billion a year ago.
Nevertheless, the group declared a first interim dividend of one sen per share, payable on March 12.
Tenaga Nasional Bhd will raise the imbalance cost pass-through (ICPT) surcharge for non-household users from March 1 to June 30 next year, to help offset rising costs.
The ICPT surcharge will increase to 2.55 sen per kWh from the current 1.35 sen per kWh, following the government's approval for the national utility company to continue implementing the ICPT mechanism for another six months, from Jan 1 to June 30, 2019.
Petronas Chemicals Group Bhd said its marketing unit has inked a deal to market methanol produced by a Sarawak state-owned company.
Petronas Chemicals Marketing (Labuan) Ltd will act as the marketing arm for Sarawak Petchem Sdn Bhd for methanol from the latter's plant in Bintulu for 20 years, with the option for further extension.
Sapura Energy Bhd announced late tonight that its single largest shareholder Tan Sri Shahril Shamsuddin, who is also the president and CEO, decided to put in an additional RM100 million to subscribe in full for the rights issue that is sweetened with free warrants.
Sapura Energy said it received irrevocable undertaking from its direct substantial shareholder Sapura Technology Sdn Bhd (STSB) for RM400 million worth of rights shares, and from Jurudata Sdn Bhd, which will also be applying for excess rights shares besides its entitlement.
This supersedes the letter of undertaking earlier, in which STSB had provided an irrevocable undertaking to subscribe to a minimum of RM300 million worth of rights shares with warrants.
On top of that, the company's other senior management have given their undertaking in writing for the massive cash call, which aims to raise RM4 billion at 30 sen per rights share.