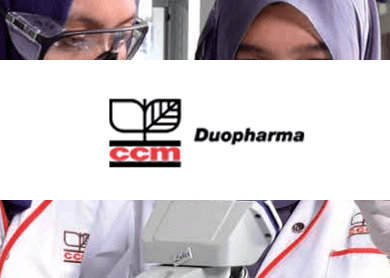 KUALA LUMPUR: CCM Duopharma Biotech Bhd (CCMD) aims to post higher revenue for its financial year ending Dec 31, 2015 (FY15), driven by full-year contributions from the approved pharmaceutical products list (APPL) tender.
CCMD group managing director Leonard Ariff Abdul Shatar said the company is optimistic about its performance for 2015, despite the challenging overall economic outlook.
"We are still bullish for the year. One of the reasons would be the APPL tender, which started in June 2014. Obviously this year we will have the full-year impact of the tender, as opposed to six months last year," he said at a press conference following the company's 14th annual general meeting (AGM) yesterday.
Besides that, Leonard Ariff said continued contributions from the government sector, which made up 68% of its top line in 2014, will also support the company's performance for its current financial year.
"That may seem a bit high, but the government consumes almost 70% of [total] generics. So, even at 68%, we are quite balanced, suiting the demand from the government side," he explained.
For FY14, CCMD (fundamental: 3; valuation: 0.9) posted revenue of RM176.96 million, up 8.9% from RM162.41 million a year earlier, while net profit climbed 9.3% to RM35.28 million from RM32.28 million.
On CCMD's plans for the year, Leonard Ariff said the company will be undertaking capacity expansion for its sole facility in Klang, which is currently able to produce two billion tablets annually.
He said the exercise, which will include the purchase of some new equipment and civil infrastructure works, will cost between RM40 million to RM70 million, and will result in a 50% expansion in the facility's capacity.
Meanwhile, the company will have two more facilities in Bangi and Glenmarie, following the completion of the acquisition of six pharmaceutical subsidiaries from its parent, Chemical Company of Malaysia Bhd (CCM) (fundamental: 0.35; valuation: 1.2).
For its long term plans, CCMD will be expanding its exports segment and introducing new products following the acquisition of the six units.
"We also aspire to expand our offerings beyond our shores and boost exports to over 20 countries which we are currently in, with primary focus on the Middle East and Asean region," he said.
Leonard Ariff noted that the standards of manufacturing of pharmaceuticals in Asean are rising, which means that quality pharmaceutical products can also be acquired from elsewhere in the region.
Hence, he said, the way forward is to look into the provision of unique products.
"We have set our sights on becoming Malaysia's largest pharmaceutical manufacturer. We believe the acquisitions [of the six units] will set the course for sustainable growth for CCMD going into 2018 and onwards," said Leonard Ariff.
This article first appeared in The Edge Financial Daily, on May 27, 2015.