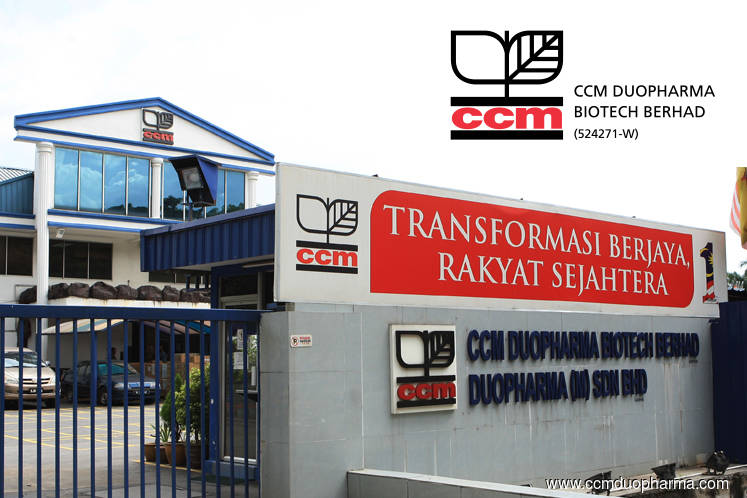 KUALA LUMPUR (April 13): CCM Duopharma Biotech Bhd is buying an 8.39% stake in PanGen Biotech Inc for KRW 16.35 billion or RM59.16 million cash from Chemical Company of Malaysia Bhd (CCM).
In a filling with Bursa Malaysia, CCM Duopharma said it has inked a conditional share sale agreement with CCM for the stake buy, which will be funded by bank borrowings.   
On completion of the acquisition, PanGen Biotech will become an investee company of CCM Duopharma.
The proposed acquisition is expected to be completed by the second quarter of 2018.
As Permodalan Nasional Berhad (PNB) is a common major shareholder of both CCM Duopharma and CCM, the proposed acquisition is deemed a related party transaction.
CCM is also listed on Bursa and said it would stand to make a gain of RM13.7 million from the sale. It planned to use part of the proceeds to repay its debts.
CCM Duopharma said the rationale for the proposed acquisition is to gain rights to market biosimilar products developed by PanGen Malaysia, Brunei and Singapore, with the first right of refusal to extend it to other Asean countries.
"Upon completion of the proposed acquisition, CCM Duopharma would also be able to benefit from the transfer of technology and know-how by PanGen, relating to bio-business, undertaken or to be undertaken by CCM Duopharma," the filing added.
PanGen Biotech was incorporated in Korea on Jan 29, 2010 and is listed on the Korea Securities Dealers Automated Quotations, a trading board of the Korea Exchange, under the category of new growth engine companies.
The main business of PanGen Biotech include development of biosimilar products, development of producer cell lines using its patented technology, design and development of small scale manufacturing processes, manufacturing materials used for pre-clinical and clinical trials, development of research cell lines (which is used to produce the proteins necessary on a small scale basis for research purpose), and manufacturing protein reagents and assay kits/system.
The proposed deal is subject to shareholders approval by both CCM Duopharma and CCM.
CCM Duopharma closed one sen higher at RM2.86 per share today, giving it a market capitalisation of RM797.8 million.
CCM closed unchanged at RM2 a share, giving it a market capitalisation of RM333.4 million.