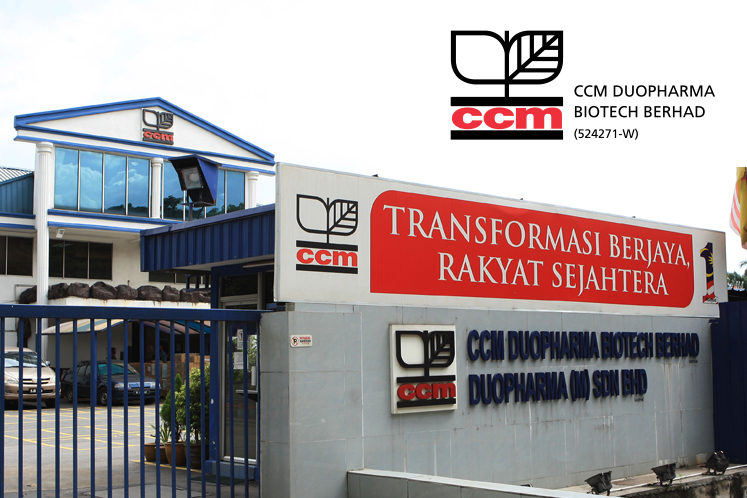 KUALA LUMPUR (Feb 18): CCM Duopharma Biotech Bhd's fourth quarter net profit rose 18.45% to RM14.37 million from RM12.13 million a year ago, due to higher revenue and changes in accounting policies arising from adoption of the Malaysian Financial Reporting Standards 9 (MFRS 9).
Earnings per share for the quarter ended Dec 31, 2018 rose to 2.17 sen from 1.86 sen.
Quarterly revenue was up 3.01% to RM115.63 million, from RM112.25 million previously, the group said in a filing with Bursa Malaysia.
CCM Duopharma has declared a final dividend of four sen, bringing total payout for FY18 to 5.5 sen, as against 3.64 sen in FY17.
The group has also proposed that the dividend reinvestment plan would apply to the final dividend.
For FY18 as a whole, CCM Duopharma's net profit increased 12.19% to RM47.64 million or 7.26 sen per share from RM42.46 million or 6.52 sen per share last year, while revenue grew 6.57% to RM498.72 million from RM467.99 million.
On prospects, the group said it sees opportunities from the increase in allocation for health services to RM29 billion in Budget 2019 including RM10.8 billion to restore clinics and hospitals as well to buy medicine and medical equipment.
"The group will also continue its foray into the specialty products as one of its strategies moving forward to create a pool of niche products," said CCM Duopharma, adding that it has recently received registration approval for Erysaa, an erythropoeitin product.
Barring any unforeseen circumstances, the group expects to achieve satisfactory results in FY19.
Shares of CCM Duopharma closed up one sen or 0.98% at RM1.03 today, bringing its market capitalisation to RM681.74 million.