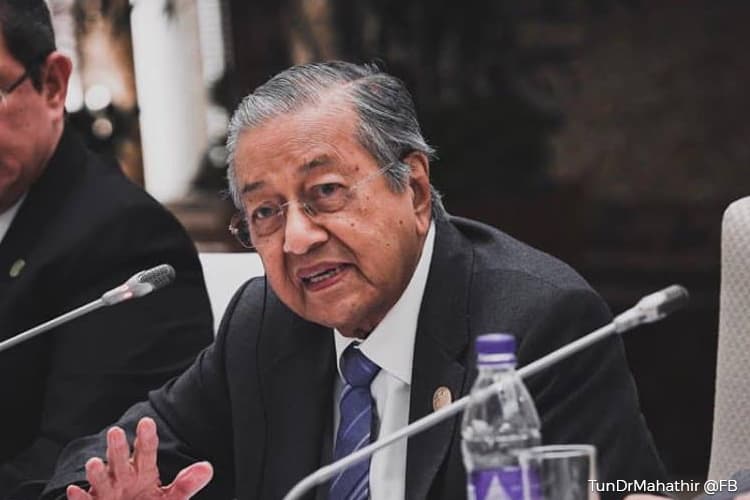 BEIJING (April 28): The RM1 billion refund from China Communications Construction Co Ltd (CCCC) is the money that the previous government paid in advance before work on the East Coast Rail Link was done, said Tun Dr Mahathir Mohamad. 
Speaking to Malaysian media here today, the prime minister said the Barisan Nasional government paid more than it should in advance to CCCC for the rail project.
"We will pay the sum when the works are done later (in future). We will have to pay RM44 billion for it," said the 93-year old leader who is here to attend the Second Belt & Road Forum 2019.   
When asked whether the government has received the sum, Dr Mahathir asks reporters to refer the question to Finance Minister Lim Guan Eng. "This one you have to ask Guan Eng," he said. 
Dr Mahathir added that any further reduction in the cost of the ECRL will depend on the project's scope of works. 
The Malaysian government announced the revival of ECRL, a 648-km rail project connecting the west and the east coast of Peninsular Malaysia, about two weeks ago after it has managed to renegotiate for the cost to be reduced by RM21.5 billion to RM44 billion, from RM65.5 billion originally.
The supplementary agreement signed to effect the cost reduction also includes the RM1 billion refund by CCCC to the government within one month. 
The amount is part of the RM3.1 billion that the previous administration paid as advance payment for Phase 2 of the ECRL project.
The ECRL will now be 40km shorter and will pass through Jelebu, Negeri Sembilan, instead of Gombak in the Klang Valley, to Port Klang.
Read also:
Dr Mahathir didn't ask China to look for Jho Low when meeting Chinese leaders
PM: Govt will reveal ECRL's contract, but have to consider China's feelings
Belt and Road Initiative not a 'domination plan' by China, says Dr Mahathir