This article first appeared in The Edge Financial Daily, on September 24, 2018.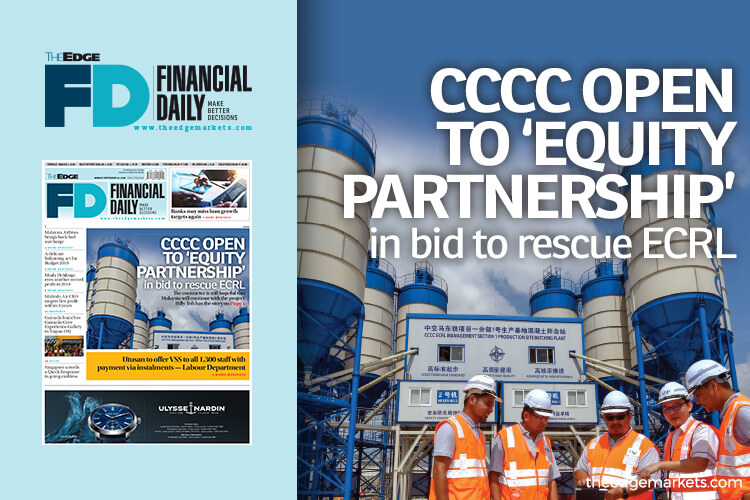 BEIJING: The Chinese contractor of the controversial East Coast Rail Link (ECRL) is still hopeful of rescuing the project and has expressed its willingness to take up an equity stake in the ECRL if the project resumes, according to its management when met by Malaysian media in China on Saturday during a trip organised by the Chinese government.
"In the Mombasa-Nairobi SGR (Standard Gauge Railway) project, we successfully switched roles from a contractor to a railway operator. We can have further discussions for the ECRL.
"We are open to discussions [on potential equity partnership]. We can [also] adopt the TOD (transit-oriented development) concept in the railway project ... ECRL will boost development of the Kuantan Industrial Park as well as trading hubs such as Port Klang and Port Kuantan, [which will] benefit local residents and inject new momentum into the local economy," said Sun Ziyu, vice president of China Communications Construction Co Ltd (CCCC), the Chinese contractor for the ECRL project, when asked if the company would consider equity participation in the project.
Work on the ECRL has been suspended since July amid criticisms that the cost of the project, at RM81 billion including financing cost, was too high. During his August trip to Beijing, Prime Minister Tun Dr Mahathir Mohamad said the rail project and two pipeline projects would be cancelled, after meeting with Chinese Premier Li Keqiang and President Xi Jinping. He said the Chinese government understood Malaysia's fiscal situation.
Malaysian government's top legal officer, Attorney-General Tommy Thomas, said in an interview published last week that the country was preparing to start "hard bargaining" with China on the compensation for the ECRL and the two pipeline projects following the cancellation announcement. "We're forming teams to prepare for them," he was quoted as saying, but did not speculate on the amount it would involve.
When contacted and asked about the possibility of such a partnership, a finance ministry spokesman said the ministry cannot comment at this juncture.
Sun, meanwhile, remained optimistic that the project would be realised, as he pointed to the importance of infrastructure development in any country and that discussions on future arrangements are still ongoing with ECRL project owner Malaysia Rail Link Sdn Bhd (MRL) currently. Nonetheless, he said the project's suspension should not take too long due to losses CCCC incurs daily.
"As we signed the contract with asset owner MRL, our discussion is with the asset owner. We will follow the contract and we believe that the issue can be resolved by negotiation. However, we are suffering losses every day as long as the suspension is still in effect. Therefore, we cannot afford for it to be left unresolved for too long.
"CCCC has never criticised the current government and we believe the problem can be resolved amicably. We fully understand the new government's concern about its debt [problem], but as a public company we are also accountable to our shareholders," he added.
On whether its current talks with MRL include the potential equity partnership, Sun said no. He also said despite not being an investor in the project now, the preferential loan offered for the project indicates the sincerity of Chinese players in the Malaysian market.
"ECRL is a project financed by preferential loans, and it is not an investment project. It is essentially a project financed by a low-interest loan from the Chinese government and the government will subsidise the bank to do that. Since the Malaysian government needs to provide sovereign guarantee for such a loan, its national debt will increase. [But] the fact that the project is financed by a preferential loan demonstrates the friendship between the two countries and bears great long-term significance for the economy and society of the host country," he explained.
As the group explores the adoption of the TOD concept along the ECRL, it is also actively seeking for other investment opportunities to help develop Malaysia, said Sun.
"We plan to invest in targeted industries along the ECRL, and lead investments from China and other countries as well. Besides infrastructure development, we also hope to participate in other fields, such as property development and urban development," he said.
This is in line with the group's view of Malaysia as its preferred market in its overseas business.
"Despite previous financial crises and trade uncertainties, our commitment to developing Malaysia in partnership with Malaysians remain unchanged. We set up our Southeastern Asia Regional Management Centre in Kuala Lumpur, which oversees CCCC marketing and project management work for Southeast Asia. So far, we have over 20 ongoing projects in Malaysia and they are proceeding well as per our contractual obligations," he noted.
Sun also rebutted claims that the ECRL project has not benefited locals in terms of employment opportunities.
"For ECRL, 50% of our workforce are locals and this could reach up to 70% [as the project progresses]. Except for some special technicians who are from China, all other staff are locals. We also launched an industrial training programme and had planned to train and develop 3,600 railway experts. So far, we have hired and trained 447 local graduates.
"We are committed to procuring locally as much as possible to cut down delivery time and reduce cost. Local subcontracting also improves our management efficiency. So far, 500 local suppliers, 157 local subcontractors and 91 local consultants are working with us. We only consider buying from other countries when there is no such material or equipment in the local market, such as TBM (tunnel boring machine) and rolling stock. At the same time, we subcontract a substantial amount of work to local companies," he said.
As for the pricey cost of the project, Sun said the pricing depends on the quantity of work as well as the scope of work involved.
"For example, whether it is single track or double track, the complexity of the track alignment, and geological conditions along the route ... [all these] will make a difference in terms of costing.
"Phase 1 of our EPCC (engineering, procurement, construction and commissioning) contract with MRL totals RM46 billion and the double-track and extension line contracts total about RM20.78 billion. So the contracts' [total] value is RM66.78 billion," he said.
As for Dr Mahathir's comment that there were companies offering to build the ECRL for as low as RM10 billion, Sun said such information has yet to be verified and confirmed. He also explained that different projects have different features and that the pricing needs to be evaluated based on scale, geological conditions, environment standards and more.