This article first appeared in City & Country, The Edge Malaysia Weekly, on January 27, 2020 - February 02, 2020.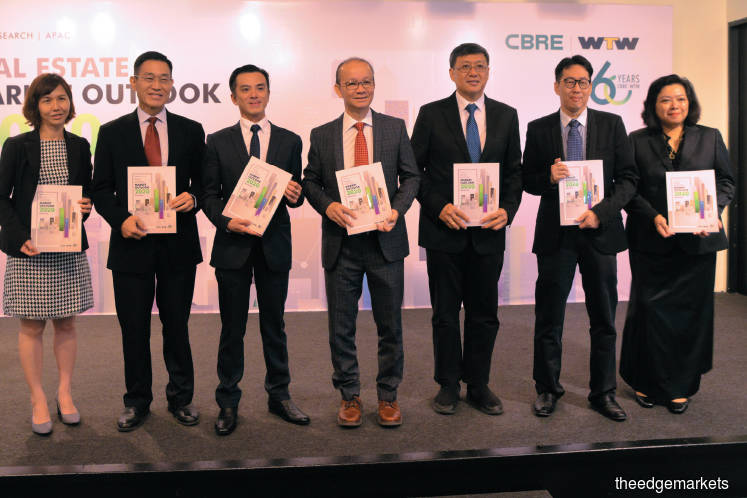 From left: C H Williams Talhar Wong & Yeo Sdn Bhd director Yip Phooi Leng, C H Williams Talhar & Wong (Sabah) Sdn Bhd director Cornelius Koh, Tan, Foo, Ting, Peh and Aziah at the launch of the CBRE | WTW Asia Pacific Real Estate Market Outlook 2020 report
Photo by CBRE | WTW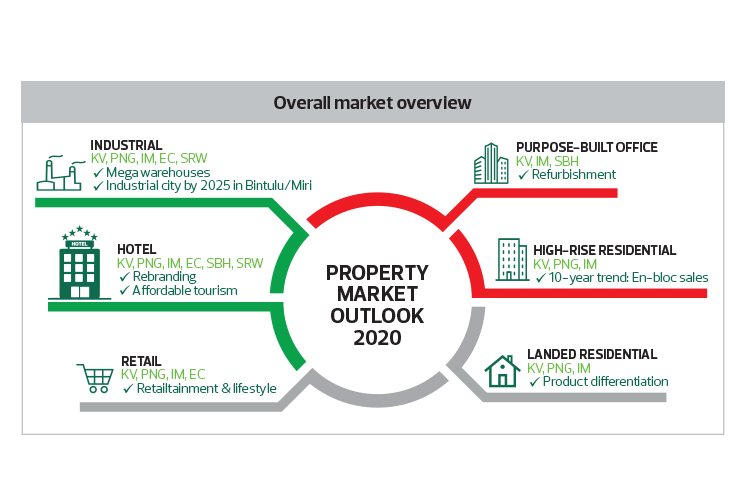 Source: CBRE | WTW Research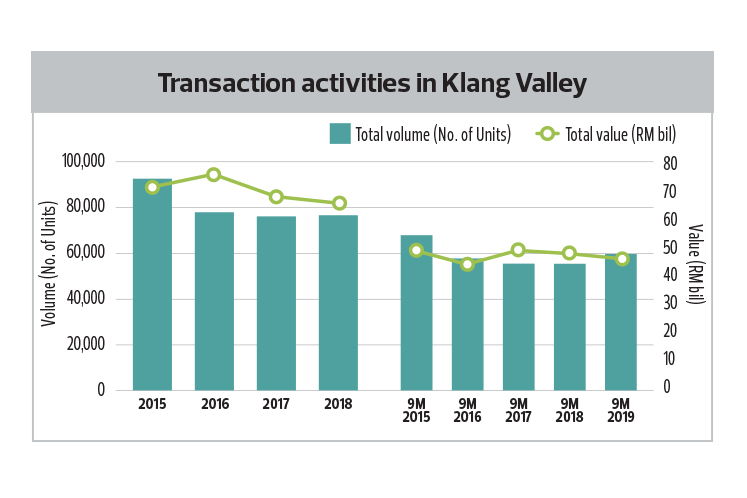 Source: NAPIC, CBRE | WTW Research
Of all the property market segments, industrial and hotel show the most promise, while residential will remain flattish, according to CBRE | WTW managing director Foo Gee Jen in presenting the research and consultancy firm's Asia Pacific Real Estate Market Outlook 2020 at TPC Kuala Lumpur on Jan 16. The firm also celebrates its 60th anniversary this year.
"The industrial segment is my favourite and I've been saying that for the last five years. A lot of new players have ventured into the segment and have built industrial estates that are gated, systematic and well-organised.
"We are also seeing growth in larger warehousing and logistics centres that cater for the growing demand for last-mile deliveries and expansion of e-commerce," said Foo. The 1.5 million sq ft Area Logistics mega distribution hub in Ampang is one example he cited during the presentation.
Meanwhile, IKEA is opening a distribution centre in Pulau Indah, Selangor, while Nestlé has opened the world's largest Milo manufacturing plant in Chembong, Negeri Sembilan. "We're also looking forward to the KLIA Aeropolis DFTZ (digital free trade zone)," Foo said, adding that "these [developments] will definitely create a lot of industrial needs in the region".
In Penang, he noted that the strong electrical and electronics sector, coupled with infrastructure improvements, land reclamation and upgrading of airports, will lead to an active market in the state, encouraging investments in manufacturing.
Iskandar Malaysia's industrial sector will continue to show strong growth as investments are still coming in. "Areas between Johor Baru and Desaru have been opening up a lot more opportunities," Foo said.
Also seeing further growth are Sibu, Bintulu and Miri in Sarawak, driven mostly by their industrial and O&G sectors, he continued.
On the hotel sector, Foo is optimistic that the country's tourism industry still has a lot of growth potential due to the low hotel rates. "We can find five-star hotel rooms in KL at just under US$100. Even in Yangon, Myanmar, rates are close to US$150 and Hanoi is probably closer to US$200."
Areas expected to see strong growth are the Klang Valley, Miri, Sabah and the east coast, he said.
Upcoming luxury hotels in the Klang Valley include Park Hyatt, Kempinski and Fairmont in Kuala Lumpur, while Sabah will have Sheraton Kota Kinabalu and Club Med's first premium resort in Kuala Penyu.
Foo highlighted that old hotels and ageing shopoffice blocks in the city are being refurbished. One example is the upgrade of budget accommodation Tune Hotel in Kuala Lumpur to The Chow Kit — an Ormond Hotel. "There is a reason why investors are still coming in to upgrade our hotels."
Meanwhile, the office and retail segments are seeing an oversupply situation, he said. "In the office segment, we were the first in the region to hit 100 million sq ft two to three years ago."
According to Foo, more old buildings and lower-grade offices in prime locations are expected to be refurbished. "Unfortunately, 75% of the office buildings in KL are above 20 years old and in need of improvement as their facilities fall short of the mark. We are hearing more talk of readaptation of these old properties. We have seen buildings like Menara IMG become Holiday Inn Express and even in Kota Kinabalu, Wisma AIA has become the Stanton Hotel."
As for the retail segment, there is 58.13 million sq ft of space in the Klang Valley. "With the population of greater Klang Valley at six million to seven million, the ratio is eight to nine sq ft of space per person. This does not put us in a very good situation. Bangkok has close to 85 million sq ft of retail space and a population of almost 14 million. Also, there are 25 million tourist arrivals in Bangkok, compared with the Klang Valley's 12 million."
Foo noted that e-commerce poses another challenge to the retail sector. "But there's always a reverse trend where stores are offering very personalised services and retailtainment such as the adidas Brand Centre at Sunway Pyramid."
Residential segment to see price correction
Despite improvements seen in the market last year, when about RM20 billion worth of properties were sold, driven mostly by the Home Ownership Campaign (HOC), Foo still sees a worrying property overhang situation in the country.
According to National Property Information Centre data, the residential overhang fell 3.8% from 32,313 units worth some RM19.8 billion in 2018 to 31,092 units worth around RM18.7 billion in 3Q2019. 
"The HOC doesn't effectively lower the overhang stock, evidenced by only a small reduction of about 2,000 units. Most of the properties sold during the HOC were likely to be from new launches," he noted.
While there is still pent-up demand, performance during the year will be unchanged, said Foo. "Year-to-year volume will see a slight dip and value will be flattish. I don't think the strong sales from the HOC will be repeated in 2020."
He added that the biggest concern is the segment comprising serviced apartments, small offices/home offices (SoHos) and small offices/versatile offices (SoVos), which has contributed to another 20,000 units of overhang. "The overhang shows a mismatch between demand and supply. The units are usually very small and people are usually looking to convert them into Airbnb or short-term rentals. This segment is really stretching the market."
As for the residential overhang, Foo said these units will eventually be absorbed by the market at the right prices and he foresees that a strong price correction will happen, especially for high-rise properties priced above RM1 million. "A way to clear the overhang is to reduce prices in this supply-demand mismatch situation. At the end of the day, investors will have to match the property price to the yield, and if the property gives less than 3% in yield and there's no capital appreciation over the years, the money might as well be put in the bank."
Without a major price correction, Foo does not foresee the overhang of serviced apartments, SoHos and SoVos clearing in the next five years. "If the market is not buying, developers or investors will have to decide whether they should hold on or cut their losses. It should be the consumers driving the prices, not the other way around," he remarked.
He also advised Malaysian buyers to have better awareness of consumerism, saying that consumers in cities such as London or in Europe do negotiate property prices with developers, even for properties sold on the primary market. "There is no such thing as a fixed price. Malaysian consumers should be more aware of their rights and should not have a herd mentality. It's your money — you decide what you want to pay for," said Foo during the media briefing.
In a phone interview with City & Country, he says properties that have not yet been completed can be sold at prices not exceeding those approved by the authorities, while the selling price of completed properties is not restricted. "Completed units are treated like sub-sale properties and follow the willing buyer, willing seller principle."
At the launch of the CBRE | WTW report, Foo commended the government on its efforts to reduce the minimum price threshold for foreign buyers but thinks that it is a short-term solution. "We have to ask ourselves if Malaysia is more attractive to foreign investors compared with other places like Bangkok, Singapore, Hanoi and even Ho Chi Minh City. We have not seen the interest translate into actual sales."
On the landed residential segment, he noted that sub-tier cities such as Melaka, 
Kluang and Bintulu have very active markets. "Mid-size developers have recorded sales of RM200 million to RM300 million in Kluang, and Melaka is another area still going strong. The oil and gas (O&G) sector in Bintulu has also brought about a lot of demand."
Foo believes the overall landed residential segment should see a slight growth of at least 5% this year.
He sees a growing trend towards pocket-size or boutique developments in the Klang Valley — in areas such as Kepong, Setapak and Wangsa Maju — and anticipates possible legislation changes to enable en bloc sales of aged high-rise stratified buildings for redevelopment due to scarcity of land going forward.
Infrastructure to pave the way
The economic driver over the next five years will be the ongoing infrastructure improvements in the country, namely the mass rapid transit line 2 (MRT2), East Coast Rail Link (ECRL), Rapid Transit System (RTS), West Coast Expressway (WCE), Penang Transport Master Plan (PTMP) and Pan Borneo Highway (PBH), according to the real estate valuation and consultancy firm.
The WCE will definitely open up a lot more land, said CBRE | WTW director Aziah Mohd Yusoff during the media briefing. "Perak has not been benefiting from all the economic growth and it is getting competition in terms of industrialisation from Penang and Selangor. With the WCE, the hinterland of Perak will see more activity," she said.
For Sarawak, connectivity is a major issue. C H Williams Talhar Wong & Yeo managing director Robert Ting believes that once the PBH opens, it will bring huge benefits to the hotel sector in Sarawak. "The whole state probably has a similar land area to Peninsular Malaysia and to travel from Kuching to Miri would normally take at least 12 hours, or 15 hours during peak season. With PBH, the travelling time will be cut by almost half to seven to eight hours."
In the Johor market, said CBRE | WTW director Tan Ka Leong, the RTS will be a game changer in clearing the overhang properties in the state. "Last year, Johor recorded 15,000 overhang high-rise properties, most of which are the result of a mismatch between supply and demand in the market. Seventy five per cent of the overhang units are high-rises priced above RM600,000 — comparable to the average price of landed houses in Iskandar Malaysia."
Once the RTS is ready and resolves the perennial traffic issue on the Causeway, Tan believes that overhang properties will no longer be an issue in Johor Baru. "Just 5% of the 5.7 million population in Singapore will create a lot of demand for houses as well as commercial properties," he remarked.
On the Penang market, CBRE | WTW director Peh Seng Yee noted that the comprehensive and high-budget PTMP, comprising light rail transit, monorail, cable car and various road networks, will be the catalyst for demand in the northern state. "It will change the landscape of Penang as well as provide new opportunities for property development. It will not be operational soon but will be in the medium to long term."
Population growth drivers
Overall, Foo believes that the market is still very much driven by the strong population growth of 1.3% to 1.5% each year. "The population profile is still very young. Over the next decade, house buyers will be the millennials. 
"Urbanisation will also drive market demand. Our country has an urbanisation rate of close to 72%. That in developed countries is close to 80%. By 2030, we will reach 75% to 80% and cities like KL, Penang and Johor Baru will be the choice for many millennials to buy their properties."
Foo also noted the need to provide care and housing to the ageing population. "By 2030, we expect one-third of the country to be aged 50 and above. Perhaps all serviced apartments should be able to cater for the ageing population," he concluded.