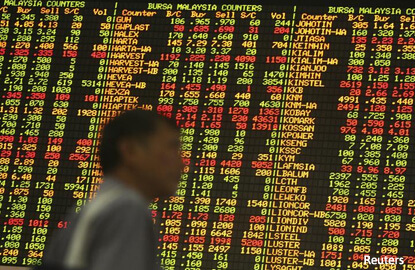 (Jan 25): Most Southeast Asian stock markets were flat to slightly higher on Wednesday, amid signs U.S. President Donald Trump's protectionist trade policies would help push Asian countries towards their own regional trade alliances.
Trump formally withdrew the United States from the Trans-Pacific Partnership trade deal on Monday, distancing America from its Asian allies, with Thailand's central bank governor, saying the pullout could "provide a better opportunity for some of the regional trade agreements."
Veerathai Santiprabhob cited as an example the Beijing-favoured Regional Comprehensive Economic Partnership, a proposed free-trade agreement which includes Southeast Asian nations, China, India, Japan, South Korea, Australia and New Zealand — but not the United States. 
"U.S. pulling out of the TPP in fact can be a net positive for Asia, considering China or any other Asian country can fill the vacuum and we can renegotiate our own trade partnership," said Victor Felix, an analyst with AB Capital Securities in Manila. 
Vietnam hit a near 9-year closing high on Wednesday, as blue-chips surged.
"Investors have a positive outlook for the domestic market for the year," said Tran Minh Hoang, chief economist of Vietcombank Securities.
Industrial heavyweight Cotec Construction was up nearly 2%, while Vietcombank rose 1.8% to hit a nearly 5-mth closing high.     
"Almost all blue-chips such as Vietcombank and Vinamilk = began surging by the end of trade," said Bui Nguyen Khoa, head of macro research at BIDV Securities Company in a report.
Thailand, Indonesia and Malaysia ended marginally higher on the day.   
Philippines fell 0.6% on profit-taking and ahead of the release of economic data later in the week. 
Index heavyweights such as conglomerate Ayala Corp and telecommunication giant PLDT Inc, both down 2.4%, dragged down the index.
"Speculating the recent rally in prices, people are just profit-taking ahead of the numbers tomorrow. If the numbers surpass expectations, it should be good tomorrow," said Charles Ang from COL Financial Inc. 
The Philippines' gross domestic product is expected to rise a seasonally adjusted 1.6% in the fourth quarter, from the previous quarter, according to a Reuters poll.
Singapore stocks snapped four sessions of gains to end lower, weighed down by real estate and industrial stocks and after global oil prices fell.
SOUTHEAST ASIAN STOCK MARKETS:
Change on day
| | | | |
| --- | --- | --- | --- |
| Market | Current | Previous Close | Pct Move |
| Singapore | 3039.94 | 3041.95 | -0.07 |
| Bangkok | 1584.29 | 1578.82 | 0.35 |
| Manila | 7323.36 | 7370.65 | -0.64 |
| Jakarta | 5293.782 | 5292.088 | 0.03 |
| Kuala Lumpur | 1683.93 | 1680.69 | 0.19 |
| Ho Chi Minh | 697.28 | 691.36 | 0.86 |
Change so far this year
| | | | |
| --- | --- | --- | --- |
| Market | Current | End 2016 | Pct Move |
| Singapore | 3039.94 | 2880.76 | 5.53 |
| Bangkok | 1584.29 | 1542.94 | 2.68 |
| Manila | 7323.36 | 6840.64 | 7.06 |
| Jakarta | 5293.782 | 5296.711 | -0.06 |
| Kuala Lumpur | 1683.93 | 1641.73 | 2.57 |
| Ho Chi Minh | 697.28 | 664.87 | 4.87 |