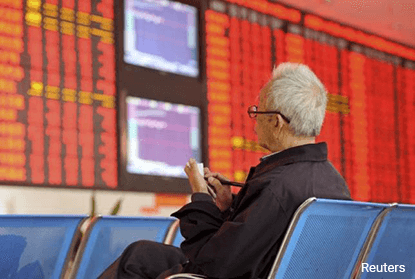 (March 6): Most Southeast Asian stock markets fell in thin trade on Monday, after U.S. Federal Reserve Chair Janet Yellen pointed to a March rate hike, and on rising geopolitical tensions in East Asia and news of slower growth in China this year.
Yellen on Friday all but confirmed market expectations for an interest rate rise in March, barring any sharp deterioration in economic conditions.
"We are following a general trend in Asian markets right now. Last week's speech from Yellen was very hawkish and she hinted at a rate hike for March. So, I think investors are just risk off right now," said Victor Felix, an equity analyst with AB Capital Securities.
Risk appetite also took a hit as North Korea fired four ballistic missiles early in the day, while a spat between China and South Korea over missile defence deepened.
Meanwhile, China cut its growth target for this year to 6.5%, compared to its 2016 goal of 6.5% to 7% when actual growth came in at 6.7%.    
Philippine shares were headed for their first fall in three sessions with consumer and industrial stocks leading the decline. 
The Philippine Central Bank said there may be no need for it to adjust monetary policy at the moment, as the market seems to have already priced in a possible Fed rate hike.
SM Investments Corp dropped 0.5%, while Ayala Corp fell 2.3%.
Thai shares were on track for a second straight session of declines with losses being broad-based. 
Financials and energy stocks were the biggest losers with Bangkok Bank PCL shedding 1.1%.
Singapore shares were down for a second consecutive session, with StarHub Ltd being the biggest loser.
SOUTHEAST ASIAN STOCK MARKETS:
Change at 0430 GMT
| | | | |
| --- | --- | --- | --- |
| Market | Current | Previous Close | Pct Move |
| Singapore | 3116.83 | 3122.34 | -0.18 |
| Bangkok | 1559.84 | 1566.2 | -0.41 |
| Manila | 7220.69 | 7247.12 | -0.36 |
| Jakarta | 5389.748 | 5391.215 | -0.03 |
| Kuala Lumpur | 1719.45 | 1708.38 | 0.64 |
| Ho Chi Minh | 716.59 | 712.62 | 0.56 |
Change on year
| | | | |
| --- | --- | --- | --- |
| Market | Current | End 2016 | Pct Move |
| Singapore | 3116.83 | 2880.76 | 8.19 |
| Bangkok | 1559.84 | 1542.94 | 1.10 |
| Manila | 7220.69 | 6840.64 | 5.6 |
| Jakarta | 5389.748 | 5296.711 | 1.76 |
| Kuala Lumpur | 1719.45 | 1641.73 | 4.73 |
| Ho Chi Minh | 716.59 | 664.87 | 7.8 |