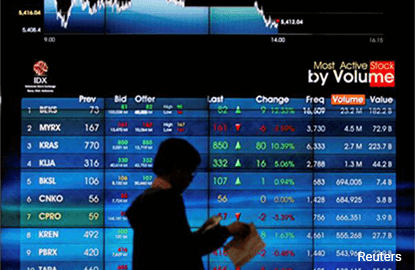 BENGALURU (Feb 27): Southeast Asian stock markets moved sideways on Monday, in line with Asian peers, ahead of U.S. President Donald Trump's speech to a joint session of Congress on Tuesday night, where he is expected to unveil some elements of his plans to cut taxes.
Trump would use the speech to disclose some elements of his sweeping plans to cut taxes for the middle class, simplify the tax system and make American companies more globally competitive with lower rates and changes to encourage manufacturing, Treasury Secretary Steven Mnuchin said in an interview broadcast on Sunday.
Investors will also be looking for details on how Trump would like to overhaul former president Barack Obama's signature healthcare law.
"Well what is affecting the market is how Trump will address the Congress and I guess Fed Chairman Janet Yellen will also speak in the Congress," said Manny Cruz, chief strategist at Asiasec Equities Inc.
"So, there is a lot of tension in the market at this point.
If you look at the broad regional market, it is simply moving sideways."
Yellen is also scheduled to deliver a speech on economic outlook on Friday.
Investors will also be looking out for a slew of economic data on the region, as well as globally this week.    
Thai shares dropped 0.4% in what could be their third straight session of falls with basic materials leading the decline.
The Thai steel index was down 3.3% with Permsin Steel Works Pcl and Asia Metals shedding more than 12% each.
Thailand's custom-based exports rose 8.8% in January, compared with a forecast of 9.85% in a Reuters poll, and imports rose 5.2% against expectations of 11.9%.
Singapore shares were down 0.3% as consumer and industrial stocks lost ground. Golden Agri-Resources Ltd fell as much as 3.75% to its lowest in more than three months, while Jardine Matheson Holdings Ltd declined up to 1.2%.
Malaysian shares rose 0.2%, heading for their first gain in three sessions. Consumer stocks led gains with Kuala Lumpur Kepong Bhd rising 1.3% and Genting Bhd climbing nearly 1%.
SOUTHEAST ASIAN STOCK MARKETS
CHANGE AT 0453 GMT
| | | | |
| --- | --- | --- | --- |
| Market | Current | Previous Close | Pct Move |
| Singapore | 3107.89 | 3117.03 | -0.29 |
| Bangkok | 1559.15 | 1564.59 | -0.35 |
| Manila | 7262.86 | 7258.99 | 0.05 |
| Jakarta | 5373.8 | 5385.906 | -0.22 |
| Kuala Lumpur | 1702.03 | 1698.35 | 0.22 |
| Ho Chi Minh | 714.95 | 714.47 | 0.07 |
Change on year
| | | | |
| --- | --- | --- | --- |
| Market | Current | End 2016 | Pct Move |
| Singapore | 3107.89 | 2880.76 | 7.88 |
| Bangkok | 1559.15 | 1542.94 | 1.05 |
| Manila | 7262.86 | 6840.64 | 6.2 |
| Jakarta | 5373.8 | 5296.711 | 1.46 |
| Kuala Lumpur | 1702.03 | 1641.73 | 3.67 |
| Ho Chi Minh | 714.95 | 664.87 | 7.5 |