This article first appeared in The Edge Financial Daily, on July 18, 2018.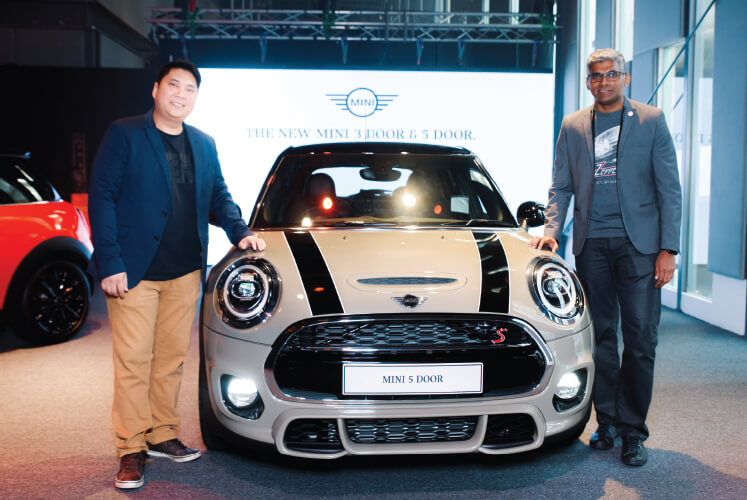 Sashi (right) and Yam introducing the new MINI
The new MINI John Cooper Works (left) and The new MINI 3 door.
MINI Malaysia, a compact premium automotive brand in the country, recently introduced the new MINI that suits the current new Malaysia spirit.
BMW Group Malaysia head of corporate communications Sashi Ambi says "the new MINI represents the latest and finest of the technological and design excellence of a car brand with an iconic and illustrious appeal transcending generations since 1959. The MINI of this generation is the perfect companion to explore every corner of a new and progressive country with unparalleled ease, meeting modern and premium needs with style to stand out and be noticed".
"Since the third generation MINI's introduction in 2014, we have seen more than 1,500 units delivered in Malaysia, accounting for more than half of the total deliveries of MINI vehicles here. Malaysians clearly love the thrill of the go-kart driving capabilities — a signature of the MINI brand — combined with the current and modern enhancements built harmoniously into its iconic premium compact design which elevates its appeal," said MINI Malaysia head Kidd Yam.
The first MINI was created in 1959 and became a design icon with celebrity-like appeal in pop culture and motorsports. With its unique looks, visceral driving experience and accessibility, the Mini was known for its enduring design, the creative use of space and a thrilling go-kart driving feel.
The new MINI stays faithful to these legendary roots yet remains au courant, setting new benchmarks again for an emotive, premium design, clever functionality and its signature go-kart handling.
The new MINI 3 Door, MINI 5 Door, and MINI John Cooper Works are introduced with the latest engines and transmissions from the BMW Group, complying with the latest Euro 6c standards for increased driving excitement and lower fuel consumption. The MINI also sets new benchmarks for design elements such as the new MINI Logo Projection, light-emitting diode (LED) headlights and Union Jack Tail lamps with Day Time Running Lights, and new logo elements on its body to distinguish the car further from its previous iterations.  
With the John Cooper Works, specifically, it features the MSA Connected that heightens the fuel-saving functions with its intelligent auto start stop system, enabling the performance-oriented MINI to decide whether the car is in a better position with its engine switched off or running for better efficiency.
The energy-saving rear lights sport a new stylised Union Jack that will surely draw eyeballs. All headlights are enhanced using LED technology redesigned for greater brightness than those of the previous models.
The MINI Cooper S 3 Door and MINI Cooper S 5 Door are the first MINIs equipped with the 7-Speed Dual Clutch Transmission and an electronic gear shifter.
The 7-Speed Dual Clutch Steptronic Sports Transmission consists of two sub-transmissions to ensure no delays and thus more comfort in shifting gears. With sub-transmission 1 aligned for gears 2, 4, 6, and the reverse, and sub-transmission 2 for gears 1, 3, 5 and 7, such optimum efficiency means the next gear is always pre-engaged on the other sub-transmission.
They are powered by the 2-litre 4-Cylinder MINI TwinPower Turbo Engine and deliver up to 192 horsepower and 280 Newton metre of torque, with a top speed of 235km/h.
The MINI Cooper 3 Door goes from zero to 100km/h in 6.7 seconds with a combined carbon dioxide (CO2) emission of 125g/km and a combined fuel consumption of 5.5l/100km.
Meanwhile, the MINI 5 Door sprints from zero to 100km/h in 6.8 seconds. Its combined CO2 emission is 128g/km and its combined fuel consumption is 5.6 l/100km.