This article first appeared in The Edge Financial Daily, on June 14, 2018.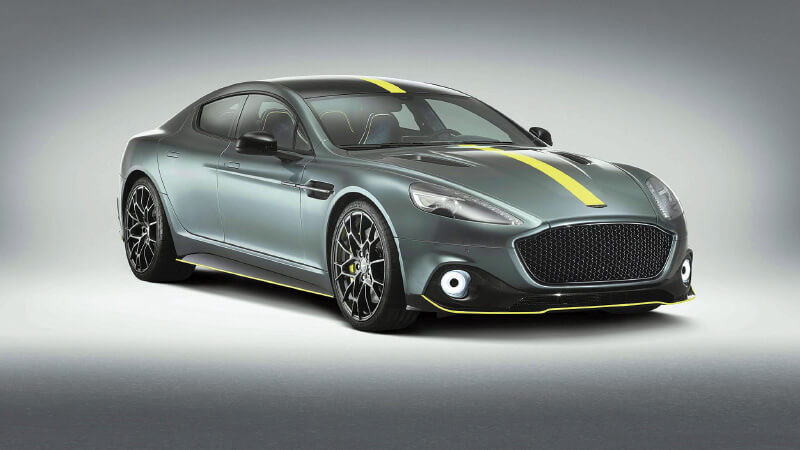 Aston Martin is unveiling the Rapide AMR before its return to the annual, prestigious 24 Hours of Le Mans endurance race, which it won in 2017.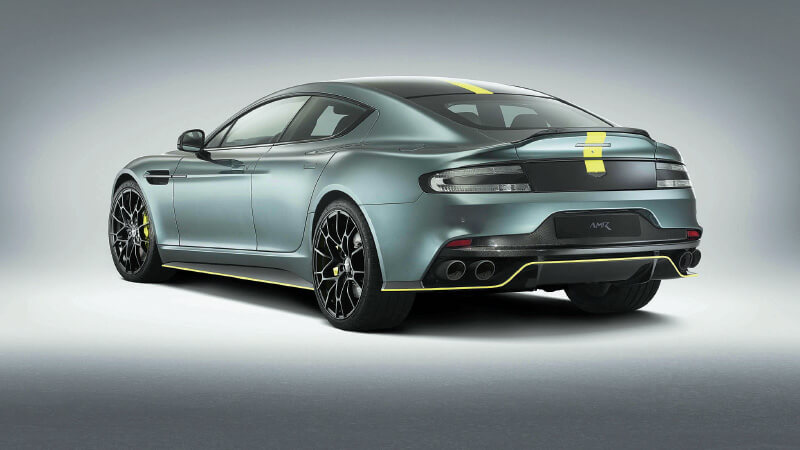 The Rapide AMR will be available this winter; 210 will be made.
THERE are plenty of new things to love about the track-ready sedan that Aston Martin has announced it will start making later this year. The Aston Martin Rapide AMR is lower, more powerful, and throatier than its racing stripe-less counterparts. At US$240,000 (RM958,512), it is quite a bit pricier, too.
This is the production version of the concept we saw last year at the Geneva Motor Show — the highest-tuned version of that four-door Brit, with back seats so small they would serve as an excellent interrogation space.
The Rapide follows the debut of the DB11 AMR and is meant to bridge the gap between the company's successful racing team and its road-going cars. It is 580 brake horsepower (bhp) V12 engine has 28 more bhp than the base Rapide. It sits slightly lower, and is tuned tighter; if you took it to a track, you would notice the difference.
But when a standard-issue Rapide S costs US$205,000, looks more like something its most famous owner, James Bond, would drive, and gets you to 96.56kph in exactly the same 4.2-second sprint time, is the extra thrust on the Aston Martin Racing version worth the additional coins?
Probably not. Even with all the new things you will have on this Rapide AMR, you still will not be able to touch the 2.5-second sprint time on the US$123,200 Model S P100D or the 3.6 seconds of the US$154,000 Porsche Panamera Turbo Sport Turismo.
And Aston Martin's real brand strength comes in the elegance of its look and driving persona, not from how mean and aggressive it can be on the track. Leave that to McLaren. (Yes, Aston Martin won Le Mans last year and is a true racing company for the ages. But when it comes to brand image, I am betting the brand gets more mileage out of its historic association with a debonair spy, as well as the visual style of the fewer than 5,200 cars it sells globally each year.)
The Rapide is the most beautiful four-door car on the market today, much more classic and timeless and rich, visually speaking, than both the Model S and the Panamera. Dressing it in carbon-fibre sporting gear is like seeing James Bond in Under Armor: not exactly how you pictured it.
But anyway! If you are in love with Aston Martin and really want something you can take onto the track without having to fork over millions and years off your life waiting for some version of that promised Valkyrie hypercar, the AMR could be your ticket to ride.
And as I said, there is enough here to ogle for quite some time.
Along with that screaming centre stripe and three new livery-exclusive design schemes, the Rapide AMR has special exterior badging and interior stitching, forged rims, and a steering wheel taken straight from the One-77 supercar — both offered here for the first time by Aston Martin — that mark it immediately as something special.
It also sits 10mm lower than the Rapide S, which means that it will feel more focused and agile from behind the wheel. Its suspension systems have all been optimised — via extensive testing around the Nürburgring, no less. And it carries additional aerodynamic-enhanced bodywork such as the front splitter, side sills, rear diffuser, spoiler, and lid on the trunk, all of which are done in carbon fibre.
A new hood with extra-large ventilation inserts also made from carbon fibre, plus carbon-ceramic disc brakes, contribute to a presumed total weight savings, compared with the Rapide S. (Aston Martin was unable to provide the exact weight of the Rapide AMR by the time of this story's publication).
Aston executives say the whole thing is supposed to feel like driving the irreproachable Aston Martin Vantage GT12. Of course, they are making just 210 of them, with only a quarter of that coming to the US, so few of us will be able to know for sure if that claim holds. — Bloomberg