This article first appeared in The Edge Financial Daily, on August 20, 2018.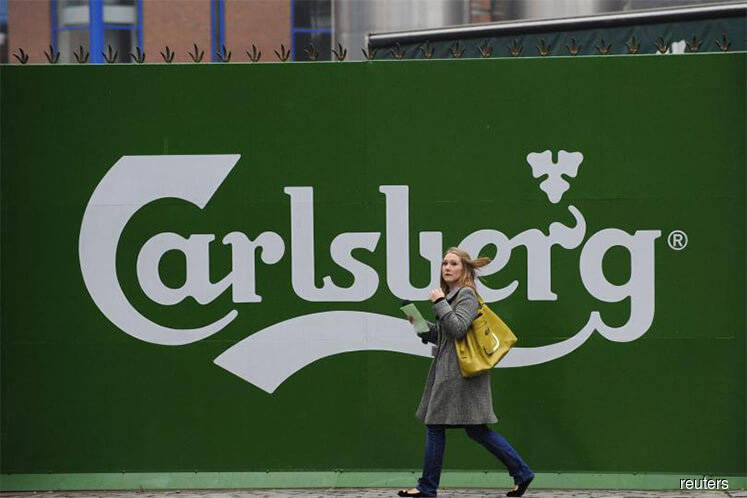 Carlsberg Brewery Malaysia Bhd
(Aug 17, RM19.10)
Maintain hold with an unchanged target price (TP) of RM20.20: Carlsberg Brewery Malaysia Bhd reported a turnover of RM415.5 million, up 2.3% year-on-year (y-o-y), and a core net profit of RM63.9 million, up 19% y-o-y, for its second quarter of financial year 2018 (2QFY18). This brought the group's cumulative core earnings to RM140 million (excluding final insurance compensation of RM4.7 million), up 14.6% y-o-y. This was largely within our and Bloomberg consensus expectations, representing 55% and 53% of the respective full-year forecasts. Carlsberg announced a dividend per share (DPS) of 15.7 sen, bringing its cumulative DPS for first half of FY18 (1HFY18) to 35.7 sen (1HFY17: 10 sen).
 
1HFY18 revenue grew 7.5% y-o-y to RM963.9 million on the back of a higher sales volume and a better product mix from premiumisation efforts in Malaysia (+16.9% y-o-y), which more than offset the weaker contribution from Singapore (-10.3% y-o-y). Nevertheless, a stronger profit contribution from Malaysia (+25.2% y-o-y) and an improved performance from associate Lion Brewery (Ceylon) Ltd (LBCP), which recorded a core profit of RM6.3 million for 1HFY18 (1HFY17: RM3.5 million core net loss), made up for the softer showing from Singapore (-38.4% y-o-y), leading to core net profit growth of 14.6% y-o-y.
LBCP, Carlsberg's 25%-owned associate in Sri Lanka, reported a surge in 2QFY18 profit to RM5.3 million (2QFY17: RM1.8 million core loss) as a result of higher beer sales and growing demand from tourists. We understand that the improvement in profit was also due to the reversal of an earlier decision by the Sri Lanka government to impose higher excise taxes on beer back in November 2017. We expect LBCP to continue its positive earnings momentum in view of the improved consumption trend in the country.
On a quarterly basis, 2QFY18 revenue and earnings before tax and interest dropped 24.3% and 20.6%, respectively, as a result of higher sales in both Malaysia and Singapore due to the Chinese New Year festive period in 1QFY18, coupled with trade loading in March.
Our earnings forecasts, "hold" call, and our dividend discount model-based TP of RM20.20 remain unchanged. Even though we are positive about the growth prospects of the group in Malaysia (better consumer spending on discretionary products), we remain cautious about the challenging operating environment in Singapore. — CGSCIMB Research, Aug 16