This article first appeared in The Edge Financial Daily, on February 18, 2019.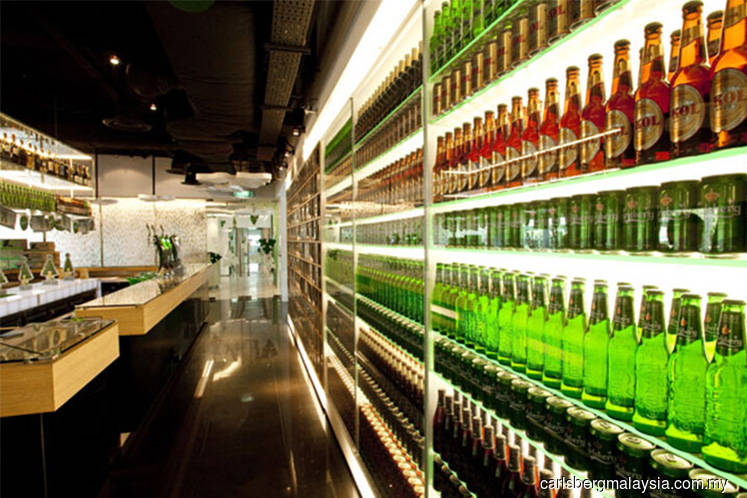 Carlsberg Brewery Malaysia Bhd
(Feb 15, RM21.92)
Upgrade to add with a target price (TP) of RM24.50: Bloomberg consensus estimates that Carlsberg's FY18 core net profit of RM272.5 million came in above expectations, at 107% of our and 103% Bloomberg consensus estimates.
 
The 4QFY18 revenue rose by 6.7% year-on-year (y-o-y) to RM525.7 million, while core net profit ticked up 3.8% y-o-y to RM67.4 million. This brought Carlsberg's (CAB) full-year FY18 core net earnings (stripping out a one-off insurance claim for its Sri Lanka associate of RM4.7 million) to RM272.5 million, beating our and market estimates at 107% and 103%, respectively. CAB also declared a final 4Q18 dividend per share (DPS) of 22.4 sen and a special DPS of 9.3 sen, bringing FY18 DPS to 100 sen (versus FY16: 87 sen). The 110% net profit payout was above expectations.
The higher-than-expected 4QFY18 net profit of RM67.4 million (5.7% y-o-y and 3.8% quarter-on-quarter [q-o-q]) was due to stronger sales volume in the premium segment, higher associate profits, and a lower tax rate.
We earlier expected weak sales in 4Q18 as clients stocked up in 3Q18 prior to sales and service tax (SST) on Sept 1, 2018. Yet, CAB still posted strong sales in 4Q18 as demand remained robust and there were positive government efforts to reduce illicit trade.
Heading into 2019, we see two growth drivers for CAB. We expect Singapore operations to improve with better inventory management and restructuring of its operations since 2H18. Also, we expect CAB to continue to record stronger sales volume, especially in the premium segment (Asahi, 1664 Blanc, etc) which offer better margins vs mainstream beers (Carlsberg, etc). This is in line with CAB's ongoing strategy of premiumisation.
CAB highlighted that it is expecting higher production costs in tandem with the recent increase in raw material prices (5-10% y-o-y). However, it has forward hedged bulk of its necessary raw material requirements and is confident of mitigating cost pressures with ongoing cost efficiency efforts.
Therefore, with FY18 results beating expectations, we raise our FY19-20F earnings per share (EPS) estimates by 8.8-10.6% to factor in higher premium segment sales. We also introduce our FY21 estimates.
Our dividend discount model (DDM)-based TP is raised to RM24.30 while we also roll forward our valuation base year to 2019. Our rating is upgraded to "add" from "hold" given optimism on strong sales volume, growing profitability via premiumisation and cheaper proxy to consumer sector (trading at 34% discount to current consumer sector CY20 weighted average price-to-earnings. — CGSCIMB Research, Feb 14