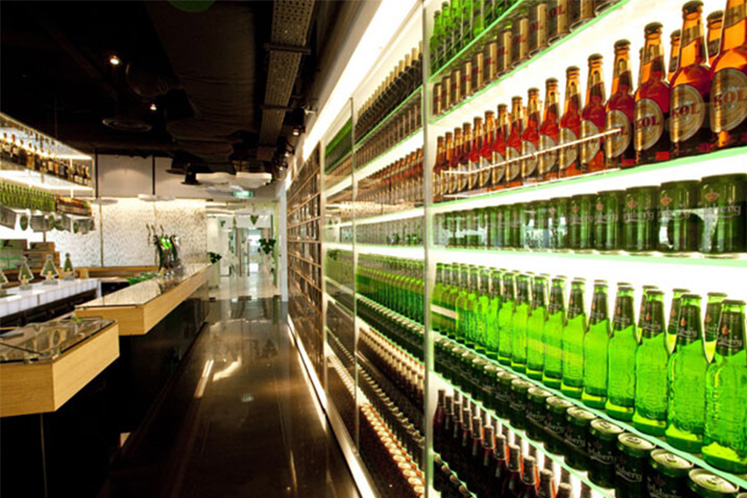 KUALA LUMPUR (May 16): Carlsberg Brewery Malaysia Bhd reported an 8.4% net profit rise in its first quarter, thanks to higher sales recorded in both its Malaysia and Singapore operations during the Chinese New Year (CNY) festive period, which boosted earnings.
Its net profit for the quarter ended March 31, 2019 (1QFY19) climbed to RM87.6 million from RM80.82 million a year ago, as revenue grew 20.3% to RM659.92 million from RM548.47 million, its stock exchange filing showed.
The stronger 1Q lifted earnings per share for the quarter to 28.65 sen from 26.43 sen previously. The group declared a first interim dividend of 21.5 sen per share — representing a 75% payout of its consolidated net profit for 1QFY19 — to be paid on July 31.
Revenue at its Malaysian business grew 23.7% to RM501.9 million in 1QFY19 while profit from operations grew 10.2% to RM90.9 million. Stripping the effects of the change from the goods and services tax regime to the sales and services tax, organic revenue for its business here still grew 16%, Carlsberg said.
Its Singapore business, meanwhile, recorded a 10.7% rise in revenue to RM158.1 million with a 16.3% rise in profit from operations to RM20.7 million.
The only decline was seen in its share of profit from Sri Lankan associate, Lion Brewery (Ceylon) PLC (LBCP), which fell 16.1% to RM4.7 million from RM5.6 million in the same quarter last year, despite improved operational performance. This is because its 1QFY18 results had recognised a final insurance compensation settlement of RM4.7 million relating to the 2016 floods.
To newly appointed Carlsberg managing director Ted Akiskalos, the 1QFY19 report card was "very satisfactory", and was a continuation of the group's "strong track record" of growing its revenue and net profit for shareholders.
Going forward, the group expects consumer sentiment in Malaysia to remain dampened in 2019 amid uncertainty in the macroeconomic situation. The smoking ban that was implemented from the start of the year has also had "and will continue to have" a negative impact on beer consumption in the on-trade channel, it said.
In Singapore, the anticipated introduction of the European Free Trade Agreement in the fourth quarter of 2019 will pose a further challenge from cheaper imports, it noted.
"In spite of the challenging market conditions as well as intense competition, we will continue our focus on product innovations, quality and consumer promotions as well as execution of our SAIL'22 strategy while keeping costs under control to deliver a satisfactory performance in 2019," it added.
Its shares fell 2.26% or 56 sen lower to RM24.24 today, giving it a market capitalisation of RM7.41 billion.