This article first appeared in The Edge Malaysia Weekly, on August 17, 2020 - August 23, 2020.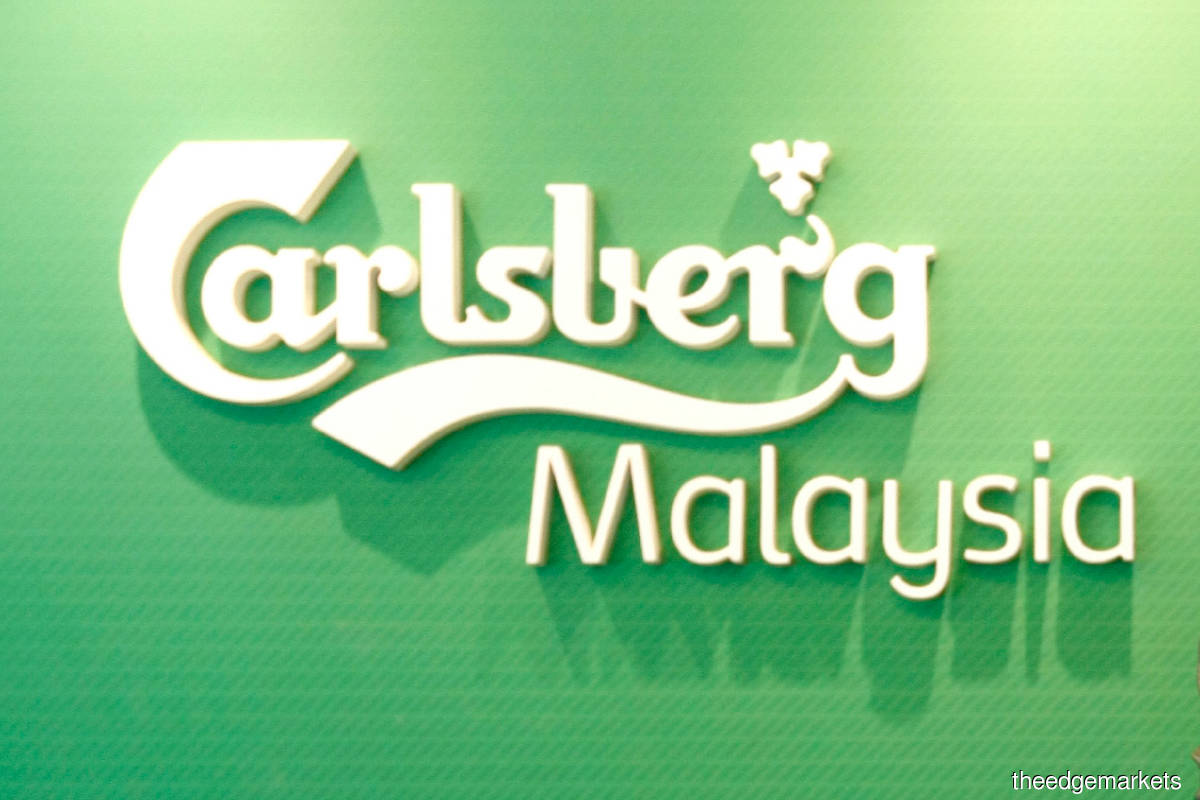 CARLSBERG Brewery Malaysia Bhd is committed to its 100% dividend payout ratio although the group's earnings prospects are still uncertain. The brewery's chief financial officer Lim Chee Keat says the board of directors has decided to suspend quarterly dividend payments for now, but the decision will be revised on an ongoing basis.
Speaking at a media and analyst briefing on its second quarter financial results ended June 30, 2020 (2QFY2020), last Friday, managing director Stefano Clini said it was difficult to say whether the company would continue with the quarterly dividend payout suspension in the next financial year ending Dec 31, 2021 (FY2021), given the low earnings visibility.
Carlsberg has stopped dividend payments for two consecutive quarters (1Q and 2QFY2020) — a rare scenario for the brewery. In contrast, it declared a 21.5 sen payout in 1QFY2019 and 16.1 sen in 2QFY2019, for a total of 37.6 sen in 1HFY2019.
The last time the brewery suspended quarterly dividend payments was in 1QFY2009. Nonetheless, it declared an annual dividend per share of 23 sen for FY2009, compared with its earnings per share of 25.02 sen.
As at June 30, 2020, Carlsberg's cash and cash equivalents stood at RM81.94 million while its borrowings totalled RM134.54 million. Its cash balance was lower at RM64.18 million at end-June 2019. 
 Carlsberg announced last Friday that its net profit had plunged 83.7% to RM10.65 million from RM65.26 million a year ago — the smallest profit since 2QFY2009. Its quarterly revenue declined 40.2% to RM287.27 million from RM480.52 million in the previous corresponding quarter.
Had it not been for a RM6.4 million bill of demand from the Royal Malaysian Customs Department, Carlsberg's 2QFY2020 net profit would have been higher at RM15.5 million. Still, the drop in earnings would have been sharp at 76.3%.
Commenting on the outlook for 2HFY2020, Clini said business recovery is anticipated to be slow over the next few months in the light of Covid-19 and the measures put in place to contain the pandemic. "As a consequence, consumer sentiment will remain depressed, particularly in the on-trade sector due to reduced capacities and shorter operating hours, social distancing, health and safety restrictions, as well as various financial and operating challenges that F&B businesses face."
Given the tough operating conditions, he said the company would continue to optimise its costs aggressively and reallocate its investments to digital campaigns, e-commerce and off-trade segments while extending support to its business partners.
When asked about further details on the company's cost savings plan, Clini and Lee said they were not at liberty to share such information. Lee reiterated that the brewery has an aggressive cost-saving target and is looking at changing its cost structure so that it will be more resilient post-Covid-19.
The saving grace for the brewery is that 60% of its on-trade outlets are currently operating, compared with only 20% during the Movement Control Order (MCO) period and circuit breaker (CB) lockdowns implemented on both sides of the Causeway. The on-trade segment includes eateries, coffee shops, bars and clubs.
Off-trade refers to the sale of its products in supermarkets and hypermarkets. Its off-trade segment also saw higher volumes during the MCO and CB, mainly driven by at-home consumption.
Clini noted that while the e-commerce segment is the smallest in terms of earnings contribution, it is growing at a double-digit rate and is expected to grow further. As for Carlsberg's earnings in FY2021, he said there is no reason for it not to post better results, provided that another wave of infections does not occur.
While the pandemic has disrupted Carlsberg's steady growth path, Clini, who took over the office last October, stresses that it will not shake its core fundamentals. "Covid-19 does not change the fundamentally healthy trajectory of our business, [but] it does delay it," he says.
"If you take Covid-19 out of the picture, it [healthy trajectory] does continue and we are very confident of our growth rate. How quickly is it going to rebound, that is difficult to tell."
According to Bloomberg, consensus estimates put Carlsberg's FY2020 net profit at RM239.5 million before the release of its second-quarter earnings numbers. Based on the estimates, the group's net profit of RM83.6 million for 1HFY2020 fell short of market expectations.
Carlsberg's share price had shed RM6.20, or 21% year to date, to close at RM23.20 last Friday. The stock hit an all-time high of RM38.94 in February.