This article first appeared in The Edge Financial Daily, on February 14, 2020.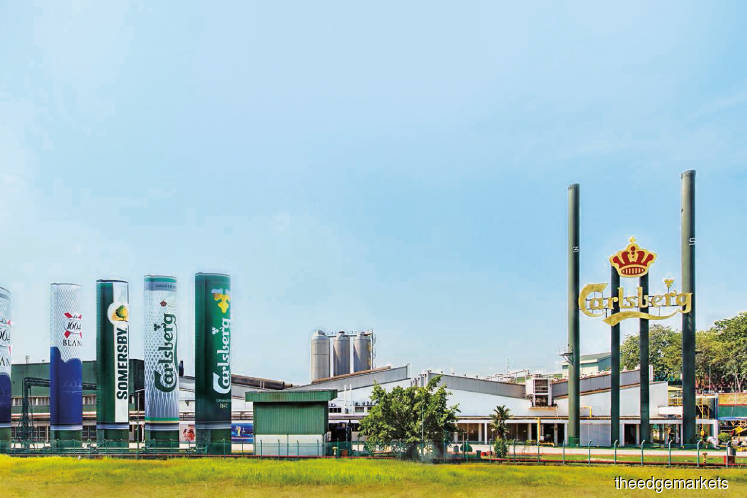 KUALA LUMPUR: Nearly RM700 million was added to Carlsberg Brewery Malaysia Bhd's market capitalisation yesterday, as the stock hit its record high after being included in the MSCI Global Standard Index.
Meanwhile, British American Tobacco (Malaysia) Bhd (BAT) has been removed from the MSCI Global Standard Index, but will be included on the MSCI Global Small Cap Index effective Feb 28.
Investors did more than just raise a glass after the news broke, with Carlsberg's shares seen soaring to as high as RM37.18 — up RM3.78 or 11.3% from its previous day closing price — marking its largest single-day gain in recent years.
Trading volume, which has been picking up visibly since December, swelled to 3.67 million shares, sharply higher than its 200-day average of 146,801 shares.
The brewery stock retreated from the intraday high to RM35.66 at the closing bell, it was still up by an impressive RM2.26 or 6.8% — making it the top gainer in terms of value change on the local bourse. This brought its year-to-date share price gain to RM6.43 or 22%, boosting Carlsberg's market value by nearly RM2 billion since end-December to RM10.90 billion as of yesterday's close.
Riding on the positive sentiment, fellow brewer Heineken Malaysia Bhd also saw its share price rise RM1.40 or 5% to close at its historical high of RM29.40, valuing the group at RM8.88 billion.
Yesterday, MSCI Inc said in a statement that Carlsberg will be added to the MSCI Global Standard Index, replacing BAT on the equity gauge after its February 2020 quarterly index review for the MSCI Equity Indexes.
Following its removal, BAT will be added to the MSCI Global Small Cap Index, said MSCI Inc, and that all changes will be implemented as of the close of Feb 28.
A stark contrast to Carlsberg's share price movement, BAT shares headed south. The stock, which has been under selling pressure for some time, tumbled as much as 82 sen or 6.7% to RM11.50, before paring losses to settle at RM11.60 apiece.
Plagued by structural issues, BAT shares have fallen out of investors' favour. The stock has lost over 60% since a year ago when it was still trading above the RM35 level. Given the meltdown on its share price, BAT's indicated dividend yield is currently at a historical high of 11.38%.
'Buying momentum has been brewing in Carlsberg'
Carlsberg's entrance into the MSCI Global Standard Index may have bumped its share price up to a record high, but a local analyst believes that is not the sole reason behind its buying momentum of late.
The analyst, who declined to be named, told The Edge Financial Daily that Carlsberg has been an up-and-coming stock, and investors have been rushing into the stock with its fourth-quarter corporate earnings due soon.
"The buying momentum on Thursday (yesterday) can be attributed to the MSCI news, which is something new, but there was also a catalyst for it being a dividend yield play as well, given talk of an interest rate cut.
"This may be because Carlsberg has been one of the companies that pay out significant dividends, and their fourth quarter corporate earnings are due soon.
Investors may be expecting Carlsberg, which has a 100% dividend payout policy starting 2018, to declare a significant amount of dividend in its final round, said the analyst.
For the financial year ended Dec 31, 2018, Carlsberg declared a record dividend payout of 110.3% of the group's consolidated net profit, or RM1 per share, driven by its 25.3% net profit growth.
According to the analyst, prior to yesterday's share price run, Carlsberg and Heineken's forward calendar year 2020 (CY20) dividend yield stood at 3.4% and 3.9%, respectively, which are deemed attractive versus other large capitalised (cap) consumer stocks.
"We can see large cap consumer stocks trading at a forward CY20 dividend yield that ranges from 0.7% to 2.3%, versus 3.5% to 4% for brewery stocks, based on our forecasted CY20 data. That said, with yesterday's gains, Carlsberg's dividend yield has fallen, to [about] 2.8%" the analyst explained.
Meanwhile, according to UOB Kay Hian research head Vincent Khoo, Carlsberg, being a brewery, is categorised as one of the more resilient consumer subsectors.
He opined that industry volume for brewery is expected to grow — notwithstanding the impact of the Covid-19 virus — partly reflecting the effective anti-illegal campaign, the Uefa European Football Championship or Euro 2020, and the government's Visit Malaysia Year 2020 campaign.
"However, its near-term upside is clearly limited, after its recent share price surge.
"As for the steady selldown on BAT, it partly reflects expectations of the exclusion from the index, and also its weak fundamentals such as the incursion by illicit and vaping [markets]," Khoo added.