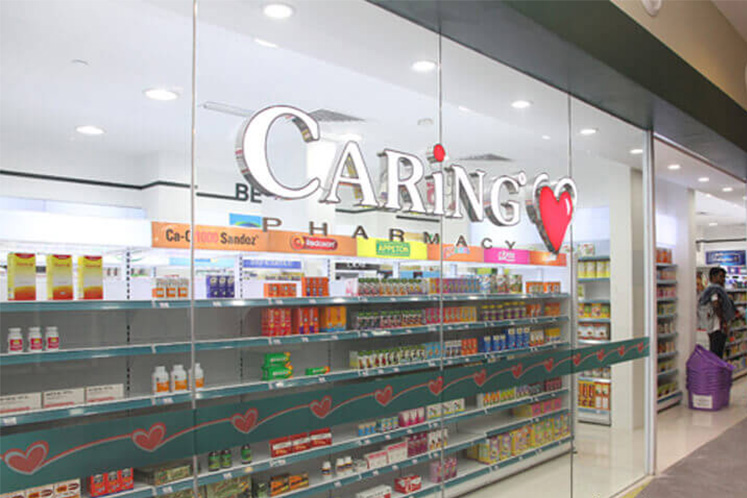 KUALA LUMPUR (March 26): The closing date and time for acceptance of the mandatory takeover offer (MGO) by Caring Pharmacy Group Bhd's majority shareholders for the shares that are not already owned by the offerors have been extended from March 27 to April 10, 5pm.
In a bourse filing today, RHB Investment Bank Bhd — on behalf of the offeror, Convenience Shopping (Sabah) Sdn Bhd (CSSSB) — said that except for the closing date, all other details and the terms and conditions of the offer remained unchanged.
As at March 20, the offeror, ultimate offeror and parties acting in concert (PACs) hold a 90.91% stake or 197.93 million shares in Caring. 
On March 6, 7-Eleven Malaysia Holdings Bhd's wholly-owned subsidiary CSSSB had launched the offer to acquire shares of Caring that it does not own, at the cash offer price of RM2.60. 
Last November, CSSSB and the PACs — namely 7-Eleven, Tan Sri Vincent Tan, Jitumaju Sdn Bhd and U Telemedia Sdn Bhd — announced that they would be purchasing 55.2 million shares in Caring for RM143.51 million.
The shares represented a 25.35% stake in Caring, and upon the acquisition of the stake, 7-Eleven's and the PACs' shareholding rose to 38.57%, triggering the threshold for a mandatory general offer (MGO) for the remaining shares. 
Subsequently, 7-Eleven announced that it did not intend to maintain the listing status of Caring if it received enough valid acceptances for the MGO.
Caring shares have been shielded from the equity rout, thanks to the privatisation offer. The stock price has been holding up around the RM2.58 level in the past two weeks, during which most stocks have plunged more than 20%.
To put things into perspective, the offer price is valuing the pharmacy chain at RM566.05 million, which is about 40% more than Berjaya Food Bhd's market capitalisation, which has shrunk to RM403.24 million. 
Today, Caring shares were up one sen or 0.39% at RM2.58 at the noon break, valuing it at RM561.7 million. Year-to-date (YTD), the counter has gained some 2% from RM2.53.
7-Eleven shares fell two sen or 1.49% to RM1.32, bringing it a market capitalisation of RM1.51 billion. YTD, the counter has fallen some 7.7% from RM1.43.