This article first appeared in The Edge Financial Daily, on June 13, 2017.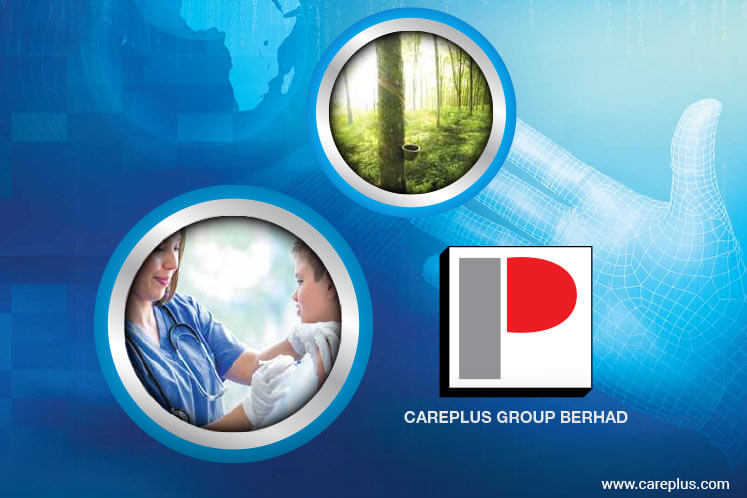 KUALA LUMPUR: Careplus Group Bhd is hopeful that its performance during the current financial year ending Dec 31, 2017 (FY17) will be better than last year, but avoids being too bullish considering the cyclical nature of the rubber glove market.
The ACE Market-listed glove maker started the year on a firm footing, reporting a more than fourfold increase in net profit to RM3.76 million in the first quarter ended March 31, 2017 (1QFY17) from RM798,000 a year ago, while revenue surged 77% to RM87.04 million from RM49.05 million in 1QFY16.
Careplus executive director and group chief executive officer Lim Kwee Shyan said it produced 843 million pieces of gloves in 1QFY17, which represented 86% of the group's total capacity of 975 million pieces per quarter.
"The 86% was our highest utilisation rate achieved so far. It was the result of higher orders from our existing customers, as well as some new customers," he told The Edge Financial Daily after the group's annual general meeting recently.
Nevertheless, Lim said the group would need to work "very hard" this year to sustain or improve its 1QFY17 financial performance.
"Sustaining our 1QFY17 growth quantum will be quite a big challenge as we came from a low base in that quarter. But on a year-on-year basis, we expect a better FY17 driven by improved utilisation of our factories," he said.
Careplus' net profit fell 97% to RM159,000 in FY16 from RM6 million in FY15 on higher commissioning costs of the new lines in Careplus (M) Sdn Bhd, high learning costs, poorer glove pricing, longer downtime arising from labour shortage as well as higher raw material and utility costs.
Higher depreciation, finance costs, as well as increased costs of natural gas and wages also contributed to the decline in performance.
This was despite a 21% jump in revenue to RM229.44 million in FY16 from RM190.26 million in FY15 on higher sales from the increased capacity built during the year.
The weak performance resulted in a rather high price-earnings ratio (PER) for the group's shares at over 900 times.
"If you look at our PER, it is high if you compare our current share price to FY16 earnings as we were expanding our lines that year. But if you were to compare the current share price to our 1QFY17 earnings, you will find that our PER has lowered to about 50 times," said Lim.
Lim also said the group's three factories in Senawang, Negeri Sembilan have a combined production capacity of 3.9 billion pieces of gloves per year. Last year, Careplus produced 2.61 billion pieces of gloves, which accounted for 67% of its total utilisation rate.
As of end-December last year, the group ran a total of 26 production lines at the three factories. Although the factories are not running at full utilisation yet, the group has plans to add more lines this year, he added.
"Even though [at our current utilisation rate] there is no rush to add lines, we intend to complete the installation of three additional production lines either by December this year or by the first quarter of next year. [We need to do this as] adding lines is time-consuming," said Lim.
"We do not want to be caught in a situation where we have to add lines in a rushed manner and [thus,] resulting in the construction of the lines not being optimal," he noted.
The group's three factories comprise Rubbercare Protection Products Sdn Bhd (Factory 1), Careglove Global Sdn Bhd (Factory 3) and Careplus (M) (Factory 4). Factory 2 is used as a warehouse for its finished goods and materials.
"We are expanding Factory 4, which will see the construction of an additional block that is expected to be completed by the end of this year," said Lim.
"[Once completed,] the additional building at Factory 4 will be able to house 10 new production lines. We have allocated RM10 million in capital expenditure for this," he added.
Latex gloves are the group's main revenue contributor, taking up an 85.1% contribution in FY16 from 90% in FY15. The reason for the drop in latex gloves' contribution in FY16 was that the group increased its nitrile gloves' production to 13.7% last year from 9% in FY15.
"Our products come under our Rubbercare brand name. We are also an original equipment manufacturer, in which we produce the gloves for our joint venture (JV) partner AJJ Holding Inc and other customers as well," said Lim.
Under the JV, Careplus has a 50%+1 share stake in Careglove Global, while AJJ, which is the holding company of Brazil-based Descarpack Descartaveis Do Brasil Ltda, holds the remaining 50%.
South America topped the group's three biggest export markets with a 69% revenue contribution as at FY16, followed by Asia-Pacific countries at 21% and North America at 5%.
Meanwhile, Lim dismissed a common perception of the glove industry — that a weak ringgit against the US dollar spells out a stellar performance for glove makers.
"Yes, there are short-term benefits from a weak ringgit, but it also leads to a situation where customers would ask for a reduction in prices and the competition from the market [becomes more intense]. Volatile movements in the ringgit are therefore not good for business.
"I would say being more efficient in production to stay ahead of competition is a better driver for glove makers, rather than a weak ringgit," he said.
Lim is all too familiar with the term "staying competitive". After all, Careplus is operating in an industry that is dominated by the "big four" of the glove industry — Top Glove Corp Bhd, Hartalega Holdings Bhd, Kossan Rubber Industries Bhd and Supermax Corp Bhd.
"Work hard, keep your costs low and come out with a good product at a reasonable price, and the market will always be there," said Lim.
Lim was Careplus' single largest shareholder with a 28.77% stake as at April 14, while its chairman Peter Yew Nieng Choon held a 19.22% stake in the company as at March 30.
Careplus shares breached their one-year high last Friday, closing up 2.5 sen or 6.1% at 43.5 sen, giving it a market capitalisation of RM210.22 million. The counter saw 26.56 million shares change hands, emerging as one of the most active stocks on Bursa Malaysia.
The stock has been trading in a 52-week range of 25 sen to 45 sen. Year to date, its share price has risen 67%.