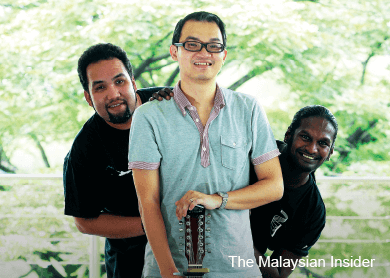 The title name itself arouses curiosity, its undertones clearly designed to capture attention — and that is exactly what the Lelaki 2.5 trio wants for their inaugural feature show. Birthed from within the walls of Kuala Lumpur Performing Arts Centre (KLPac), Lelaki 2.5 — comprising KLPac theatre manager Ian Chow, lead sound engineer and producer Ariff Akhir and resident choreographer Lex Lakshmanan — describes itself as a band that started "organically and randomly".
"We wanted a title that was over the top … that doesn't make sense but attracts attention," says Chow, who acts as a spokesman for the trio. "If you read our biography, nothing makes sense. But that's the so-called persona we want to create as well."
As for the name of the band, Chow explains with a straight face, "For us, one equals 'lelaki sejati', a true man …" leaving it cheekily at that for us to do the math. "It's got connotations of sexuality to it, that's a known fact," continues the married father of two. "We really wanted to call ourselves laki-laki but found out there was already an Indonesian band with that name."
Their rather intriguing upcoming cabaret-style show, Lelaki 2.5: Out of the Closet with Strings Attached, is part of The Actor Studio Seni Teater Rakyat's ongoing Cabaret Series.
Comparing it with the Shanghai-style dinner-and-show entertainment, Chow said the show, directed by Joe Hasham, is practically similar, "minus the cigarette smoke and food." He adds, "We have an operational bar, tables and chairs in the front … music is the main element though there is some theatrical element as well."
Pointing out another play with words, Ariff, who gave the show's title says, "It goes along with the theme [of our band name], Out of the Closet. Also we've not been performing in the public much, so it's also that."
The "strings attached" refers to the bassist, pianist, and a string ensemble that will be backing Lelaki 2.5 for the show. "Normally when we perform, it's a very strip-down acoustic session," says Chow, adding that it's been a positive challenge to add in more instruments and bring out a fuller performance of their songs.
The trio unofficially begun amidst the Life Sdn Bhd series of theatre shows, when all three performed together. It was on KLPac co-founder and executive producer Datuk Faridah Merican's urging that they officially became a band.
Despite its name, the programme will feature about 17 songs covering myriad themes, all of which were written by Ariff and Chow, both individually and collectively. "Our songs are quite varied in terms of themes," says Chow, who has been writing songs and performing since his band days in college, "but it will definitely cover the love songs and even hate songs that you can dedicate to your enemies."
If Chow is the melancholiac who writes songs that pulls at the heart strings, then Ariff is the one providing the wittier, commentary styled tunes.
"Ian writes songs about his anak, about loss and being sad, or loving someone. It's the complete opposite of me," says Ariff, drawing comparison with his song 'Aduh!', which is about circumcision. Lex quipped that the songs are a good mix of both Chow and Ariff's styles, spiced up with the ad-libbed "oohs" and "aahs" by the choreographer turned "xylophone virtuoso" himself.
Interestingly, the show is the first to try out crowdfunding to raise funds for the production. "It's our own show, so it is easier to test run. Also, we are not a crowd puller, we will not attract ticket sales right away or be sold-out within the week," explains Chow. A month-long campaign in April saw the trio raise RM15, 000 through 80 backers, achieving more than RM5, 000 over their original target.
"It eases the worries of selling our tickets. The total cost is RM20,000, but we hope the ticket sales will cover the rest of the cost," he adds, "We also now have confirmed 80 people coming to our show."
Despite their laid-back, irreverent personas — not to forget their incessant teasing banter with one another — Lelaki 2.5 is keen to stamp their mark musically. For one, they will be launching their group debut album at the show, featuring the songs they will play in the show. A labour of love by the trio, it is not entirely a rookie album. "Ariff has done albums with his own band previously, and I have as well," says Chow. "Lex has done a photo album before," chips in Ariff. "It's very nice."
The teasing makes for what they describe will be an unpredictable experience. "Even we don't know what's going to happen in the show," quips Lex.
"Not everybody might enjoy the experience," Chow admits, "but I am sure they will be able to relate to a song or two at least. They will be going through a journey as the songs are varied. Hopefully they will be able to bring home certain things that will click for them, certain lyrics, music or rhythm that may mean something for them."
Guest performers include singer songwriter Ariff AB, Omar Ali, who also doubles as the bartender, as well as Lai Suk Yin of a cappella quartet, Caipifruta.
---
Lelaki 2.5: Out of the Closet with Strings Attached will be playing at Pentas 2, KLPac from June 4 to June 6 and Stage 2, Penangpac from June 11 to June 13. Tickets are priced at RM30 and RM40. For more information, call (03) 4047 9000 or visit www.klpac.org.
This article first appeared in The Edge Financial Daily, on June 1, 2015.