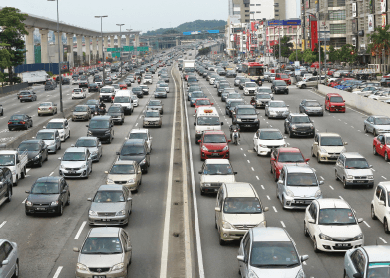 AT a time when car manufacturers and used-car dealers are adjusting to a post-Goods and Services Tax (GST) environment, they may find newly released statistics — showing both new and second-hand car markets trending downwards — demoralising.
On May 19, the Malaysian Automotive Association (MAA) revealed that total industry volume (TIV) in April fell 23% year on year to 45,187 units, from 58,741 units a year ago, and 33% month on month, from 67,314 units in March.
March had been seen as an abnormal month because many consumers decided to buy new cars before GST took effect.
Apart from that, Honda Malaysia Sdn Bhd said last week that it will recall 87,182 of its cars sold here to replace the driver and passenger airbag inflators as part of a global recall programme. The affected models are the City (year of manufacture from 2003 to 2008), Civic (2003 to 2008), CR-V (2002 to 2007), Jazz (2004 to 2006) and Stream (2004 to 2005). The latest product recall does not help consumer confidence.
Frost & Sullivan, in a May 12 report, predicted that the used-car sales will decline from 394,000 units in 2014 to 300,700 units in 2020 (see chart), as intense price competition encourages customers to invest in new cars.
The market research firm explained that buyer appetite for secondhand cars will be dampened by the government's pledge to reduce new car prices by 20% to 30% over the next five years.
"Over the last few years, customer interest in used cars has been declining owing to intense price competition from new cars," says Frost & Sullivan automotive and transportation principal consultant Animesh Kumar.
Industry players and market experts tell The Edge that while the fall in vehicle sales in April was expected as the pre-GST promotion offers had boosted demand in March, Frost & Sullivan's forecast for used-car sales caught them by surprise.
iCar Asia Sdn Bhd country manager Jason Thoe says with over 600,000 new cars sold a year in Malaysia, it is hard to accept that only half that number will be transacted in the used car space.
"We don't believe the used-car market is declining per se, just that it might be going through a market correction. We are confident that the industry will bounce back as it always has, ultimately, getting stocks in and out of the door as fast as possible through the use of technology," he comments.
Thoe adds that used-car dealers who run their business efficiently by holding low volumes of quick-turn car stock and buying cleverly are more likely to come out ahead.
He says the constantly improving effectiveness and utilisation of technology will see a further shift of car sellers to the digital realm. Already 90% of consumers go digital when looking to buy a car, he adds.
Federation of Motor and Credit Companies Association of Malaysia president Datuk Tony Khor Chong Boon agrees with Thoe. He notes that the used-car market is unique as prices will adjust to available supply while the demand will always be there.
"This industry will never die, even when the new car market is doing well. In fact, 70% of new car sales are tied to trade-ins," he says.
Edaran Tan Chong Motor Sdn Bhd (ETCM) executive director Tan Keng Meng says car penetration in Malaysia is mature and trade-ins are a big part of the market.
"We believe that when used-car sales slow down, there will be an adjustment and subsequent recovery," he says. Then the new car and used-car market will achieve an equilibrium, he adds.
ETCM has its own used-car arm, called Marketplace for Used Vehicles (MUV). To be a strong player in the segment, says Tan, players should constantly look at new ways to stay in business, move with the times and embrace information technology.
Some players believe that the downtrend in the used-car market could lead to the implementation of a car-scrapping, or End-of-Life (ELV) policy.
"It is highly possible. Malaysia is saturated with used cars, some of them over 20 years old. [But] it's difficult to say when the ELV will be implemented," says Armin Keller, managing director of Volkswagen Group Malaysia Sdn Bhd (VW).
He adds that if used-cars dealers are burdened by ageing stocks, they will eventually scrap their old cars for usable parts. Otherwise, they may have to sell at far lower prices, or even at a loss.
Mercedes-Benz Malaysia Sdn Bhd president and CEO Roland Folger says ELV is a complex matter and the government is still studying the issue from all angles. The German marque is hoping for a clear roadmap in the near future.
Folger believes that in a fast-growing country like Malaysia, there is still market potential for used vehicles.
A car analyst with an investment bank says as and when the Malaysian automotive industry reaches saturation point, a car scrapping policy "will be the only way" to get rid of old cars.
"Malaysia ranks among the countries with the highest car ownership ratio in the region. Thus, ELV will be implemented someday because the government has started to notice this problem," he says.
Meanwhile, some are wondering if the new car market will be impacted by sluggish used-car sales. This is because most buyers trade in their cars when they purchase a new one and in the present environment, it may be difficult to get a good price.
"That seems like a logical explanation. There will be some sort of a correction period but the volume of new cars will not be significantly impacted, as the value proposition, coupled with competitive rebates, better financing options and warranty terms, would make owning a new car more appealing than owning a used car," says VW's Keller.
Says a car loan official with a local bank, "Nowadays, it is very hard for an individual to own two cars because the commitment is too high. When you're unable to sell your old car at a good price, you might cancel your booking for a new car."
Mercedes-Benz's Folger says there are many factors affecting the new car and used-car markets, but no clear correlation has been established as yet.
Many factors, such as economic growth, the introduction of new models and government initiatives, among others, contribute to the performance of the new car market, he adds.
This article first appeared in The Edge Malaysia Weekly, on May 25 - 31, 2015.