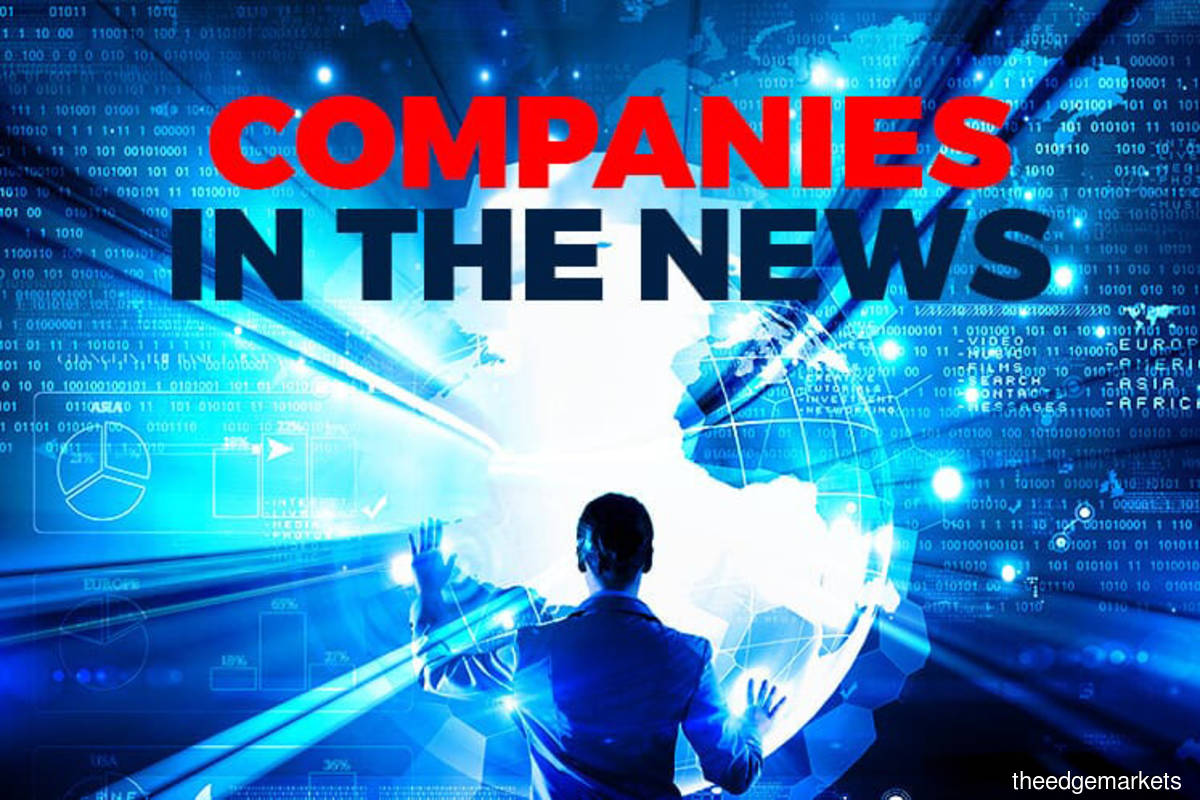 KUALA LUMPUR (April 25): Here is a brief look at some corporate announcements and news flow on Monday (April 25), involving Capital A Bhd, Sime Darby Property Bhd, Telekom Malaysia Bhd (TM), Petronas Dagangan Bhd (PetDag), Ireka Corp Bhd, Integrated Logistics Bhd, Fraser & Neave Holdings Bhd's (F&N), ES Ceramics Technology Bhd, Press Metal Holdings Bhd, Divfex Bhd, Texchem Resources Bhd, Mr DIY Group (M) Bhd, IHH Healthcare Bhd, Destini Bhd, Caely Holdings Bhd, TWL Holdings Bhd, CTOS Digital Bhd, Jadi Imaging Holdings Bhd and G3 Global Bhd.
Capital A Bhd's wholly-owned aircraft maintenance, repair and overhaul unit Asia Digital Engineering (ADE) has announced its newly-formed board of directors. The board includes Berjaya Corp Bhd independent non-executive director Datuk Hisham Othman, who has been appointed ADE chairman to oversee the firm's future strategy of becoming a leading aircraft MRO firm in Southeast Asia.
Sime Darby Property Bhd is ready to launch Phase 3B of the Battersea Power Station project this year. Non-independent non-executive chairman Rizal Rickman Ramli said the Battersea Power Station project in Central London is showing promising prospects, with crowds returning to the development for summer. Sime Darby holds 40% of the joint-venture development project and it is currently chairing the venture.
Telekom Malaysia Bhd (TM) has committed to expanding its fibre network to an additional six million premises by the end of 2022 under the National Digital Network (Jendela), said its chairman Tan Sri Mohammed Azlan Hashim in TM's 2021 annual report filed to Bursa Malaysia. The chairman said this is part of TM's focus on helping the country rebuild and recover from the pandemic in the coming years, and the main measure to achieve this is by intensifying its national digitalisation efforts.
PetronasDagangan Bhd (PetDag) is working closely with the Ministry of Finance (MoF) on the increase of fuel subsidy bill amid near-record high crude oil prices, according to PetDag's managing director and chief executive officer Azrul Osman Rani. Azrul said the downstream oil and gas group understands the current predicament with the high global oil prices that is impacting the country and every other nation.
Ireka Corp Bhd said it received a written notice from Messrs Crowe Malaysia PLT indicating their intention to resign as the external auditors of the company. Ireka said the matter was tabled at a special audit committee meeting on Monday, during which a board resolution was circulated, with the board subsequently accepting the resignation as recommended by the audit committee.
Urusharta Jamaah Sdn Bhd (UJSB) has disposed of its entire stake in Integrated Logistics Bhd and ceased to be a substantial shareholder of the group. UJSB, the government's special-purpose vehicle set up to take over Lembaga Tabung Haji's underperforming assets, disposed of 20.5 million shares or a 10.78% stake in the company on April 20.
Fraser & Neave Holdings Bhd's (F&N) subsidiary has proposed to acquire the entire equity stake in Ladang Permai Damai for a cash consideration of RM215.59 million. The beverage company said its indirect 65%-owned subsidiary, Dagang Sejahtera Sdn Bhd, entered into a conditional share sale agreement with Dupont & Leosk Enterprises Sdn Bhd and Malaysia Nominees (Tempatan) Sdn Bhd as registered owner of the shares and nominee company of OCBC Bank (Malaysia) Bhd on April 25 for the proposed acquisition.
ES Ceramics Technology Bhd posted a 41.22% increase in net profit to RM11.96 million for its third quarter ended Feb 28, 2022 (3QFY22), from RM8.47 million a year earlier, helped by higher sales output from the additional production capacity. Revenue rose 30.13% to RM29.42 million, from RM22.61 million in 3QFY21. No dividend was declared for the quarter, compared with the previous year.
Press Metal Aluminium Holdings Bhd said its Sarawak subsidiary has reached an "amicable settlement" with the Inland Revenue Board in respect of additional assessments for the years 2014 to 2019. Press Metal Bintulu Sdn Bhd reached a final settlement of RM26.74 million based on a letter received from the IRB dated
April 22. 
Divfex Bhd said its group chief executive officer Kenny Chin Wui Chee has been redesignated as its executive director. The group said Chin's redesignation takes effect on Monday (April 25).He was appointed as Divfex CEO on Aug 10, 2020. Prior to that, he served as CEO of Numoni DFS Sdn Bhd.
Texchem Resources Bhd's net profit for the first quarter ended March 31, 2022 (1QFY22) almost doubled or was 97.18% higher to RM13.08 million, from RM6.63
million in the same period last year, mainly on stronger contribution from its food and restaurant divisions. Revenue rose 15.28% to RM307.49 million from RM266.74 million, as its restaurant's ops saw a 23% jump in topline to RM71.5 million, following the resumption of economic activities and as social activities gained traction, which boosted sales.
Mr DIY Group (M) Bhd has proposed a bonus issue of up to 3.14 billion shares on the basis of one bonus share for every two shares held. The entitlement dates for the bonus issues will be determined later, the home improvement retail chain said. Mr DIY said its share price adjusted for the bonus issue will not be less than 50 sen, based on the daily volume weighted average market price (VWAMP) for the three-month period before the application date.
IHH Healthcare Bhd said its unit Fortis Healthcare Ltd has received a final order from the Indian regulators to recover 397.12 crore rupees (RM225 million) with interest, which is said to be diverted from the Fortis group for the benefit of its former controlling shareholders. IHH said the Securities and Exchange Board of India (SEBI) also imposed a penalty of one crore rupees (RM567,000) and 50 lakh rupees (RM284,000) on Fortis and its wholly-owned unit Fortis Hospitals Ltd, respectively.
Destini Bhd is seeking shareholders' approval to diversify into renewable energy business and related activities. Destini said it identified the renewable energy business and related activities such as solar energy as viable businesses to venture into, in line with its strategy to diversify and create an additional income stream.
Caely Holdings Bhd said two of its independent directors, Datuk Seri Mazlan Lazim and Noor Azri Azerai, have resigned from the board to pursue other opportunities. The two had a rather short stint on the troubled lingerie company's board, as both were appointed only about a month ago.
TWL Holdings Bhd, formerly Tiger Synergy Bhd, is buying a 8,479 sq m piece of land in Seri Kembangan, Selangor for RM13.9 million, with a view to develop the land into a residential project with a gross development value of RM84.26 million. TWL said the proposed acquisition is in line with the group's business strategy of focusing on the construction and property development segments. As at April 22, TWL is involved in eight ongoing property projects with an estimated total GDV of RM1.81 billion.
CTOS Digital Bhd has upped its shareholding in RAM Holdings Bhd to 17.23% by buying out the collective 9.1% stakes owned by OCBC Bank (M) Bhd, Affin Bank
Bhd and Affin Hwang Investment Bank Bhd (Affin Hwang IB) for RM25.06 million, cash. CTOS said it inked share purchase agreements on Feb 4 and April 25 with
OCBC Malaysia, Affin Bank and Affin Hwang IB, to acquire 910,000 RAM shares.
Jadi Imaging Holdings Bhd has received conditional approval from the the Ministry of Health (MoH) to distribute Covid-19 Antigen self-test kits (saliva) manufactured by Dyna Source Sdn Bhd in Malaysia. Jadi said the conditional approval, received via its wholly-owned subsidiary Jadi Life Solutions Sdn Bhd, is from the Medical Device Authority under MoH for the distribution of Dyna Source's Biodetect Rapid Sars Cov-2 Antigen test kits. Dyna Source is a registered company with MDA and holds a Good Distribution Practice for Medical Devices certification.
After much hype about setting up the first artificial intelligence (AI) park in Malaysia, the Memorandum of Understanding (MoU) signed between Main Market-listed technology firm G3 Global Bhd and two Chinese companies has finally lapsed on Monday. G3 Global insisted that it remains committed to the vision of the MoU with SenseTime Group Ltd and China Harbour Engineering Company Ltd (CHEC) for the development of an AI park.