This article first appeared in Capital, The Edge Malaysia Weekly, on December 25, 2017 - December 31, 2017.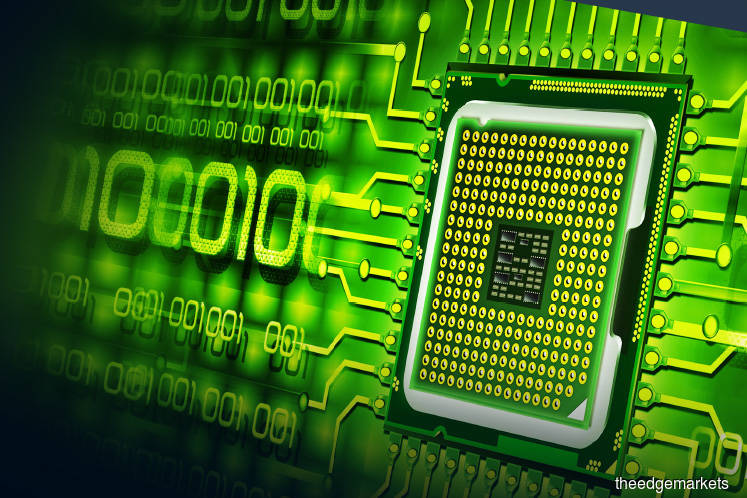 SHAREHOLDERS of large-cap technology and semiconductor stocks in the US and Europe, as well as in Taiwan, South Korea and Japan, should be laughing all the way to the bank following a rally in the share prices in 2017.
Interestingly, investors in semiconductor and semiconductor-related companies listed on Bursa Malaysia may actually be happier in terms of share price gain. These stocks seem to have outperformed the big names on Nasdaq.
The share prices of most Nasdaq-listed semiconductor developers, manufacturers or brand owners are heading far north this year. The global rally, however, is not as strong as the one on Bursa.
Year to date, the Bursa Malaysia Technology Index has soared 84% to 40.63 points — its highest level since 2005. The majority of semiconductor-related counters on Bursa have climbed at least 50% to as much as 290%.
The share prices of Malaysian outsourced assembly and test (OSAT) companies have risen more than 77% year to date while those of automated test equipment (ATE) manufacturers have almost tripled.
For instance, Unisem (M) Bhd, Globetronics Technology Bhd, Inari Amertron Bhd and Malaysian Pacific Industries Bhd (MPI) have gained between 50% and 111% while ViTrox Corp Bhd, Elsoft Research Bhd, Aemulus Holdings Bhd,  MMS Ventures Bhd (MMSV), VisDynamics Holdings Bhd and Pentamaster Corp Bhd have shot up between 97% and 290%.
JF Technology Bhd and FoundPac Group Bhd also saw their share prices advance 13% and 272% respectively.
Pentamaster, which almost quadrupled to RM2.44 per share, giving it a market capitalisation of RM772 million, is the top gainer among its peers, followed by JF Technology, ViTrox and MMSV. With a YTD gain of more than 200%, these stocks are among the top performers across the board.
A quick check on Bloomberg shows that OSAT companies still offer an upside potential of 10% whereas ATE manufacturers seem to have overshot by 12% based on analysts' consensus target prices.
The leap in share prices this year is indeed a sharp contrast to their performance in 2016.
To recap, ViTrox and Unisem rose only 10% and 2% respectively last year while Globetronics, Inari Amertron and MPI fell.
Malaysian semiconductor companies are involved in the mid to lower end of the value chain, serving foreign semiconductor manufacturers, brand owners, integrated circuit developers and fabricators. They can be divided into three groups.
The first group comprises OSAT companies such as Unisem, Globetronics, Inari Amertron and MPI, which mainly provide outsourced services, including assembly, packaging, fabrication and testing.
The second group consists of ATE manufacturers like ViTrox, Elsoft, Aemulus, MMSV, VisDynamics and Pentamaster, which serve the OSAT companies and other multinational semiconductor manufacturers.
The third group comprises the likes of JF Technology and FoundPac, which design and manufacture high-performance test sockets and other materials for OSAT companies and semiconductor firms.
The tech bulls that are charging ahead this year remind many of the dotcom mania at the start of the century. An expectation of exponential growth in the demand for semi­conductors due to the growing deployment of artificial intelligence and the Internet of Things has created keen interest in the sector.
In the US, for example, major fabless semiconductor companies Broadcom Ltd and Nvidia Corp have seen their share prices climb 50% and 79% YTD respectively.
Since the beginning of the year, the share prices of other prominent semiconductor players, namely Texas Instruments Inc, Analog Devices Inc and Micron Technology Inc, have risen 39%, 19% and 93% respectively.
In Europe, the share prices of Dutch automotive chipmaker, NXP Semiconductors NV, and German semiconductor titan Infineon Technologies AG have increased about 19% and 39% YTD.
In Asia-Pacific, Taiwan-listed United Microelectronics Corp and Taiwan Semiconductor Manufacturing Co Ltd, two of the top three pure-play semiconductor foundries in the world, saw their share prices climb 27% and 25% YTD respectively.
Meanwhile, the share prices of Taiwanese fabless semiconductor firms, Parade Technologies Ltd and MediaTek Inc, gained 89% and 34% respectively.
South Korea-listed Samsung Electronics Co Ltd and SK Hynix Inc, the world's two largest memory chip makers, saw their share prices surge 42% and 73% YTD respectively.
Meanwhile, Japan-based multinational conglomerate Sony Corp and automotive computer chips producer Renesas Electronics Corp, both listed on the Tokyo Stock Exchange, saw their share prices rise 58% and 38% YTD respectively.
YTD, a quarter of US technology-related heavyweights — Facebook Inc, Amazon.com Inc, Netflix Inc and Google parent Alphabet Inc, which are collectively known as the FANG stocks — saw their share prices jump 56%, 57%, 54% and 35% respectively.
The factors driving these stocks include digital advertising, digital video consumption, e-commerce and cloud services.
Note that none of these global tech and semiconductor firms saw its share price double this year, whereas the Malaysian stocks have doubled, tripled or even quadrupled.
Overall, the local technology companies and investors are bullish about the sector's prospects, mainly due to its long-term earnings sustainability, underpinned by the diversification of products and customer base.
According to information technology research and advisory firm Gartner Inc, worldwide semiconductor revenue is forecast to total US$386 billion this year, an increase of 12.3% from last year.
Unit production estimates for premium smartphones, graphic cards, video game consoles and automotive applications have improved and contributed to the stronger outlook for this year.
Gartner also projected global semiconductor capital spending to increase 10.2% to US$77.7 billion this year.
On a separate note, the global microelectronics industry association, SEMI, projects worldwide sales of new semiconductor manufacturing equipment to grow 35.6% to US$55.9 billion in 2017 — exceeding the previous market high of US$47.7 billion set in 2000 for the first time.
In 2018, a 7.5% growth is expected to result in sales of US$60.1 billion in the global semiconductor equipment market, marking another record-breaking year.
SEMI also forecasts that in 2018, equipment sales in China will climb the most — 49.3% to US$11.3 billion — following 17.5% growth in 2017.
In 2018, South Korea, China and Taiwan are expected to remain the top three major markets for semiconductors. South Korea is seen maintaining the top spot with US$16.9 billion while China is forecast to become the second largest market with US$11.3 billion. Equipment sales to Taiwan are expected to approach US$11.3 billion.
Will the tech bulls take a breather in 2018? This may hinge on how rapidly mobile phone makers launch new models. More importantly, it would depend on finding equilibrium in the industry as many players have ramped up capacity in view of the growing demand.
Save by subscribing to us for your print and/or digital copy.
P/S: The Edge is also available on Apple's AppStore and Androids' Google Play.