This article first appeared in Capital, The Edge Malaysia Weekly, on June 11, 2018 - June 17, 2018.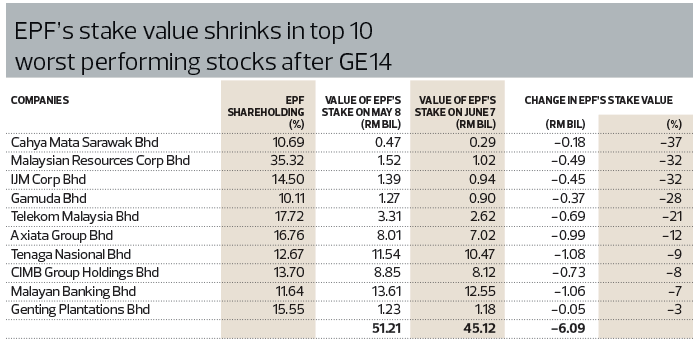 THE Employees Provident Fund (EPF) has seen its investment value in 10 public-listed companies (PLCs) drop 12% or a whopping RM6.09 billion, a month after the 14th general election (GE14) that saw a change in government for the first time in Malaysian history.
A compilation by The Edge shows that following a post-election stock market meltdown, the value of EPF's investment in the 10 companies has declined dramatically from RM51.21 billion to RM45.12 billion within a month (see table).
The top 10 worst performing stocks in EPF's portfolio in the past one month are Cahya Mata Sarawak Bhd (CMS), Malaysian Resources Corp Bhd (MRCB), IJM Corp Bhd, Gamuda Bhd, Telekom Malaysia Bhd (TM), Axiata Group Bhd, Tenaga Nasional Bhd (TNB), CIMB Group Holdings Bhd, Malayan Banking Bhd (Maybank) and Genting Plantations Bhd.
The construction sector is the worst hit due to the new Pakatan Harapan (PH) government's reviews on mega infrastructure projects, namely the East Coast Rail Line (ECRL), the Kuala Lumpur-Singapore high-speed rail (HSR) project and the third mass rapid transit line (MRT3).
CMS topped the list in terms of the quantum of the fall in share price. The diversified group's share price has tumbled 37%, wiping off RM1.7 billion from its market capitalisation. As a result, EPF, which has a 10.69% stake in the company, saw its value of investment drop by RM180 million.
Both MRCB and IJM saw their share prices fall 32%, wiping off RM1.4 billion and RM3.1 billion from their market cap respectively.
Consequently, EPF, which has a 35.32% stake in MRCB, saw its investment value shrink by RM490 million. Meanwhile, its 14.5% stake value in IJM also dropped by RM450 million.
Gamuda's shares have declined 28%, wiping off RM3.7 billion from its market cap. Hence, EPF's 10.11% stake value also dropped by RM370 million.
While construction stocks are the top losers in the selling wave post-election, the two banking stocks and two telcos, namely Maybank, CIMB, TM and Axiata, have actually caused EPF's investment value in PLCs to shrink even more.
In total, EPF has lost RM3.86 billion in investment value in the four government-linked companies (GLCs) within a month.
As the share prices of Maybank, Axiata, CIMB and TM have declined 7%, 12%, 8% and 21% respectively since GE14, EPF's loss in value on paper from these companies are RM1.06 billion, RM990 million, RM730 million and RM690 million respectively.
But it was the decline in the share price of TNB that hurt EPF's investment value the most. The utility giant saw RM8.5 billion wiped out from its market cap. As a result, EPF, which has a 12.67% stake in the company, saw its investment value shrink 9% or RM1.08 billion.
EPF's equity investment value of RM338.72 billion in the first quarter of this year represents 41.6% of its total asset portfolio of RM814.38 billion. Equities remain the single largest asset class for EPF.
A check on EPF's website shows that the provident fund's equity investment value contracted from RM344.35 billion in the fourth quarter of 2017 to RM338.72 billion in the first quarter this year. This represents a drop of 1.6% or RM5.63 billion.
 
Biting the bullet
In a bid to control the country's debt load in excess of RM1 trillion, the government has scrapped the MRT3 and HSR projects, at least for now, while the ECRL is still being reviewed.
The MMC Corp Bhd-Gamuda-George Kent (M) Bhd joint venture was widely seen as the strongest contender to undertake the MRT3 project before it was cancelled. Gamuda is hoping that the project will be revived as the Circle Line will integrate the existing public rail services in the Klang Valley.
MRT3 is the final alignment of the MRT series of urban rail networks. It was supposed to link with MRT1 — running from Sungai Buloh to Kajang — and MRT2 (from Sungai Buloh to Putrajaya), whose construction is ongoing.
It is worth noting that negotiations on the HSR project delivery partner agreement with the government were also suspended late last month.
In April, the MRCB-Gamuda consortium had been selected for the northern portion of the HSR project alignment while another consortium — Syarikat Pembenaan Yeoh Tiong Lay Sdn Bhd-TH Properties Sdn Bhd — had been picked for the southern part.
CMS' shares have also taken a beating due to negative market sentiment towards stocks that are seen as politically linked to the previous Barisan Nasional government.
CMS' biggest exposure is the Pan Borneo Highway and federal road maintenance jobs covering about 200km. There has been suggestion that state road concessions in Sarawak be awarded via open tender.
CMS, which has been listed since 1989, is perceived to be controlled by Sarawak Yang di-Pertua Negeri Tun Abdul Taib Mahmud's family, whose members have been on the board for decades.
Construction giant IJM, which is also involved in the toll concession business, suffered a double whammy as the new PH government plans to abolish toll in stages. IJM owns Besraya Sdn Bhd, New Pantai Expressway Sdn Bhd and Lebuhraya Kajang-Seremban Sdn Bhd.
 
Save by subscribing to us for your print and/or digital copy.
P/S: The Edge is also available on Apple's AppStore and Androids' Google Play.