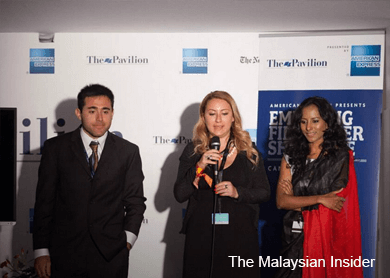 (June 1): One of Malaysia's most promising and emerging filmmakers may have won awards at both New York and Cannes, but it is recognition and space to do work back home in Malaysia that matters most to her.
Indrani Kopal is currently the toast of the town after bagging the best student documentary award at the Emerging Filmmakers Showcase at the American Pavilion during the prestigious Cannes Film Festival in France last month.
Her two years of hard work to document the rehabilitation of prisoners in New York as part of her final thesis at Hofstra University in New York has gained accolades in Europe and United States.
But the effervescent 36-year-old intends to be part of a "new wave" of filmmaking and documentaries back in Malaysia.
"I sense that there is a new wave in Malaysia. There are a lot of things that have changed in the two years that I have been away," she told The Malaysian Insider.
The eldest of three children in her family, Indrani spent US$3,000, mostly from independent funding, to shoot "The Game Changer", an 18-minute documentary, over a two-year period beginning in 2013.
The film documents Susan Slotnick, who teaches dance to male prisoners in the US in an attempt to rehabilitate them.
"I would love to come back and stay here. Though I'm not sure what I'll be doing next," said Indrani, who is due back in Malaysia in September upon completing her Fulbright scholarship.
She also has a sequel, The Incarcerated Rhythm, currently in post-production, and admitted that getting through with the project was no easy feat.
"New York state was about three hours' drive from New York City, sometimes I had to take the bus alone and do the shooting alone," said Indrani, whose parents are retired school clerks.
She had spent a year "stalking" Slotnick prior to the documentary production, fascinated by what the dance teacher was doing but faced red tape because of her status as a student.
"When I was here, it was easy to use the press pass. But in the US, I had do it alone, on my own," said Indrani, who is former Malaysiakini video journalist.
She had been in the production line from 2001, including a six-year stint with Malaysiakini's video arm Malaysiakini.tv.
"I would say these two years taught me a lot more compared with my years in Malaysia, because I was out of my comfort zone and had to do everything on my own.
"I did not have anyone to pat me on my back and tell me I've done a good job," she added.
Indrani also won the Best Short Documentary award at the Harlem International Film Festival 2014, but despite recognition abroad, she wishes to contribute to the Malaysian filmmaking landscape.
"I would definitely work in Malaysia for at least two years. We'll see how it goes." – The Malaysian Insider