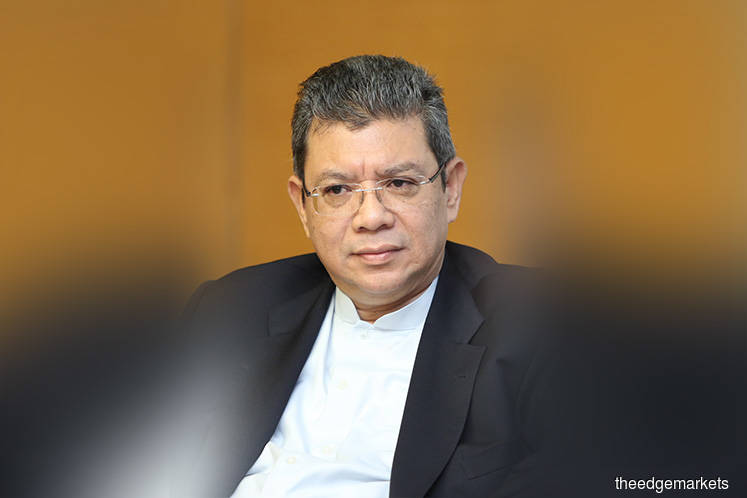 KUANTAN (July 8): The names of candidates for the post of Dewan Rakyat Speaker have been shortlisted and will be decided by the Pakatan Harapan (PH) top leadership before the parliament session convenes on July 16.
PH Secretariat chief Datuk Saifuddin Abdullah said each component party had submitted their respective candidates' names and a voting process would be conducted.
"The Speaker will be appointed next Monday, before all members of the Dewan Rakyat take oath, usually the Speaker and the two deputies are combinations of the peninsular, Sabah and Sarawak...Malay and non-Malay.
"To meet the 14th General Election manifesto, the Speaker will be among the members of the Dewan Rakyat and not the Senate.
"This is because we want them to have a sense of responsibility to Dewan Rakyat members and to do their job fairly and equally," he told reporters after attending an Aidilfitri open house hosted by Pelindung PKR division near here today.
Asked on the possibility that the PH government would choose former minister Tan Sri Dr Rais Yatim as the new Speaker, Saifuddin refused to elaborate but reiterated that the post was for a member of the Dewan Rakyat.
Rais and Segambut MP Hannah Yeoh Tseow Suan were the people mentioned in media speculation as to who would hold the position.
In another development, Saifuddin, who is also Foreign Minister, confirmed that Malaysian Ambassador to the Vatican Tan Sri Bernard Dompok had returned to Malaysia after being told to do so on June 30.
Several heads of mission appointed by the previous government including Dompok and Malaysian ambassador to Indo­nesia Datuk Seri Zahrain Mohamed Hashim have been told to relinquish their positions and return home.
"We are now identifying suitable candidates to replace them," said Saifuddin.
Meanwhile, in KUALA LUMPUR, Rais said he had not received any 'signal' about his nomination as the new Dewan Rakyat Speaker.
"But it all depends on the proposal that the authorities may bring on July 16," he told Bernama at an Aidilfitri open house at his residence here.