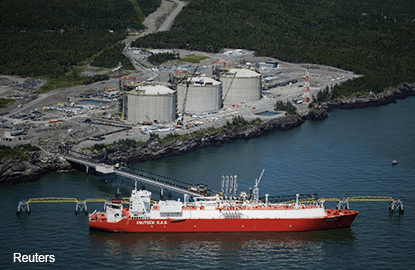 (Nov 12): Unprecedented opposition has been mobilised calling for new Canadian prime minister Justin Trudeau to reject the Petronas Pacific Northwest (PNW) liquefied natural gas (LNG) plant proposed for Lelu Island and Flora Bank in Canada.
The open letter by Lax Kw'alaams hereditary chief Yahaan (Donnie Wesley) to Trudeau, supported by various groups made up of Northern British Columbia indigenous leaders, scientists and environmental organisations also demanded for Trudeau to cancel test-drilling at the site.
Lelu Island, which is also known by the native name of Lax U'u'la, is part of Yahaan's tribal territory of the Gitwilgyoots.
Lax Kw'alaams said in a press statement that the final Canadian Environmental Assessment Agency (CEAA) decision, expected by early 2016, is the final major regulatory hurdle the project must overcome to move ahead.
It added that the PNW LNG submission to the CEAA has been rejected three times previously based on reviews by Natural Resources Canada and the Department of Fisheries and Oceans over concerns about fish habitat.
"The urgent letter from hereditary chief Yahaan states that 'PNW LNG is poised to cause irreparable damage to the second largest wild salmon run in Canada, and is a potential catastrophe for the fisheries economy thousands of people depend on'.
"Scathing new findings released in October by the Skeena Fisheries Commission and Simon Fraser University concluded that the updated PNW LNG proposal 'disregards science' and 'poses significant and unacceptable risks to Skeena Salmon and their fisheries'," Lax Kw'alaams added.
Yahaan and dozens of supporters have been occupying the island since August, turning away geotechnical contractors working for PNW LNG.
T. Buck Suzuki Environmental Foundation northern outreach coordinator Des Nobels was also quoted in the press statement as saying: "Of all the thousands of miles of coastline, they chose the one location most critical for Skeena salmon".
A separate letter from the United Fisherman and Allied Workers Union and coastal conservation groups echoed the same request to Trudeau, stressing that the importance of the specific site was long standing common knowledge in the scientific community.
Both letters call on Trudeau to fulfill his campaign promises of protecting north coast fisheries and building a new relationship with indigenous local governments, otherwise known as First Nations, by rejecting the Petronas PNW LNG proposal.
In May, Lax Kw'alaams unanimously turned down a US$1 billion RM(4.3 billion) offer from Petronas for permission to build PNW LNG on Lelu Island.
In September, Lax Kw'alaams announced litigation in British Columbia Supreme Court to prove its "Aboriginal Title" to Lelu Island in an attempt to stop the Petronas project.
"We are asking the federal government to respect the decision of our nation to say no to this project.
"We are calling on prime minister Trudeau to reject PNW LNG and stand with us and communities across the province to protect wild Skeena salmon for the sake of all future generations", Yahaan said. – The Malaysian Insider