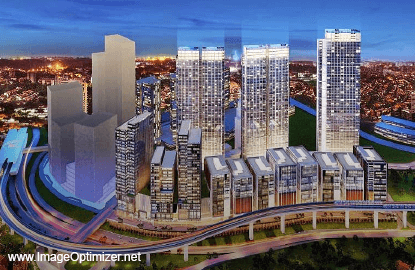 KUALA LUMPUR: Canada Pension Plan Investment Board (CPPIB), the largest pension fund manager in Canada, will buy a 49% stake in Pavilion Damansara Heights for an investment of RM485 million.
In a statement yesterday, CPPIB said it would commit approximately RM485 million for the stake in the development as part of a joint venture (JV) with Malaysia's Pavilion Group.
Pavilion Damansara Heights is a mixed-use development located in Jalan Damanlela, Pusat Bandar Damansara here, less than 10km from the Petronas Twin Towers. CPPIB said the location is well connected by a network of highways and strategically served by two upcoming mass rapid transit stations within walking distance from the development.
The project, crafted by Pavilion Group, an entity controlled by Tan Sri Desmond Lim Siew Choon, is a freehold development that spans 9.58 acres (3.88ha).
The proposed project features a retail galleria, service residences, premier residences and corporate towers, according to its website.
"We are pleased to make our first direct real estate investment in Southeast Asia through this JV with one of Malaysia's most well-respected developers, Pavilion Group," said CPPIB managing director and head of real estate investments for Asia, Jimmy Phua, in the statement.
"This JV fits well with our investment strategy as it provides us with a great opportunity to work with a smart partner in a high-quality real estate asset that will provide attractive risk-adjusted returns over the long term," he added.
"We are looking forward to the opportunity to partner with CPPIB in this exciting development in Kuala Lumpur," Pavilion Group project director Timothy Liew said.
"It is a highly anticipated landmark for Damansara Heights, set within Malaysia's most affluent neighbourhood, offering a world-class integrated development that is synonymous with the Pavilion brand," he said.
Impian Ekspresi Sdn Bhd, controlled by Lim, is the owner and developer of Pavilion Damansara Heights. It was reported that the gross development value may exceed RM2 billion.
CPPIB is a professional investment management organisation that invests the funds not needed by the Canada Pension Plan (CPP) to pay current benefits on behalf of 18 million contributors and beneficiaries. The fund invests in public equities, private equities, real estate, infrastructure and fixed income instruments. As at June 30, the CPP fund totalled C$268.6 billion (RM837 billion).
This article first appeared in digitaledge Daily, on August 19, 2015.