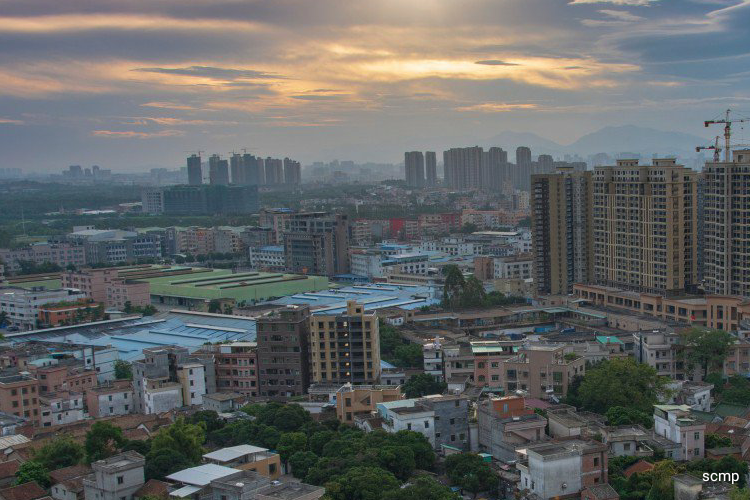 (June 12): Authorities in Dongguan, a major manufacturing hub near Shenzhen, have changed the way land auctions are carried out in a bid to cool the sizzling market.
It comes after a flurry of aggressive bidding wars involving developers desperate to get a foothold in the Greater Bay Area drove Dongguan's land prices to unprecedented levels in the first five months of the year.
Under the new mechanism, instead of awarding the land to the highest bidder, it will go to the developer whose offer is closest to the average of the tenders submitted.
"The new rule means developers have to guess competitors' bidding prices and offer a price closest to the average level, which will make the market more rational," said Yan Yuejin, research director of E-house China R&D Institute. "Home prices growth should soften amid expectation of tighter curbs."
Between January 1 and May 31, Dongguan's average land premium – the amount paid over the opening price – soared to 51 per cent from 13 per cent in the second half of 2018, the highest among the nine mainland Chinese cities in the bay area scheme, according to property consultancy CRIC. The city's land sales by volume have shot up by 875 per cent, the fastest within the planned economic hub.
Land auctions have become increasingly cut-throat as national developers vie for a slice of the action in the Greater Bay Area, the government's plan to link Hong Kong and Macau with nine mainland cities in Guangdong to eventually create an integrated business and innovation zone.
In late April, to deter any potential rivals, Poly Development put in numerous bids in the first three minutes of an auction until it reached the "ceiling price" and was declared the winner. Poly secured the site for 3 billion yuan (US$434 million), 13 days before the auction officially closed. The land price of 14,115 yuan per square metre compared with the average new home price of 18,700 yuan per sq m in the district.
Beijing likely to loosen its grip on the housing market as exports cool, analysts say
Several other developers have followed Poly's strategy, locking down a parcel of land long before the auction closes.
Analysts said a structural shortage of supply was partly to blame for such extreme tactics, which were within the rules.
"Dongguan's land supply is scarce. Its residential land supply in the last three years, just more than two million square metres per year, falls short of its annual home sales of five million square metres. Over half of its land is not sold via auction, which means it is basically off limit to newcomers," said Xiao Wenxiao, a Guangzhou-based analyst with CRIC.
"Developers just swallow it whenever there is land supply. Unless supply spikes, land here will still be highly sought after."
The city of 8.4 million people sold the smallest volume of commercial land among the nine bay area cities, except for Shenzhen and Zhuhai, which are much smaller. Its 971,300 square metres of land sold in the first five months of the year compared to 4.9 million in Foshan and 4.16 million in Guangzhou.
In early May, Beijing Capital, a developer with a small presence in the bay area, entered a bidding war with competitors which lasted just 24 seconds before hitting the ceiling price. Competition was so intense, the winner was then decided on which builder was prepared to compromise the most on its future sales. Beijing Capital eventually won the plot for a 22.7 per cent premium after promising it would hold back a swathe of commercial area from being sold.
"New players are willing to compromise profits, and even accept losses, to enter a new market that is deemed strategically important," said Liu Ce, research director of Kaisa Group.
Shenzhen-based Kaisa Group in May bought a plot in Dongguan with a 55.5 per cent premium, though Liu declined to comment on it. He said most Chinese developers flocking into Dongguan were betting that home price controls and eligibility curbs would loosen someday, to justify the current land prices.
Dongguan is one of a number of cities to impose home buying restrictions in March 2017 to stem speculative demand, especially from nearby Shenzhen. The number of transactions fell in 2017 and 2018, but average selling prices kept climbing from 14,564 yuan per sq m in 2016 to 20,636 yuan per sq m in the first quarter of this year, according to CRIC.
Often referred to as "factory to the world", Dongguan was once China's biggest export hub, the origin of cheap toys and clothes bearing the famous "Made in China" label. However, after manufacturing took a hit from the 2008 financial crisis, the city is reinventing itself to focus on producing high-tech goods such as robots.