This article first appeared in The Edge Malaysia Weekly, on November 4, 2019 - November 10, 2019.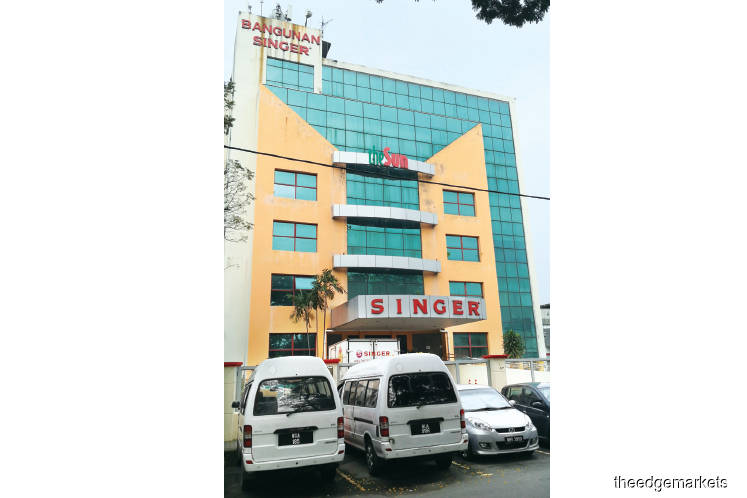 The Sun and Singer share the same premises in Petaling Jaya
Photo by Choi Khai Yeat
LAST week, ailing media group Berjaya Media Bhd (BMedia) — the publisher of The Sun newspaper — finally found a white knight in Singer (M) Sdn Bhd to rescue it from being delisted.
The name Singer has been synonymous with sewing since 1851, when a patent was issued to American inventor Isaac Singer for the first practical sewing machine.
Singer's history in Malaysia goes back more than a century to 1906, when a branch office was opened here by Singer Sewing Machine Company of the US.
Now, the household name will play a crucial role in stitching up BMedia's wounds. The group has been bleeding red ink in the last five financial years and slipped into Practice Note 17 status in 2017.
BMedia is one of nine Bursa Malaysia-listed companies ultimately controlled by business tycoon Tan Sri Vincent Tan Chee Yioun. Singer is currently parked under his private vehicle Berjaya Retail Bhd.
Singer has its headquarters in Bangunan Singer, Petaling Jaya, and shares the premises with The Sun.
A free tabloid supported by advertising, The Sun is the country's highest circulated urban English newspaper, with 259,661 copies delivered on weekdays in the second half last year, according to the Audit Bureau of Circulations (ABC).
Amid the challenging industry landscape, lower advertising demand and weak market sentiments, BMedia registered a total loss of more than RM97 million for its financial years ended April 30, 2015 (FY2015) to FY2019.
The group recorded a RM3 million net loss in the first quarter ended July 31, 2019 (1QFY2020), taking its accumulated losses to RM167.58 million.
Meanwhile, Singer — which will be injected into BMedia pursuant to its regularisation plan — recorded an average annual pro forma profit after tax of RM37.6 million for the past three financial years ended Dec 31. Its net assets stood at RM525.7 million as at Dec 31 last year.
Singer is a consumer durables marketing company that does direct selling and also has a retail marketing platform. It sells consumer durables and motorcycles via a nationwide distribution network of 485 shops and 3,000 sales associates.
Its portfolio of products includes a diversified range of home appliances, including flat panel televisions, refrigerators, washing machines and furniture, as well as wellness products and digital devices.
Backdoor relisting
In 1989, Tan's flagship company Berjaya Corp Bhd attempted to wrest control of SSMC Inc, the parent company of Singer that is listed on the New York Stock Exchange. Although the bid failed, it resulted in Berjaya acquiring 100% equity of Singer in Malaysia.
Subsequent corporate exercises saw Singer becoming a subsidiary of Berjaya Retail.
In 2010, Tan listed Singer, together with convenience store chain operator 7-Eleven Malaysia Sdn Bhd, under the umbrella of Berjaya Retail at an offer price of 50 sen.
At the time, Singer had about 560 branches and 3,500 sales agents nationwide. Berjaya Retail had plans to increase the branches and sales agents to 1,000 within five years.
Tan, however, took Berjaya Retail private less than a year after the shares were floated, citing its dismal share price performance and public apathy for his decision.
Given that Singer will be injected into a listed vehicle, namely BMedia, it is essentially a backdoor relisting of the home appliances firm.
A corporate observer who prefers to remain anonymous believes the injection of Singer into BMedia will come as a huge relief for the latter's minority shareholders.
"Put it this way — Singer, a significant household brand, will be indirectly relisted. I believe the management of Singer will be more motivated to deliver better results because they will have to answer to the investing public. Overall, it is good to have it back on Bursa Malaysia," he tells The Edge.
A source close to Tan, meanwhile, says the billionaire will try to do whatever he can to maintain BMedia's listing status.
"Yes, he has a history of delisting and relisting companies but not once did he allow any of his companies to fall into PN17 and to be delisted eventually. Being such a prominent businessman, he will not allow this to happen," he says.
Leinves PLT chief investment officer William Ng has no doubt that BMedia can be rescued. "If you look at Vincent Tan's sprawling business empire, apart from the Berjaya group, he privately owns many other companies. To him, it is just a matter of which company is be injected into BMedia, and it seems that Singer is the chosen one," he tells The Edge.
Considering that Singer is a clean company with a straightforward business model, Ng is optimistic that BMedia's regularisation plan will be approved by the relevant authorities.
"The Singer brand is known for its sewing machines catering for both home and industrial use. In fact, Singer was indirectly listed on Bursa Malaysia via Berjaya Retail many years ago. If the company is indeed making a comeback to the stock market, I am sure many investors would immediately know what it is," he says.
Ng says although the market has evolved over the years, the demand for sewing machines will always be there. "Many families and industries still need to use sewing machines and other consumer durables. Growth may not be exciting, but the brand value remains very strong. Anyone who was born before the 1990s would have heard of this brand."
But before the regularisation plan can proceed and any definitive agreements can be signed, Singer will require additional time as it is currently in the midst of resolving a technical issue with the Companies Commission of Malaysia (SSM) over its audited financial statements.
BMedia ended 12 sen or 58.5% lower at 8.5 sen last Tuesday, on anticipation that trading of its shares would be suspended on Nov 5 and that it would be delisted on Nov 7. This follows the Oct 25 announcement that BMedia had failed to enter into a definitive agreement with a proposed white knight by the Oct 20 deadline as stipulated by the regulator.
BMedia is expected to appeal to Bursa against its delisting.