This article first appeared in The Edge Malaysia Weekly, on October 7, 2019 - October 13, 2019.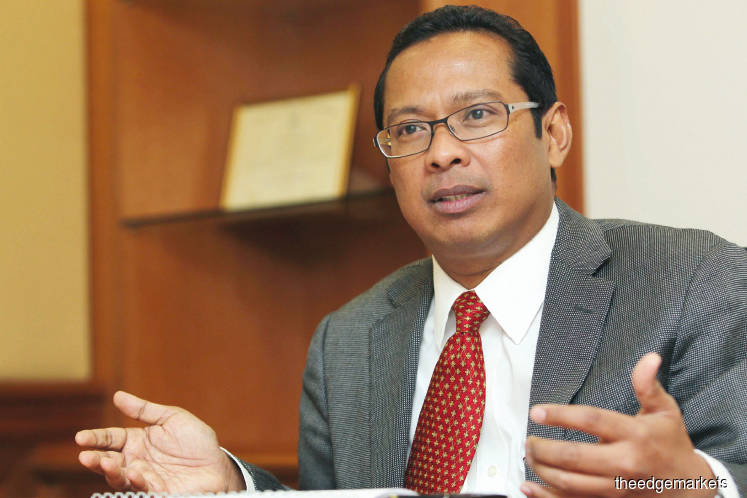 Photo by Mohd Izwan Mohd Nazam/The Edge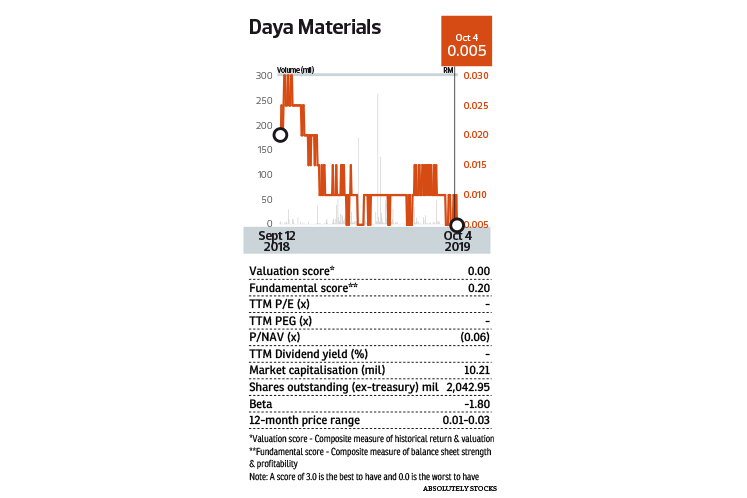 LATE last month, ailing oil and gas outfit Daya Materials Bhd managed to obtain an extension — until Feb 27, 2020 — to submit a regularisation plan to Bursa Malaysia, which is likely to entail the entry of a white knight.
With the appointment of Shamsul Saad as managing director in April this year, there is some speculation as to whether former key personnel of Perdana Petroleum Bhd may surface in Daya and help revive it. However, others say the company's balance sheet is a big deterrent for anyone buying into Daya.
To recap, Shamsul is the former managing director of Perdana Petroleum and has been with Practice Note 17 (PN17) company Daya since 2016, when he came in as an executive vice-president, after selling out of Perdana Petroleum when it was taken over by Dayang Enterprise Holdings Bhd.
"Since becoming managing director, it is known that he has approached a few ex-Perdana [Petroleum] senior people, at least three, to join him, from what we hear," a source says.
Shamsul was abroad at the time of writing and could not be contacted for comment.
Perdana Petroleum is often associated with brothers Datuk Henry Kho Poh Eng and Francis Koh Poh Wat, who at one time controlled as much as 10% of the company. But whether they are part of the plan remains to be seen.
There is also a question as to whether the rest of the former Perdana Petroleum top brass will go to Daya without the brothers.
Poh Eng is said to have been approached a couple of years ago, but he was not interested back then, people familiar with him say. Poh Eng was also abroad and could not be contacted for comment.
Daya's annual report for 2018 indicates that as at end-March this year, Shamsul was not on the top 30 shareholders list, and there seemed to be no former executives of Perdana Petroleum on the list.
Perdana Petroleum has always been active in the provision of offshore support vessels while Daya's business is more fragmented, providing subsea engineering services, the supply of chemicals, tanking, storage and warehousing, among others.
Perdana Petroleum's shareholders, including Poh Eng and Poh Wat, exited the company when Dayang Enterprise acquired their shares at RM1.55 apiece in May 2015. Their departure was viewed by many as a well-timed sale, considering Perdana Petroleum's stock has traded below the 50 sen band since December 2017, propped up only by Dayang's mandatory general offer.
Brent crude slipped to below US$60 per barrel in July 2015, just after Dayang's offer, after which it steadily fell to a low of US$28 in January 2016.
Since then, Perdana Petroleum has not recovered and closed at 30.5 sen last Friday, giving the company a market capitalisation of RM237.4 million. Daya, meanwhile, ended trading at a mere 0.5 sen, translating into a market value of RM10.2 million.
It could also be a challenge for Shamsul and the former Perdana Petroleum team — if they do decide to follow him to Daya — as Daya has not registered a profit in nine quarters, and the outlook is not exactly great for the company. There have been several attempts to revive it but none has been successful.
Judging by the financials, things could be difficult at Daya. For its six months ended June 2019, Daya suffered a net loss of RM13.41 million on RM96.63 million in revenue. For the corresponding period a year ago, net loss was RM16.77 million on RM170.82 million in sales. To put things in perspective, as at end-June, the company had accumulated losses of RM436.67 million.
However, it is worth noting that Daya has been selling some of its assets and has disposed of a mobile crane and forklift unit, among others, possibly to streamline its business and raise cash to help pare down its debt.
As at end-June this year, Daya had cash and bank balances of RM54.8 million and short and long-term debt of RM207.7 million and RM8.55 million respectively. Its finance cost for the six months in review was RM6.67 million.
Daya's net asset value per share as at end-June was negative 0.081. Its auditor, in the notes that accompany its financials, says Daya had a capital deficiency of RM136.2 million and current liabilities exceeded current assets by RM214.1 million "as a result of losses incurred in the current and previous financial years".
Datuk Lim Thean Shiang  has been at the helm of Daya over the past few years. He was appointed executive director and group CEO in March 2015 and assumed the additional position of executive vice-chairman from November 2017.
Lim, who is well known in Corporate Malaysia, resigned as the group CEO of Daya in April this year and was redesignated executive chairman. He has 5.21% equity interest in Daya.
Other substantial shareholders include Datuk Lim Soon Foo and his son Ronnie Lim Hai Liang, who have 5.65% collectively.
Apart from this group, others have failed at Daya as well. But will a white knight and a handful of experienced oil and gas personnel from Perdana Petroleum be able to turn things around?