This article first appeared in The Edge Malaysia Weekly, on September 17, 2018 - September 23, 2018.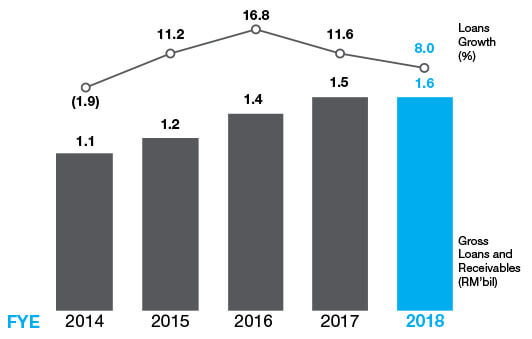 IT will be tough for non-bank financial institution RCE Capital Bhd to maintain its lending growth as strongly as it has done in the past given the growing challenges ahead.
RCE's loans have grown at a double-digit teen pace annually since the financial year ended March 31, 2015 (FY2015). The growth was more or less double that of the banking industry.
In FY2018, its loan growth slowed to a single-digit pace of 8% to RM1.6 billion, but it was still almost double the banking industry's 4.4% growth.
Group CEO Loh Kam Chuin says for FY2019, RCE is benchmarking its loan growth to the banking industry average of about 5%.
Will this be the new normal for the group going forward? Tracking the banking industry's growth instead of strongly outpacing it? Analysts seem to think so.
Loh, however, is not writing off the possibility of RCE growing as strongly as before. "I think it's a bit too early to tell [with there being so many uncertainties]. In the past, we were more aggressive [about growing]. But you will notice that the focus now is more on quality loans. We have to be more responsible in the way we extend facilities to government servants. We can actually 'turn on the tap' and continue to do what we were doing, but then, you'd have higher non-performing loans (NPLs). So, that's why, if you look at it now, it's steady growth [that we've got now]," he tells The Edge.
"But of course, when you have a higher base, even if you're doing business at the same rate, your growth will come down," he adds.
RCE essentially provides general financing services to civil servants. "There are many reasons why civil servants take loans. Chief among them would be home renovation, medical, education and other personal uses," Loh says.
RCE's maximum loan tenure is 10 years and monthly repayments are made through direct salary deductions. Its rivals are the lenders that are big on personal financing, such as Bank Rakyat and MBSB Bank.
RCE currently covers about 80,000 of the 1.6 million civil servants in Malaysia, which translates into about 5% of the workforce.
An analyst who tracks RCE believes its loan growth will mirror the slowdown in the banking industry.
"The reality is that it will be tough for RCE to grow like before. First, civil servants are already a highly leveraged lot; second, the civil servant workforce is not growing; and third, RCE itself has turned more cautious about who it lends to. We would, anyhow, prefer RCE to have a more moderate and sustainable loan growth ... that way, NPLs can be kept in check," he says.
In a late-June report, Maybank Investment Bank Research forecasts moderate loan growth of 7% in FY2019 and 6% in FY2020 for RCE.
"We are acutely aware that the civil service workforce could stagnate, if not shrink, under the current government. Nevertheless, RCE is still a small player in the civil servant financing space. There is market share to be gained, especially since players such as MBSB Bank Bhd have turned less active in this space. That loan growth is now more controlled is also because RCE adheres strictly to a debt service ratio of 60% and is thus more selective in its lending criteria," says Maybank IB Research.
The government's announcement that the minimum wage would be set at a standard RM1,050 a month from next year, as opposed to market expectations of a higher rate, may also affect RCE's prospects.
"I think, originally, there were thoughts that the minimum wage would be RM1,500 ... and now it's RM1,050. If it were RM1,500, maybe demand for financing may increase ... but it's hard to tell for sure," says Loh. He adds that there are other factors that affect RCE's prospects. "One is how fast are our older loans running down, and also, will interest rates go up next year? All these things come into play," he remarks.
Although its loan growth has come down in recent years, RCE's net profit has been on an upward trend since FY2014. Last year, its net profit grew 12.4% to RM88.7 million on the back of a 10% increase in revenue to RM245.9 million.
In 1QFY2019, its net profit grew 11% to RM23.2 million, which was within analysts' expectations. Loan growth moderated to 6% y-o-y compared with 8% in the previous quarter.
Analysts expect RCE to make a net profit of RM91.3 million for the full year.
These days, Islamic bonds account for 59% of the group's total funding, which analysts say is good because it enables RCE to lock in a substantial part of its funding at fixed rates over the longer term.
And, on a positive note, its gross NPL ratio has been trending lower, from as high as 11% back in FY2011 to just 4.06% at end-March.
"With the implementation of [the new accounting standard] MFRS 9, RCE's gross NPL ratio rose marginally to 4.19% at end-June from 4.06% at end-March. Nevertheless, credit cost came in lower at 1.65% in 1QFY2019 from 2.04% and loan loss coverage was a healthy 185%. As it stands, we had already factored in a rise in RCE's NPL ratio to 4.25% in FY2019 and a higher credit cost of 2.1% with the implementation of MFRS 9, which we are maintaining for now," says Maybank IB Research.
Loh says RCE is "comfortable" with its current NPL ratio. "I don't want to be too confident about it, but we are comfortable at this level. More importantly, so are our financiers and everyone else who deals with us, such as the rating agencies. Since 2013, we have implemented our own credit scoring model and have been improving it. That has helped us a lot," he says.
Nevertheless, unlike banks, RCE does not have access to the Central Credit Reference Information System (CCRIS) just yet, so it is not able to comprehensively assess a borrower's outstanding debt position with other domestic lenders.
It also does not come directly under Bank Negara Malaysia's regulation. "We're not a bank, we don't take deposits. So we're actually governed by the Moneylenders Act. But even though we're not directly under Bank Negara, the fact is, we comply with a lot of its policies, such as the 10-year [maximum] tenure [for personal loans]. And, we do provide statistics to the central bank every quarter," says Loh.
RCE's ultimate shareholder is AmBank Group's Tan Sri Azman Hashim, who has a 60.8% stake in RCE via Cempaka Empayar Sdn Bhd.
Few research houses track the stock. The two that do — Maybank IB Research and KAF-Seagroatt & Campbell Securities — have a "buy" call on it with a target price of RM1.95 and RM1.85 respectively, which suggests further upside from its closing of RM1.60 last Thursday.
In 4Q2018, RCE said it would adopt a dividend payout ratio of 20% to 40% of its net profit in the coming financial years. In FY2018, its payout ratio was 27%.
"We have assumed a dividend per share of 7 sen for FY2019, which is a payout ratio of 27%. There is, as such, room for dividends to surprise on the upside," says Maybank IB Research.
Save by subscribing to us for your print and/or digital copy.
P/S: The Edge is also available on Apple's AppStore and Androids' Google Play.