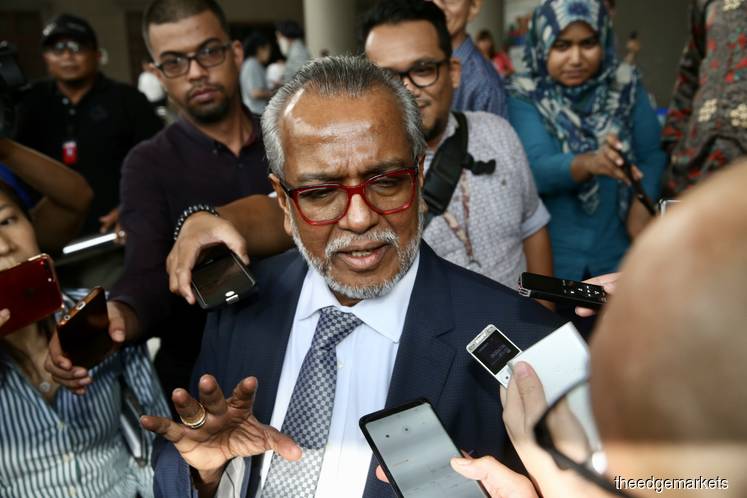 KUALA LUMPUR (April 15): The prosecution in the Datuk Seri Najib Razak-SRC International Sdn Bhd trial needs to prove that the former premier had "full knowledge" that funds channelled into his account came from illegitimate sources in order to prove him guilty, says his lead defence counsel Tan Sri Muhammad Shafee Abdullah (pictured).
Speaking after the trial adjourned on its second day, Shafee said the Bank Negara Malaysia (BNM) raid on AmBank in 2015 to seek information on the bank accounts of Najib and SRC did not reveal anything new so far.
"They have revealed the documents, but these are matters that are not disputed. If you (Najib) have a bank account, you have a bank account.
"There can be many transactions. The issue is, does Datuk Seri Najib [Razak] know the exact thing that went on, whether the money [that] went into the account, does he know it is in fact from [an] illegal source?" Shafee asked.
"That is the basic premise. Just because money [was channelled] into my account, does not mean I am in full knowledge that it came from a wrong source," he said.
"Many individuals are involved. The prosecution needs to know that he is complicit, that he is part of the conspiracy. That is a job for the prosecution, not for us," he added.
The proceeding, which will enter its third day tomorrow, may reveal "a little bit" more, said Shafee. Much of the time will be spent on cross-checking the related documents, as today's proceeding showed.
"Hopefully they'll put in the bankers soon," said Shafee.
"This case is important not because of what is revealed [but because of] what is not revealed, that we need to reveal.
"There are a lot more documents in the bank that has not been revealed," he added.
Today's proceeding ended earlier than expected at about 4.15pm, after the prosecution had some pagination issues for documents provided by its second witness, 41-year-old BNM manager Azizul Adzani Abdul Ghafar.
Azizul — one of the central bank's investigation officers who raided AmBank's Jalan Raja Chulan branch on July 6, 2015 — provided eight folders of information on four of Najib's accounts in the bank, as well as three SRC accounts and one account of SRC subsidiary Gandingan Mentari Sdn Bhd.
Najib is currently facing seven charges over alleged misappropriation of RM42 million in SRC, with funds said to be channelled through its subsidiaries before ending up with him through the said AmBank accounts.