This article first appeared in The Edge Financial Daily, on March 25, 2019.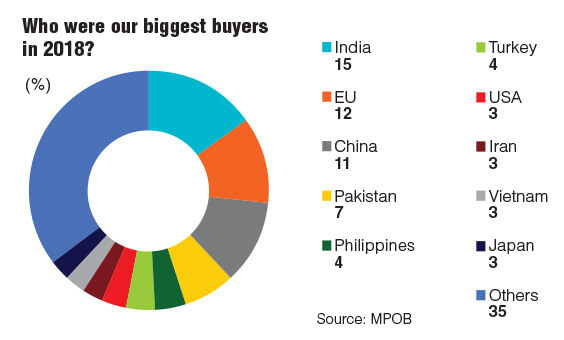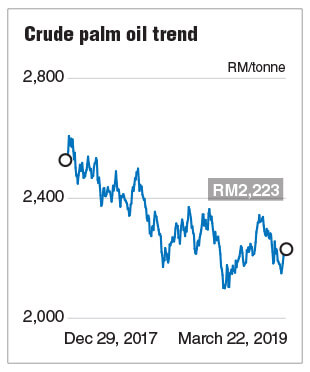 Click / Tap image to enlarge

KUALA LUMPUR: The European Commission's latest draft regulation has many in the country concerned whether palm oil producers are fighting a losing war. Worse still, plantation companies already suffered a blow to their earnings last year.
The worst-case scenario is that the Malaysian palm oil industry loses its grip on its second-largest export market, the European Union (EU), entirely. Industry experts, however, believe there is no need to be overly worried as it is only a matter of a balancing act, but there are certain risks to watch out for.
Looming palm oil trade war
The EU market was both Malaysia and Indonesia's second-largest palm oil export destination last year. In 2018, Malaysia exported a total of 1.91 million tonnes of palm oil to the EU — down 4% from 1.99 million tonnes recorded in 2017 — and accounting for 12% of Malaysia's total 2018 palm oil exports, data from the industry regulator Malaysian Palm Oil Board (MPOB) showed.
Our biggest EU buyers were the Netherlands at 912,592 tonnes last year, mostly for food consumption, followed by Italy at 351,221 tonnes and Spain at 361,640 tonnes. For Indonesia, a large portion of its exports to the bloc were reportedly used for biofuel.
About 3.7 million tonnes of palm oil biodiesel are exported to the EU from Malaysia currently, according to CIMB regional head of agribusiness Ivy Ng.
The EU's executive arm's (the European Commission) draft regulation concluded that palm oil cultivation causes excessive deforestation and that its use in biofuels should be reduced to zero by 2030. The EU Parliament and member countries have two months to decide whether to accept or veto the regulation.
The banning of palm oil as an additive for biofuel and the eventual phasing out of palm oil is expected to reduce palm oil exports of Malaysia and Indonesia by about 6.5 million tonnes, equivalent to about 9% of the total palm oil production, Alliance DBS Research guided.
So will the biodiesel mandate help?
Analysts are of the view that Malaysia's B10 biodiesel mandate for the transportation sector, and B7 for the industrial sector, are insufficient to offset fully the impact should Malaysia lose the EU as its key market.
AllianceDBS Research in an email reply to The Edge Financial Daily's questions commented that the Malaysian government needs to come up with a proper contingency plan before it loses its grip on the EU market as impacts on Malaysian palm oil demand would be "very detrimental".
"The Malaysian government has to do all it could to counter this act. The [current] B10 biodiesel mandate would be enough to cushion the impact of the decrease in palm oil imports from the EU in the short run, but not in the long run.
"Indonesia has already put together policies to absorb the forgone demand from the EU. Its biodiesel mandate has factored in the possibility of the complete phase-out of palm oil," the research firm said.
While the world's biggest producer of palm oil expanded the mandatory use of a 20% biodiesel blend last September, it is already mulling further domestic biodiesel consumption to 30%, or even 100%, to help absorb more crude palm oil (CPO). Its energy and mineral resources ministry is reportedly testing the B100 fuel as we speak.
But the Malaysian mandate at best could absorb an insignificant 3% of the country's production, compared with the much more meaningful Indonesian B20 mandate, which is expected to consume about 13% of stockpile, the AllianceDBS Research analyst added.
RHB Research regional head of plantation Hoe Lee Leng commented that the loss of an EU market may not necessarily warrant serious concerns to Malaysia in the long run.
"Looking at the bigger picture, and on a longer-term basis, if we were to lose the EU market, we need not worry too much," she told The Edge Financial Daily when contacted.
"The successful implementation of Indonesia's B30 biodiesel mandate, which will increase uptake from five million tonnes to eight million tonnes, would be able to offset most of the over three million tonnes of palm oil consumed in the EU for biodiesel that are to be taken out of the equation," she added.
She also observes that there is increasing emerging market demand from countries such as Pakistan, Bangladesh and Vietnam, which have shown higher compound annual growth rates compared with Malaysia's traditional markets such as India and China.
Toppling dominos
But one thing to look out for — besides the downtrend in prices — is the cascading effects of a palm oil phase out, analysts cautioned.
Last Friday, the benchmark third-month palm oil contract on Bursa Malaysia Derivatives Exchange fell RM7 to close at RM2,167 a tonne, its first drop in six sessions. The futures had risen to its highest since March 4 in the previous session — its largest weekly climb since November 2016.
But when compared with its 2016 peak, prices have fallen nearly RM1,000 a tonne — from RM3,127. On a year-on-year basis, CPO prices have declined more than RM250 per tonne.
"The only worry is if this (the phasing out of palm oil) spreads to food production. But at the end of the day, the EU would then have to find replacement vegetable oils, which could drive up the prices of substitute oil and they would then be kicking themselves in their foot," said Hoe of RHB Research.
"Malaysia — and Indonesia — will need to get out there and fight the fight. The phase out is to take effect in 2030 and will be negative for sentiments, but we do have some time before this happens," she said.
"Malaysia cannot afford to lose the EU market, not because of the loss of earnings but damage to reputation can be irreparable," Sathia Varqa, owner of Singapore-based Palm Oil Analytics, concurred.
Varqa said Malaysia and Indonesia may easily find replacements from the displacement to the EU, but when it comes to the reputation of palm oil, it will be a lot more difficult for Malaysia to rebut.
This will be especially true if the ban leads to policies in other countries or in other areas of palm oil use, transpiring from a domino effect of the bloc's decision. He pointed out that plantation companies that are overly dependent on exports to Rotterdam will be badly affected by dwindling market share and therefore, deterioration in earnings.
So far, top palm oil producing countries Indonesia and Malaysia — which supply some 85% of the crop — have threatened to ban imports of some goods from the EU as a retaliatory measure.
In Malaysia, Prime Minister Tun Dr Mahathir Mohamad said the government may decide to ban certain imports from the EU countries over the bloc's discrimination against palm oil exports.
"We think we will stop buying some European products, that is one thing we can do," he told reporters at the Parliament lobby last week, after saying that Malaysia should be more aggressive in addressing the EU's proposed restrictions towards palm oil use.
Ministry of International Trade and Industry deputy secretary-general of trade Datuk Seri Norazman Ayob too had warned that free trade agreements with the EU and European Free Trade Association will face challenges, should there be continued discrimination against Malaysian palm oil.
Against this backdrop, will the dispute over edible oil dispute start another trade war in this part of the world?