This article first appeared in The Edge Malaysia Weekly, on January 28, 2019 - February 03, 2019.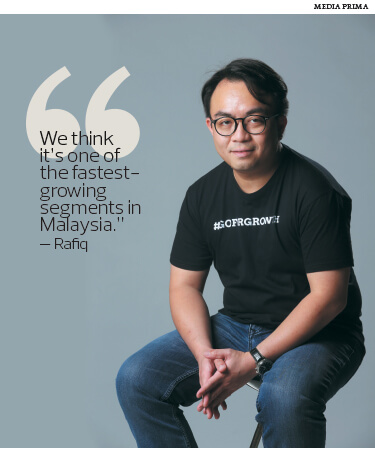 THIS could be the year esports and gaming go from novelty to mainstream success.
Although the industry is still in its infancy here in Malaysia, its impressive growth has caught the attention of both the corporate and public sectors.
Two of the largest media companies in the country — Media Prima Bhd and Astro Malaysia Holdings Bhd — have already signalled their interest in esports, which, given the backing of traditional mainstream media along with a planned national league, could yield significant returns.
"We think it's one of the fastest-growing segments in Malaysia," Media Prima Digital CEO Rafiq Razali tells The Edge in an exclusive interview.
"We view it as a form of lifestyle sports, on a par with other lifestyle sports in the market at the moment. We've seen quite good traction based on what we have done over the past 12 months or so. The numbers that we have seen are very encouraging."
The Media Prima group had its first taste of esports when it broadcast a FIFA Online 3 National Championship in Malaysia in late 2017.
"It was shown on television and livestreamed simultaneously. That garnered us about 300,000 viewers — quite a good start," Rafiq says.
Astro chief of sports Lee Choong Kay believes Malaysia can replicate the level of esports success seen in Japan, South Korea, China, Europe and even the US.
He highlights the year-on-year increase in global viewers, revenue, tournament prize pool and live event spectators in an email interview.
"Global audience, for example, grew almost 14% year on year to about 400 million last year and is estimated to increase to over 550 million in 2021.
"Southeast Asia is the fastest-growing region with the number of esports enthusiasts expected to double to 19.8 million this year from 9.5 million in 2016. Games like PUBG Mobile and Fortnite have grown significantly in just a short time with 30 million active players and 200 million downloads in eight months for PUBG Mobile while Fortnite achieved 200 million registered players with 8.3 million concurrent (the total number of players connected to the game at a given time).
"After seeing the popularity of esports among the millennials globally and hence its potential, Astro became one of its early adopters. eGG Network was our esports start-up and over the years, it has evolved into a 360° marketing platform and tournament organiser for game publishers, tournament owners and advertisers to reach, engage and monetise the gaming and esports fanbase in Asean." 
Lee observes that mobile game developers such as Mooton were quick to recognise esports' potential. Mooton hooked up with eGG Network to produce the Mobile Legends Professional League Malaysia/Singapore (MPL MY/SG), which is now in its third season. The league's popularity is evident in the more than 1,000 team registrations it attracts.
"We are very encouraged by the keen interest in MPL and even more so with the 37 million views garnered throughout MPL Season 2," Lee enthuses.
Another huge success was the 2018 Kuala Lumpur Major. A Dota 2 tournament hosted by eGG Network in partnership with international esports companies, it saw Stadium Axiata Arena filled for three days with fans happy to camp there for hours on end, easily exceeding 12 hours a day. That the merchandise was sold out is yet another telling point.
"Increasingly, we are seeing many amateur players going semi-professional. This is indeed very encouraging for the industry. The players are sponsored, paid to play and train and have taken Malaysia's esports industry to another level by proving that ordinary gamers can make it a thriving industry," Lee adds.
Even so, a number of gaming analysts are very circumspect, concerned that the industry has peaked as video game revenue appears to be headed for its first decline since 1995.
Bloomberg quotes Pelham Smithers, owner of an eponymous London-based research firm, as saying that China's stricter approach to game approvals and a shortage of big console hits as well as fatigue among players for Battle Royale titles such as Fortnite have affected sales.
Whether that will have an impact on local esports remains to be seen but Media Prima and Astro remain optimistic.
In fact, Rafiq reveals plans to ramp up in the space. "The target is to grow at an accelerating rate. For example, if the competitions we do next year allow us to capture a million viewers, we will want to hit two million the following year. That would be the mindset we want to bring to the table.
"But for most things digital and most things that are starting up, we don't believe in a long-term target yet so that we can be nimble enough to be able to tweak things to continuously grow… we started off with over 300,000 viewers, so we would want to at least double that in some of the competitions we do. For the next 18 months or so, it has to be in the millions."
Lee remains optimistic. "Kuala Lumpur Major at Axiata Arena, a ticketed event which over 8,000 fans attended from around the world, was also the seventh most watched esports tournament globally last year," he declares.
Challenges in taking esports to the next level
But esports needs a complete ecosystem to advance to the next level. This includes government support and corporate sponsorship, coaches to provide training, universities offering the right curriculum, and the right infrastructure such as training facilities and venues to hold and broadcast large-scale competitions.
Malaysia is not short of talents but it is showing early signs of esports brain drain as some of the top players have left to join teams in other countries because of better incomes.
"Malaysia has a great talent pool for esports. A lot of our top players leave the country because they cannot make money here. Malaysia DOTA players are all in teams in China. It is one of the things that we need to rectify," Rafiq says, adding that plans to set up a national league is a step in the right direction but requires both private and government support.
"Firstly, it (national league) becomes a platform for players to compete consistently at the highest level in the country. Right now, there is no such league. Once that happens, it'll allow Malaysians to compete at a high level."
In the initial stages, he believes government funding is necessary but once the national league is operational, it ought to be self-sustaining through sponsorship, advertisements and other income streams. At present, tournament organisers lack sponsorship deals and money from advertising.
Monetisation remains a challenge because many of the game developers stream their tournaments for free on platforms such as Twitch, Lee observes. "Currently, most of the esports monetisation comes from in-game purchases. Thus, most of the revenue goes directly to the game developers but we do believe that eGG can exist in this ecosystem as the go-to platform to connect games, fans and advertisers."
That said, esports has created multiple revenue streams in the form of tournament production fees, sales of tickets and merchandise, sponsorship deals and media carriage fees for regional partnerships.
Media Prima's Rafiq is confident that advertising money will eventually move into esports if the audience continues to expand. "We know the audience is there but what is usually lacking is sponsorship and advertising money. If the eyeballs are there, the money will come. We believe the advertising money will move into esports eventually. In fact, we think this should happen relatively soon."
The government came into the picture by allocating RM10 million in Budget 2019 for the development of esports in the hopes of transforming Malaysia into an Asian esports powerhouse, according to Youth and Sports Minister Syed Saddiq Syed Abdul Rahman.
Delighted by Putrajaya's commitment, Tan Min-Liang, CEO of global gaming hardware company Razer Inc, announced that he would match the amount in esports investment in the country.
A fragmented industry
Although the esports industry is fragmented, Rafiq believes it is big enough for multiple players to operate in, focusing on different segments based on their strengths and interest.
"It's a very fragmented industry (but) I think it's a good point to start with because so many different industry players will help the esports space grow at a very fast pace. However, we believe that eventually, some companies will drop out and consolidation could happen to some of the bigger players. But for now, it's good because it helps the industry to grow fast."
Astro's Lee says the fragmentation is because gamers are usually only keen on one esports game, unlike football fans who are happy to watch local games, the English Premier League and the World Cup, for instance. He opines that Malaysia has to focus on just a few games, namely Dota 2, Mobile Legends, PUBG, PUBG Mobile and CS:GO, which have the most appeal and high active gamers.
An increasing number of companies are jumping on the esports bandwagon by developing their own tournaments. "Not all are successful as hosting an esports tournament requires a different and new skill set. eGG Network, through its experience over the years, has garnered a lot of talent that is actively growing the industry. An example is our longstanding partnership with Moonton, the game developers of Mobile Legends, with three successful seasons of MPL. We look forward to working with more game developers and even brands to connect them with esports and gaming fans in the region," Lee adds.
Save by subscribing to us for your print and/or digital copy.
P/S: The Edge is also available on Apple's AppStore and Androids' Google Play.