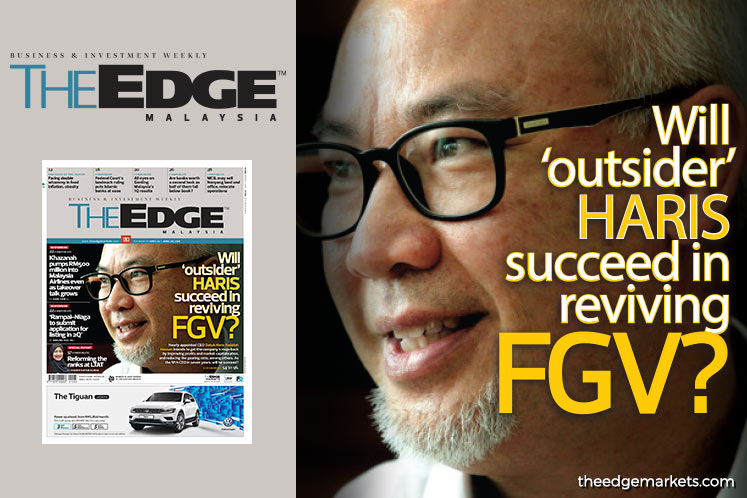 KUALA LUMPUR (April 20): Ever since Datuk Haris Fadzilah Hassan was appointed CEO of FGV Holdings Bhd in late January this year, there have been questions as to how he would fare. Would he take the bull by the horns and turn the ailing FGV's fortunes around, or would he, like the couple of CEOs before him, leave in a huff, without achieving what he set out to do?
Perhaps the writing was on the wall that he wouldn't have an easy time. In mid-December last year about a month or so before he joined the plantation giant, FGV's stock hit a record low of 63.5 sen apiece.  
Then a month after he took over the helm of the company FGV announced a massive loss of more than RM1 billion (largely as a result of impairments) for its financial year ended Dec 31, 2018.
Then earlier this month, the Federal Land Development Authority or FELDA released a White Paper, which in not so many words said its troubles were mainly a result of FGV not faring well and paying it amounts that were less than expected under a Land Lease Agreement signed when the company's shares were first floated.
Nevertheless after almost a 100 days on the job, Haris seems to have made some headway, making inroads into charting the way forward for FGV. He does not hide the difficulty in the task at hand, having had 13 town hall meetings with cynical members of the FGV staff.
In a nutshell his plans involve FGV moving into downstream areas which were previously untapped, tightening procedures which will save it millions of ringgit a year, and most importantly re-invigorating its work force which is in dire need of motivation.
While he seems to be able to spell out what needs to be done, the question remains can he do it.
Read the rest of the story and interview in the latest issue of The Edge.