This article first appeared in The Edge Malaysia Weekly, on November 4, 2019 - November 10, 2019.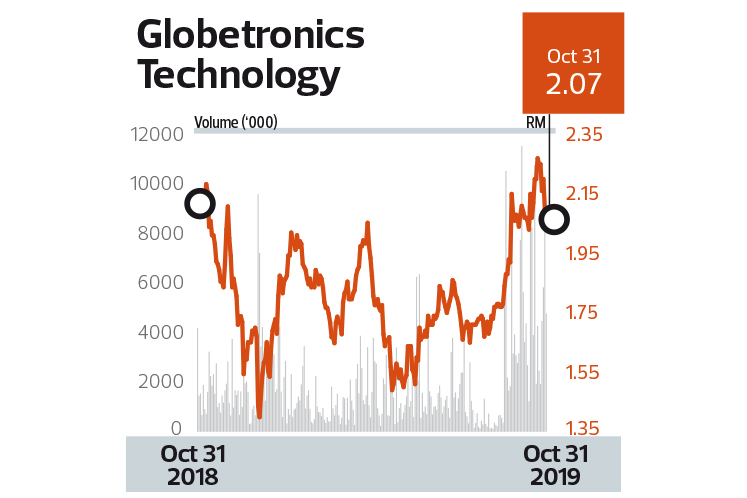 GLOBETRONICS Technology Bhd, known for its niche in the sensor business, announced last week that its net profit for the third quarter ended Sept 30 had fallen nearly a fifth to RM18.94 million from RM23.6 million a year ago.
The drop did not surprise analysts as they were already expecting a weaker set of earnings, stemming from lower volume loadings.
After the announcement on Wednesday, two research houses, which had been "neutral" on the stock, downgraded their call to a "sell", resulting in there being four "sell" calls and five "hold" recommendations.
Last Thursday, Globetronics' share price ended at RM2.07 — close to analysts' average target price of RM2. Many analysts are of the view that the stock is fully valued at this juncture and do not expect any excitement in the near term.
For the greater part of the year, Globe­tronics saw soft volume loading for its products. Although volume loading is projected to pick up in the second half of the year, it is still expected to be weaker on a year-on-year basis.
"Loading has picked up overall and is showing strong growth if we are comparing 1H2019 with 2H2019. However, if we compare it on a year-on-year basis, we will see a lower number as we have done some rationalisation of our quartz timing device business, which was completed in 1Q2019," Globetronics corporate director Ng Kok Yu tells The Edge in an email reply.
"This has reduced our revenue significantly. We decided to rightsize this business due to its mature nature and high labour content."
In 3Q2019, Globetronics' quartz crystal division accounted for 17% of its revenue while sensors contributed about 50% and LED, 21%, according to an AllianceDBS Research report.
In recent times, Globetronics has started to diversify into segments other than smartphone. Its LED division has made headway in the manufacture of laser headlamps.
Ng says the automotive headlamp business is projected to see tremendous growth in FY2020.
"Our customer is one of the market leaders in providing this new technology for automotive laser headlamps. The headlamps are miniaturised, have long-range illumination and are a lot more power-efficient — an advantage for those with slim designs. We are also looking at adopting them in electric vehicles.
"There is a large backlog of orders in this segment as the die supply still needs to be optimised for big-volume production. Our customer is working on this and we expect to ramp up production once this issue has been resolved," he adds.
AllianceDBS Research says automotive laser lights could contribute 14% to 15% to the company's sales in FY2020 — a significant increase from the 3% to 4% estimated in FY2019.
It can be said that Globetronics has been an indirect beneficiary of the ongoing trade war between China and the US. Ng shares that the company's move into the manufacture of 3D printing components for the medical industry has been partly due to the trade diversion.
The mass production of these components is expected to begin at the end of the year, he says, adding that 5G chip is another product in the works — also because of the trade diversion.
That said, Ng sees the trade war as a double-edged sword. "There have been delays in new projects due to constraints of material and uncertainty in the direction of trade."
While there are efforts to move into other segments, the sensor market remains an important part of Globetronics' business.
"We are also working hard to develop next-generation sensors that are even more miniaturised and may have a combination of functions or features. These are expected to be incorporated into smart devices in 2020 and beyond and will play a key part in our strategy of adding more content per device in view of the saturating smartphone volumes," reveals Ng.
AllianceDBS Research is projecting a 13% expansion for the sensor division in FY2020. It says any potential increase or new sensor content secured by the company, especially in 3D sensor or notch redesign, will provide upside surprises to its forecast.
The research house has a "hold" call on the stock with a target price of RM1.80, based on 17 times FY2020 earnings per share.
While Globetronics is showing that it is moving away from the smartphone market, many analysts feel that it needs more time to prove its capabilities.
"While we acknowledge the group's effort to diversify away from the smartphone market, we are of the view that meaningful contribution to the bottom line can only be seen in the later part of FY2020. Given the poor near-term outlook, we expect the share price to come under great pressure," says MIDF Research in a report.
Maybank Investment Bank Research takes the view that Globe­tronics has expensive valuations and soft near-term volume, but long-term growth potential from the ramping up of its sensor capacity and new products. The research house has kept its "sell" call on the stock with a target price of RM1.56.