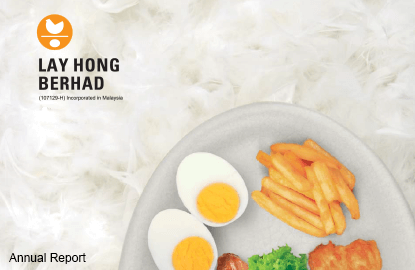 This article first appeared in The Edge Malaysia Weekly, on November 9 - November 15, 2015.
LAY HONG Bhd's share price soared more than 80% when news emerged that foreign investors were looking to take a stake in the egg producer. While there is no guarantee that a deal will happen, as not all business talk bear fruit, strong trading in Lay Hong's shares has lifted its valuation to over 17.73 times earnings as at last week's close of RM6.39 per share.
Lay Hong's industry peers, such as Teo Seng Capital Bhd and Huat Lai Resources Bhd, have also seen growing interest, which has driven their share prices higher. Their valuations still lag behind Lay Hong's though, ranging from 5.7 to 12.8 times earnings.
Since they look relatively cheaper than Lay Hong (fundamental: 0.75; valuation: 0.80), are there more upside for the other egg-layers?
The good news is that egg prices have been recovering over the past six months. The average price of Grade A eggs in September and October was about 32 sen — the highest since prices dipped to 28 sen in June.
Egg prices are still low compared with last year, when they reached as high as 36 sen towards the end of the year. Industry sources caution that a possible glut could cap prices in the coming months.
Layers that export to Singapore, however, would enjoy better margins, especially with the weakening of the ringgit by 18.6% over the past year to 3.06 against the Singapore dollar.
"In ringgit terms, the price of eggs exported to Singapore is about three sen more than the price in Malaysia," explains one industry player.
In the event an egg glut does happen, the additional 10% margin on exports to Singapore could prove to be a good buffer for any cyclical downturns in egg prices in Malaysia.
Huat Lai (fundamental: 1.10; valuation: 0.75) is said to be the biggest egg exporter to Singapore. However, exports to "other Asean countries" only contributed 14% to the group's revenue in FY2014, based on its latest annual report. The company is also Malaysia's largest producer of eggs with a daily capacity of 3.6 million eggs (see table).
The second largest egg exporter, Teo Seng (fundamental: 1.90; valuation: 1.50), exports about 30% of its production across the causeway.
LTKM Bhd (fundamental: 3; valuation: 2.40) is much smaller but exports a larger proportion (40%) of its production to Singapore.
As for CAB Cakaran Corp Bhd (fundamental: 0.55; valuation: 0.50), the company has just begun realising returns from its venture into Singapore. For the three months ended June 30, about 9.7% of the group's revenue came from sales in the city state.
It is worth noting that CAB Cakaran's sales in Singapore does not just include eggs but also broiler chickens. 
QL Resources Bhd (fundamental: 1.30; valuation: 1.10) is also a major egg producer in Malaysia, but it is difficult to compare the company with the other egg-layers given its diversification into fish-based food products and oil palm plantations.
Interestingly, Lay Hong — whose share price has been the best-performing in the sector — has minimal exports with most of its sales generated in Malaysia.
Note that supplying eggs to the Singapore market is tightly regulated by the island republic's Agri-Food & Veterinary Authority and only about 20 Malaysian layers have been approved to export eggs there.
Looking ahead, egg producers could be interesting to watch given the weaker ringgit and the softening consumer spending locally.
After all, export-oriented companies that benefit from the currency's weakness have been in favour. For example, glove makers are currently valued at 15 to 37 times their earnings.
While the sale of eggs cannot grow at the same pace as gloves, the same trait makes the egg-layers attractive to risk-averse investors. Eggs are also an inelastic consumer good.
Feed cost has remained low despite the strengthening US dollar against the ringgit. This is because corn and soybean prices have fallen to record lows over the past year due to bumper crops in the US and Brazil.
Among the layers, Teo Seng stands out due to its high return on equity, which is in excess of 15%. The company is also able to leverage the strength of its controlling shareholder, the Leong Hup group, which is an established poultry player in the country.
Teo Seng's share price has not risen as aggressively as its peers', up only 2% year on year as at last Friday's close of RM1.65, valuing the company at 8.7 times earnings. Compared with the 52-week low of RM1.13 in August, however, its share price has gained over 46% in the past three months.
Meanwhile, LTKM stands out as the only egg producer that has a net cash balance sheet — as at June 30, the group had RM15 million in net cash. However, its earnings in the same quarter fell 66% y-o-y to RM2.45 million due to eggs' lower selling prices.
With the rebound in egg prices in the third quarter, LTKM's earnings should improve. The group's share price has risen by 30% in the past two months to RM1.80, but this only values it at 5.6 times earnings.
Huat Lai, which has one of the highest gearings at 180.5%, saw its share price rise 45% in the past two weeks. It closed at RM5.08 last Friday — a record high.
Meanwhile, CAB Cakaran saw its share price rise a modest 18% over the past two months. It closed at RM1.16 last Friday, which values the company at 11.5 times earnings.
---
Note: The Edge Research's fundamental score reflects a company's profitability and balance sheet strength, calculated based on historical numbers. The valuation score determines if a stock is attractively valued or not, also based on historical numbers. A score of 3 suggests strong fundamentals and attractive valuations. Visit www.theedgemarkets.com for more details on a company's financial dashboard.