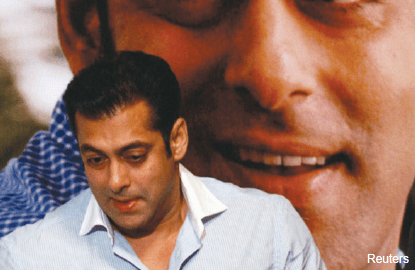 MOVIE-CRAZY Indians see Bollywood hits any way they can: crowding around family TVs, piling into dusty village cinemas and swank New Delhi multiplexes, borrowing bootlegged versions friends stash in mobile phone memory cards. They're just not in the habit of paying to watch online.
Kishore Lulla plans to change that before Netflix does.
Encouraged by an activist investor, the executive chairman of Eros International plc is making its Eros Now streaming service a priority — shelving a plan to create an old-fashioned television network to focus on video on demand optimised for mobile devices and priced for widespread adoption. The idea is to use the Mumbai studio's bulging catalogue of more than 2,000 films and new, exclusive series to build a critical mass of devoted users before Netflix Inc and Amazon.com Inc plant their flags in the world's second-most populous country.
"We thought, 'We have the market share, we have the movies,'" Lulla, 53, said in his London office on the city's Georgian-era Manchester Square, looking every bit the mogul in a crisp, open-necked white shirt and slip-on shoes. "Why don't we create our own platform?"
Thanks to a production machine built by his father Arjan, who founded Eros in 1977, it releases upwards of 70 movies a year — more than any US rival. Eros is "exactly where Netflix wants to be in the next three to five years," Lulla said. "I'm already there."
Over 26 million and growing
Since a largely marketing-free soft launch about a year ago, Eros Now has attracted more than 26 million users. The official hard sell unveiling was in July, with promises that movies will be available to stream immediately after they hit theatres. Promotions show teasers of new digital series including Khel, a drama about "the twisted characters that populate the world of cricket", and Ponniyin Selvan, based on a 2,000-plus-page novel about an ancient Tamil kingdom.
A basic, ad-supported tier is free, while premium services cost from 50 rupees (RM3.26) to 100 rupees monthly. Prices are higher outside India, where there's opportunity in diaspora communities. In the United States it's US$7.99 (RM34.55) — which happens to be Netflix's base cost.
But Eros Now can't be a straight-up Netflix clone. For one thing, there's the music. Songs from Bollywood films, set to elaborate dance routines, usually dominate the top of the Indian charts, so the app has sections for listening to tracks and watching music videos.
Macquarie Group Ltd has estimated Eros Now could have 40 million users in 2016 and 133 million in 2020, though with probably fewer than 10% paying for subscriptions. Still, counting sales from in-app transactions and ads, it could be booking just under US$664 million in revenue in five years, more than double Eros' total 2015 sales.
Investors appear to like the strategy. Eros shares are up 59% in New York this year, giving it a market value of about US$1.94 billion.
The company had been working on streaming concepts since 2005, but got a push this year from London-based Knight Assets & Co LLP, which has built a stake of more than 2%. The investment firm, led by former Deutsche Bank AG trader Akshay Naheta and Mohsin Rashid, an ex-Bank of America Corp investment banker, called for on-demand to be the core strategy.
Like Lulla, Knight has its eye on king-of-the-hill Netflix, which has more than 65 million subscribers in over 50 countries and territories, and has aggressive plans to be almost everywhere by 2017, with India on the list. Amazon's going global with its Prime video streaming service too. The two companies declined to comment.
Banking big on content
Building a platform around the Eros library and production machine, which churns out everything from buddy comedies to sprawling historical epics like the pending Bajirao Mastani, could create "an impenetrable content and customer moat" against the competition, Rashid said.
It'll have to be a deep one: Netflix has said it will spend almost US$5 billion on content in 2016 and is aggressively expanding productions tailored to markets outside the US.
There's home-grown competition too. Balaji Telefilms Ltd, whose upcoming features include Turbanator, about a Sikh superhero, is planning a platform targeting millennials. Hooq, from Singapore Telecommunications Ltd, Warner Bros and Sony Corp, kicked off in India this year with monthly packages starting at 199 rupees.
None of them will have an easy time in a country where cable TV providers struggle to sell low-cost bundles. "Getting people to subscribe on a monthly basis is a major cultural shift," said Aswin Punathambekar, author of From Bombay to Bollywood: The Making of a Global Media Industry and a professor at the University of Michigan.
Indians are schooled in downloading pirated films and swapping loaded memory cards to pop into their phones. Bought from kiosks for the equivalent of a few US dollars, they're one of the main ways lower-income people consume movies and music.
Attractive emerging market
For all that, it's easy to see why Eros is determined. Even with only 19% of people hooked up to the Web, India has almost as many Internet users as the US, and their ranks are mushrooming.
The consulting firm Ernst & Young ranks India as the second-most attractive emerging market in digital media behind China, citing its youthful population — 46% of its 1.25 billion people are under 25 — and smartphone penetration; Cisco Systems Inc estimates there will be 651 million devices by 2019.
How can any service pull ahead and stay there when Netflix shows up? "Indian consumers pay for what they perceive value in, and when it's not available elsewhere," said Sameer Nair, Balaji's chief executive officer. "The best execution and the best storytelling will win."
Lulla figures Eros has claims to both. It was a pioneer in distributing movies on VHS tapes, then DVDs. It's associated with Bollywood's biggest hits and most bankable performers — so much so that shares of an Indian unit, Eros International Media Ltd, plunged in May when superstar Salman Khan was convicted in a hit-and-run case. Khan is a co-producer of Hero, a new Eros release; a music video of the well-built heart-throb crooning in a recording studio, interspersed with cuts from the movie, has scored more than 13 million YouTube views since it went online Aug 8.
"In India, what are the three big things? Cricket, religion — and movies," said Lulla, who counts the 1990s comedy Kuch Kuch Hota Hai and recent romantic comedy Tanu Weds Manu Returns among his favourite flicks. "I want every Indian to have Eros Now." — Bloomberg
This article first appeared in digitaledge Daily, on September 10, 2015.