This article first appeared in The Edge Malaysia Weekly, on October 14, 2019 - October 20, 2019.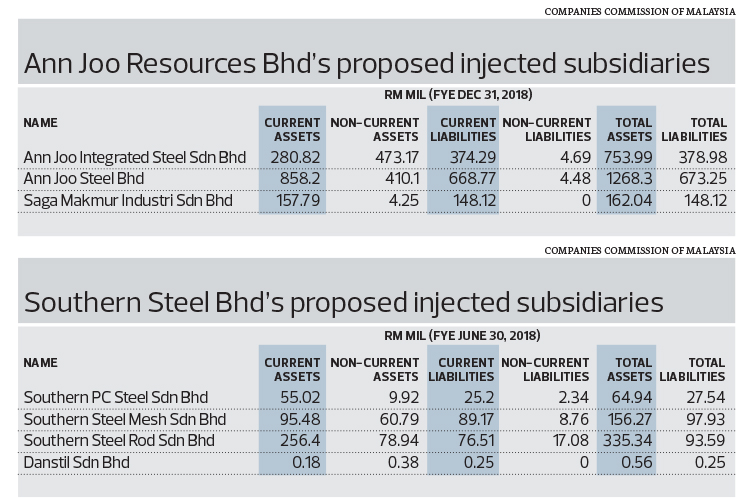 AT first glance, the proposed RM1.65 billion joint venture between Ann Joo Resources Bhd and Southern Steel Bhd appears to be the long-awaited answer to years of government calls to consolidate the industry.
For the market, the immediate question is whether the expected synergies and cost savings will be enough to turn around the businesses being injected, which are mostly loss-making.
That remains up in the air as it is early days yet. Both companies are undertaking a 90-day due diligence process beginning Oct 7, which observers say is an ambitious deadline. The government is also expected to engage both parties on the proposal in the coming weeks.
Beyond the immediate market pressures, the proposal seems to be a long-term play for both parties. It is a non-cash transaction which will see both companies inject businesses and assets in exchange for shares.
People familiar with the proposal say the non-cash aspect allows both parties to conserve money in order to support the JV company to seek expansion after the present upstream price war is resolved. Among others, that may involve the long-shelved RM1.2 billion, second phase of expansion of Ann Joo's existing blast furnace facility.
On Oct 7, both steel players inked a memorandum of understanding (MoU) to form a strategic alliance vis-à-vis their long steel products manufacturing businesses.
Note that the asset injection from both parties exclude unspecified "certain assets as set out in the terms of the MoU". Southern Steel will also sell some of its land parcels to the JV company.
Overall, Ann Joo will inject three companies for RM907.5 million worth of shares of the JV company, representing a 55% stake. Southern Steel will receive RM742.5 million for its injected assets, amounting to 45% equity interest.
It is worth noting that per the shareholders' agreement released on Bursa Malaysia, Ann Joo will nominate the CEO of the JV company — a notable concession on the part of Hong Leong Group, which controls Southern Steel.
Also unusual, perhaps, is the preparedness of Hong Leong Group and its controlling shareholder, Quek Leng Chan, to hand over control of the JV to Ann Joo.
Southern Steel will nominate the chief financial officer, and both parties will jointly nominate the board chairman alongside appointing two board representatives each.
"The rationale of this deal struck by the two major long steel players in Malaysia is to create a vertically integrated entity with upstream ironmaking capability such as hot metals and pig irons through Ann Joo's blast furnace (BF) technology, and downstream products such as bar and wire rods through Ann Joo and Southern Steel's electric arc furnace (EAF) and rolling mills," said AmInvest Research.
Note that assets injected from Ann Joo will include its RM600 million blast furnace, which was fired up in 2012. If successful, the JV will create an integrated player with capabilities that range from ironmaking to production of wire rods and related products.
Another unusual detail included in both parties' announcement of the deal is a near-term plan to list the JV company's shares. The current target to reach the milestone is the financial year ending Dec 31, 2020, although this hinges on how fast it can meet profit track record requirements.
"If such profit track record is not achieved, the parties shall cause the JV company to apply for listing as soon as the profit track record is achieved," according to a statement released to Bursa.
It is likely that the shareholders would not be ruling out alternative listing methods if necessary.
On Oct 7, the day the MoU was announced, Ann Joo closed at RM1.17, down six sen, or 4.9%, from its previous close. It fell further by one sen to RM1.16 last Friday, valuing the company at RM601.35 million.
Five out of seven analysts tracking Ann Joo retain a "sell" call with target prices between 73 sen and RM1.10. There is no research coverage for Southern Steel at present, based on Bloomberg data.
Meanwhile, Southern Steel rose four sen to close at RM1.02 on Oct 7 following the news, though the stock ended the week at 88 sen as at Friday — falling below the 90 sen threshold for the first time since June last year. Its market capitalisation as of last Friday was RM381.61 million.
Scaling up
From a scale perspective, the combined entity will have an annual crude steel production capacity of about 2.3 million metric tonnes, according to Kenanga Research.
The combined balance sheet is also substantial. Ann Joo's three subsidiaries to be injected have combined total assets amounting to RM2.18 billion as at Dec 31 last year versus RM1.2 billion in total liabilities.
As for the four subsidiaries of Southern Steel, their combined total assets come to RM557.11 million versus RM219.31 million in total liabilities. This may not include the land parcels that Southern Steel would be injecting.
In terms of revenue, the seven companies being injected show a combined pro forma revenue exceeding RM5.1 billion, although this very likely includes a significant amount of inter-company sales within each group at present. Hence, the actual external revenue should be significantly less.
"Through the formation of the JV, Ann Joo could integrate into the downstream industrial-grade wire rod product, which Southern Steel has been doing, while on the other hand, Southern Steel could utilise billet products from Ann Joo to replace imported billets," Kenanga Research observed in a Oct 8 note.
"In the longer term, management also seeks to explore additional synergy by tying up other operations in both parties to further enhance the value of both companies," it added.
That said, whether the increased scale and expected synergies can offset heavy market pressure will be a big question mark for shareholders.
The upstream market has been facing an oversupply situation, which depresses selling prices, since Alliance Steel (M) Sdn Bhd's RM3.5 billion steel mill with a 3.5-million tonne long steel production capacity began operating in 4Q2018.
The benefits of gaining added scale will be greater bargaining power in raw material purchasing as well as access to a larger combined customer base, according to TA Securities. The JV may also ease the intense competition currently seen among Malaysian long steel players, it added.
"Besides, given Ann Joo's expertise in upstream operations, the proposal will provide an operational integration to the group from ironmaking to high-grade finished products. In addition, the new entity will be able to expand its range of products," said TA Securities.
For Ann Joo, its 55% stake in the JV company means that it will be taking on the losses from Southern Steel's injected operations until the combined entity is turned around.
It is understood that Ann Joo intends to maintain its listing status despite the injected businesses comprising about 70% of its bottom line. According to TA Securities, Ann Joo intends to expand its ironmaking capacity post-completion of the JV to grow its downstream operations.
As for Southern Steel, it is unclear what is in store for it after the proposed injection of its assets is completed.
In the financial year ended June 30, 2019, Southern Steel recorded RM118.9 million in net loss versus a RM211.25 million profit the year before. Revenue fell 12.22% year on year to RM3.14 billion.
Note that Southern Steel recorded positive net cash generated from operations in the same financial year, to the tune of RM114.64 million.
However, the cash generated was wiped out by RM105.31 million in debt repayment plus RM8.54 million in coupon payments for its redeemable convertible unsecured loan stocks and RM10.63 million for acquisition of property, plant and equipment.
To be fair, Ann Joo was also loss-making in the first six months of its current financial year ending Dec 31, 2019. The company recorded a six-month net loss of RM44.35 million compared with an RM82.15 million profit in the previous corresponding quarter as six-month revenue inched up 1.3% y-o-y to RM1.11 billion.
It is also worth noting that the major drag on Ann Joo's results in the first six months of this year had been its manufacturing division, which is being injected into the JV company.
In the two quarters up to June 30, Ann Joo's manufacturing segment recorded a loss of RM52.55 million on RM822.79 million revenue.
From that perspective, the merger is only neutral at best for Ann Joo in the short term, opined AmInvest Research in an Oct 8 note.
"Assuming Southern Steel's losses are to sustain, Ann Joo is to make a RM54.3 million net profit in FY20F based on our existing forecasts and the merged entity will derive synergies and cost savings amounting to RM104 million (2% of combined turnover, we assume).
"Based on our estimates, Ann Joo's FY2020F will be eroded by about 60% from RM54.3 million to RM21.6 million. Over the longer term, assuming Ann Joo is able to help turn around Southern Steel, there could be a higher chance that the merged entity could do better," AmInvest Research said.