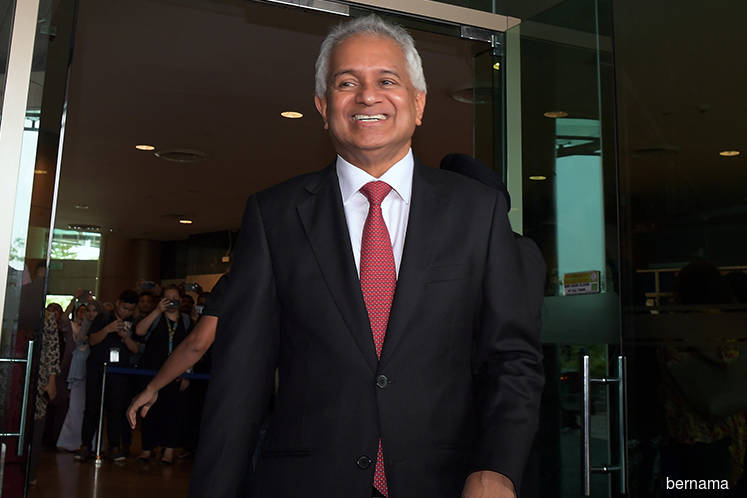 KUALA LUMPUR (March 26): PAS, which is ruling Kelantan as the state government, has come out to question the rationale for the Attorney-General (A-G) representing a group of Orang Asal in a civil suit against the Kelantan state government.
This is because under Article 145 of the Federal Constitution, the A-G's role is to advise and represent the Yang Di-Pertuan Agong, the Cabinet, or any ministers, and not individuals, said PAS secretary-general Datuk Takiyuddin Hassan.
"The A-G is the principal legal adviser to the government," Takiyuddin said outside the Dewan Rakyat today. "But what is happening is a group of Orang Asal has filed a suit against the Kelantan state government.
"Why did the A-G represent private citizens when the A-G's function is to represent the government?" asked Takiyuddin.
"A similar group has claimed a forestry area in Perak, and will also file a suit against the Perak state government. Will the federal government allow the A-G to represent the group in the suit? That was not answered in the Dewan Rakyat," he added.
In an unprecedented move, A-G Tommy Thomas said in a statement in January this year that the federal government has filed a civil suit at the Kota Bharu High Court on behalf of the orang asli against the Kelantan state government to seek the legal recognition of the native land rights of the Temiar orang asli in Pos Simpor.
Earlier in the Dewan Rakyat, Law Minister Datuk Liew Vui Keong diverted the question by Takiyuddin [PAS-Kota Bharu] on whether the A-G can represent private citizens, referring to the suit by the group against Kelantan state government.
"In that context, the federal government has decided to file a suit [against the state government]," said Liew.
Among others, Article 145 states the A-G is responsible to advise the Yang di-Pertuan Agong or the Cabinet or any ministers on legal matters, and to perform legal duties as assigned to him by the Yang di-Pertuan Agong or the Cabinet.
On another matter, Liew was also asked about the A-G's ability to carry the ongoing legal proceedings against former prime minister Datuk Seri Najib Razak, considering the appointment of lawyers outside the Attorney-General's Chambers (AGC) such as Datuk Seri Gopal Sri Ram as public prosecutor.
"According to the Federal Constitution, the A-G has the right to appoint any lawyer to undertake any legal proceedings. That is all I can say," responded Liew.
Meanwhile, Liew also commented on the proposal for the separation of powers between the Public Prosecutor and the A-G, as underlined in the Pakatan Harapan manifesto in the 14th General Election.
The committee within the AGC responsible to produce the report, said Liew, will be ready to table the proposal to the Cabinet by mid this year alongside the relevant recommendations.