This article first appeared in The Edge Financial Daily, on August 24, 2018.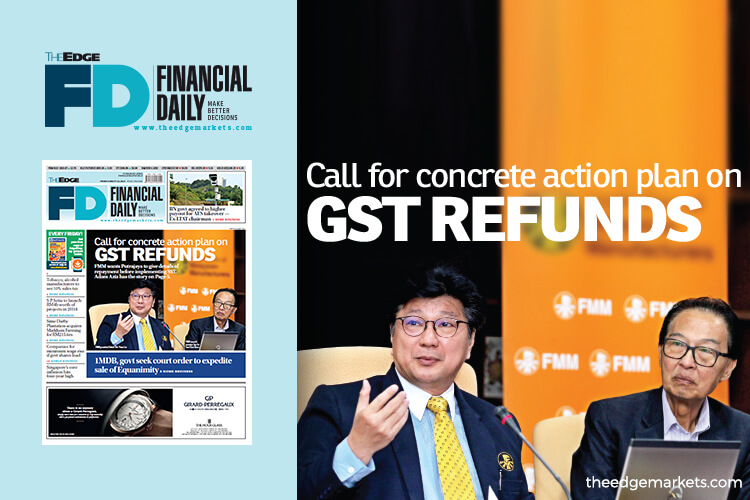 KUALA LUMPUR: With a week to go before the Sept 1 implementation of the new sales and service tax (SST), manufacturers yesterday called on the government to address the goods and services tax (GST) input tax refunds conundrum before imposing the SST.
The Federation of Manufacturers Malaysia (FMM) said according to its survey at least 100 members were affected by the delay in paying out GST refunds. The amount involved is RM245 million, it said, adding it could reach RM1 billion if all of its 3,000 members were considered.
"We want the government to have a concrete action plan," said FMM president Datuk Soh Thian Lai.
"[Finance Minister Lim Guan Eng] said the government wants to refund the companies beginning next year, so we want to know [the details].
"We also want the government's assurance that there will be no offset of GST credit for future SST payments," Soh said at a media conference yesterday to present the findings of a survey by FMM and the Malaysian Institute of Economic Research (MIER) on business conditions in 2018.
The new government has accused the previous administration of delaying RM19.37 billion worth of GST refunds to 121,429 companies between January 2015 and May 2018 — despite being required to pay the refunds within two weeks from the date of claims.
From the sum, the government is reportedly burdened by a shortfall of RM19.25 billion because the GST refunds trust account only had RM148.6 million as at end-May. Consequently, the finance minister said Putrajaya would return the input tax credit beginning next year.
The Malaysian Iron and Steel Industry Federation (Misif) issued a statement yesterday, urging the government to return outstanding GST refunds without any further delay.
"Misif members have yet to receive a considerable sum (about RM85 million owing to 32 company respondents in a recent Misif survey) in input tax refund for several months already.
"Any further extended delays, especially when the amount is substantial, may jeopardise business operations and disrupt cash flows.
"Moreover, the waiting period to the beginning of next year is still more than four months away, and thereafter may take another several months for clearance. This will cause tremendous hardship and uncertainties to businesses," it said.
Misif said it empathised with the current government's fiscal position in seeking resolutions to the misappropriation of funds made under the previous administration.
"While we commend the government's honesty and earnestness in resolving this matter, we urge the government to consider the predicaments of our members should the waiting period be further prolonged," it said.
Meanwhile, Soh said the implementation of the SST from Sept 1 should "by right" translate into lower prices of goods — except for products produced by manufacturers impacted by the 10% sales tax, who may pass on the tax to consumers.
"GST covers 60% of the consumer price index compared with 38% by SST. And the number of companies under SST is less than 80,000 whereas GST involved 500,000 companies.
"GST collects around RM45 billion whereas the SST could collect around RM25 billion, so there will be around RM20 billion liquidity that can flow into the market. So there should be more consumption," the FMM chief said.
Business conditions set to improve
On the FMM-MIER survey, Soh said the new government's policies have come under the focus of manufacturers, who are expecting business conditions to improve in the second half of 2018 (2H2018)following a slowdown in the first six months.
The manufacturers are looking at the mechanisms around investment policies, measures to address cost pressures, the delayed GST input tax refunds, as well as minimum wages, he said.
"FMM members have a certain confidence on improving local business conditions in the 2H2018, on expectations that more certainty on policy directions from the new government will unfold going forward," Soh said.
The survey, covering 434 respondents nationwide, found that 40% of them expect improvement in sales and exports as well as overall business conditions in 2H2018.
The improvement follows a slowdown in manufacturing activity in first half of 2018 (1H2018), which saw lower sales, production volume and capacity utilisation despite a slight reduction in production costs — partly due to uncertainties in the global trade.
"Local sales did not perform as well as 1H2018 (91 index points) as they did in 2H2017 (107 points), reflecting weak domestic demand ... the current export sales index was equally lacklustre (99 points from 113 in 2H2017), indicating that export sales have performed under par in 1H2018," said the survey.
In terms of government policies, Soh said the main focus of Pakatan Harapan's 14th general election manifesto included reducing price pressures, promoting investments and improving integrity and transparency.
Overall, the market sentiment is positive, said Soh, as the new government has taken steps to improve investor confidence, such as through higher transparency in governance and the strengthening of key institutions.
"The most important thing is [ensuring] a corruption-free [environment]. FMM throughout the years has been advocating transparency, integrity and accountability with no-corruption culture," Soh said.
However, players still await "clear action plans" by the government to initiate its economic policies, he said.
"I think it will be clearer during the Budget [2019 tabling], which is where major policies are usually announced," added FMM council member Tan Sri Saw Choo Boon.
"The government is dealing with a lot of financial problems, and unless they get a clear idea on how they will resolve them, they cannot come out with clear economic policies going forward," Saw said.
Meanwhile, Soh said respondents expect the cost of production to be reduced in 2H2018 although it is still expected to be "on the high side".
"FMM members still feel that price pressure is critical [for the government to address]," he said.
Improvement that the government could make include reducing ringgit fluctuations to enable players to better plan their operations, he added.
On a related matter, Soh said the manufacturing community is largely unaffected by the review of mega-projects, including the termination of the KL-Singapore High-Speed Rail and the MRT Circle Line.
This is because the projects are either at their early stage, or that they have been using imported resources all along.
"Except for a few producers of building materials, the multiplier effects [from these projects] have not been put into calculation [by the manufacturers]," he said, adding that some companies are expecting more opportunities should other mega projects that will be continued contain a bigger portion of local products and participation.