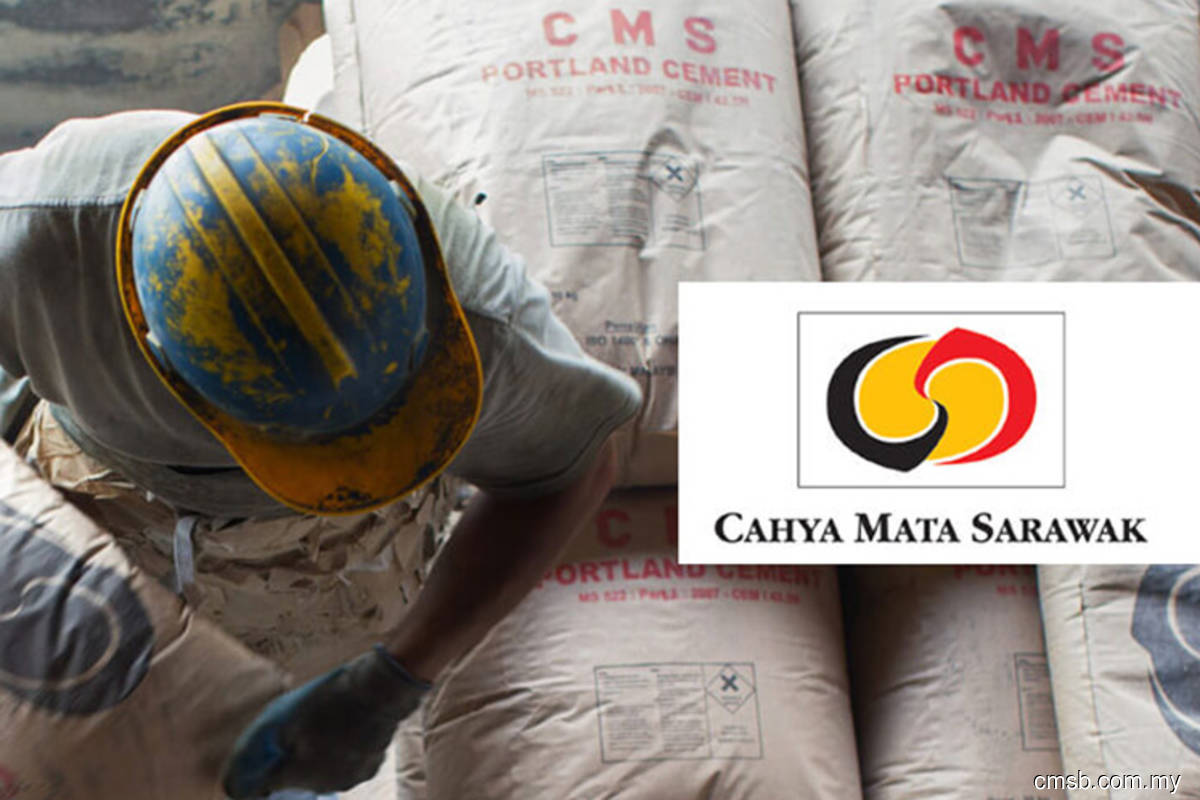 KUALA LUMPUR (May 7): Shares in Cahya Mata Sarawak Bhd (CMS) rebounded slightly from a sharp selling yesterday after the company brushed off allegations of a conflict of interest involving its group deputy chairman Datuk Seri Mahmud Abu Bekir Taib.
However, analysts have mixed views on the counter following an investigation into possible financial mismanagement of the company, which CMS has clarified is a separate matter altogether.
Shares in CMS opened higher and rose as much as 10 sen from a five-month low of RM1.70 before paring some gains to still trade up four sen or 2.35% at RM1.74.
The counter fell 33 sen or 16.26% yesterday after CMS announced that its group chief financial officer (CFO) Syed Hizam Alsagoff was suspended for 30 days to facilitate an investigation into allegations of possible financial mismanagement in relation to the company's investments and operations.
Maybank IB Research in a research note today lowered its target price (TP) for CMS to RM1.75 from RM2.50 after it tagged a "governance risk factor" to its valuation multiple.
"At yesterday's briefing, CMS' group managing director clarified that matters relating to its deputy group chairman and group CFO are unrelated," it said.
In the note, Maybank IB said the issue stemmed from losses at PPES Works Sdn Bhd, a 49%-owned unit of CMS which owns 70% of a joint venture (JV) with Bina Puri Sdn Bhd for the RM1.36 billion Pan Borneo Highway Phase 1 WPC06 contract.
"What triggered the case in point was Pan Borneo contract/construction losses at PPES Works Sdn Bhd," it said. At the 70:30 JV level, the project is still profitable," it said.
CMS, it said, is drawing the terms of reference (ToRs) to appoint a consultant by mid-May 2021.
"An independent consultant will be appointed to investigate the losses from the Pan Borneo project [at the contract level], and review the group's control system and risk mitigation framework. 
"Pending its outcome, we are tagging a governance risk factor to our valuation. 
"Meanwhile, a potential share buy-back exercise may cap its share price's near-term downside," the research house said.
Separately, TA Research kept its TP at RM2.40 for the counter, maintaining the bullish view shared by analysts on CMS prior to the incident.
"Based on the management's guidance, the total loss incurred [from PPES Works] was about RM54 million, which was already recognised in previous financial years.
"We are of the view that if the allegations are proven to be true, it would certainly affect the environmental, social, and governance (ESG) rating. Nevertheless, we believe that business operations will remain intact as the investigation will not affect daily operations," it said.
"We reckon that the group is likely to achieve stronger earnings for the upcoming quarters, underpinned by healthy demand for building materials from local infrastructure projects as well as strong recurring income from [its telco infrastructure unit] Sacofa.
"Meanwhile, we expect OM Materials (Sarawak) Sdn Bhd to return to the black, thanks to a strong recovery in average selling prices (ASPs) of ferrosilicon and manganese," said TA Research.
Read also:
Cahya Mata Sarawak suspends CFO to facilitate probe into financial mismanagement claim  
Cahya Mata Sarawak: Deputy chairman Bekir to stay on, conflict of interest allegation 'without basis'